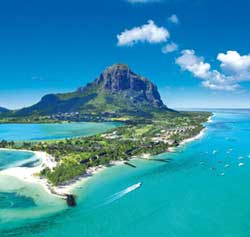 Initially the idea was that a foreigner can buy a property in Mauritius and if the value is equal to or above $500,000 (USD) then the buyer would gain Mauritian Residency.
The Integrated Resorts Scheme (IRS) and then subsequently the Real Estate Scheme (RES) was launched to allow foreigners to buy property within certain rules/guidelines.
RES (Real Estate Scheme) Defined
The Real Estate Scheme Mauritius RES is a program designed to facilitate the acquisition of residential property by non-citizens in Mauritius.
The Mauritius RES like IRS is basically a project for the construction and sale of luxury residential units to foreigners, however there is no minimum sale price for the property units.
The Real Estate Scheme provides:
1. For the development of luxury residential units of international standing on freehold development land of LESS than 10 hectares to be sold at a market related price with no "minimum restriction".
2. Should the purchase price not exceed USD 500,000 the purchaser shall not benefit from an occupation permit, where purchase price exceeds USD 500,000 one will be eligible for the occupation permit as with IRS.
3. High class leisure and commercial amenities and facilities intended to enhance the residential units. These may include but not limited to, golf course, marina, nautical and other sport facilities, shopping mall, restaurant and wellness center.
4. Day-to-Day management services such as security, maintenance, gardening, solid waste disposal and household services have to be provided to the residents.
5. For a social contribution in terms of social amenities, community development and other facilities for the benefit of the neighboring community where the IRS project is implemented.
Real Estate Scheme (RES) Earnings Opportunity
The Mauritius RES (Mauritius Real Estate Scheme) scheme can be a great investment opportunity, besides the capital appreciation one can also look at the potential rental income that could be quite lucrative.
Mauritius wants to double the amount of inbound tourists which currently sits just under 1 million per year but it is unlikely that the amount of hotel beds are going to increase anytime soon, this present the opportunity to holiday let your luxury property on a short term basis.
Many of these Real Estate Schemes even offer in-house rental pools or hotel management services to make it even easier to manage.
One can select to use the property for holiday purposes instead of living in it and then rent out for the balance of the year. As always be sure to check out the credentials of the developer and ask about what other developments they have successfully completed.