House prices were up 4.64% during the year to Q1 2022
Latvia's housing market continues to improve, with the average apartment prices in Riga rising by 4.64% during the year to Q1 2022, in contrast to the previous year's 0.66% decline. Quarter-on-quarter, house prices in the capital city rose slightly by 0.65% during the latest quarter.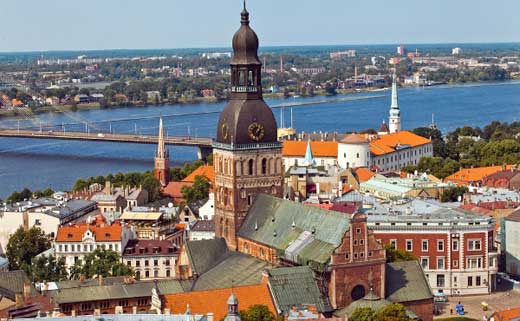 Demand rising strongly, but construction activity continues to fall
Demand is recovering fast, amidst a gradual easing of travel and other pandemic-related restrictions. During 2021, residential property transactions in Riga rose by 20% from a year earlier. Foreigners account for about 70% of all property transactions in the country. By end-2021, about 1,800 apartments in Riga were available in the market.
However, the total number of apartments constructed in the city dropped 10% y-o-y to 1,973 units in 2021.
Rents, rental yields: moderate rental yields of 4.1%
Riga apartment costs are around €2,789 per sq. m.
Latvia: typical city centre apartment buying price, monthly rent (120 sq. m)
Buying price
Rate per month
Yield
Riga
€ 334,680
€ 1,132
4.06%
Recent news: Latvia's economy grew by 5.9% in Q1 2022 from a year earlier, following y-o-y expansions of 3.5% in Q4 2021, 5.1% in Q3 and 11.1% in Q2, mainly driven by robust activity in the services sector, according to preliminary figures released by the Central Statistical Bureau of Latvia. The economy grew by 4.5% during 2021, rebounding markedly from the 3.8% contraction recorded in 2020.
Despite this, Latvijas Banka has recently revised downwards its 2022 growth projections for Latvia to 1.8%, far lower than its earlier estimate of 4.2% expansion, amidst Russia's invasion of Ukraine.