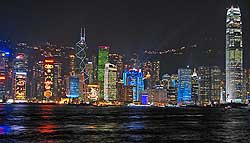 Hong Kong's property market is again struck with a controversial case of bribery and graft as the board chairmen of the city's largest developer Sun Hung Kai Properties had been arrested for questioning by the Independent Commission Against Corruption (ICAC) late Thursday.
Raymond and Thomas Kwok, and a former top official in government Rafael Hui, were all arrested to answer corruption and bribery allegations, which has so far taken away close to $6 billion from the value of Sun Hung Kai Properties.
Forbes.com had estimated the Kwok family's wealth at $15.4 billion and had been on the third top spot as among Hong Kong's richest.
This is not the first that a company officer was arrested for similar charges. Sun Hung Kai's executive director Thomas Chan Kui-Yuen was arrested by the ICAC on March 19 that resulted to company stocks tipping 15% during the last past few days.
A trading suspension was initiated after the said arrests, but this did not stop Sun Hung Kai's stocks from further plunging 11% as of 9:57 a.m. (HK time) on Friday.
No more than a week since the elections for the HK leadership had transpired and close links between business and government had influence results, another gruelling graft charges were hurled on prominent business people in the Chinese territory.
Commentaries on Bloomberg and Asian Wall Street Journal said this case proves to be a litmus test for the transparency and fairness of the government institution and how the officers of the ICAC will buckle up to pressure since it was established 38 years ago.
Property prices
An earlier report by the Global Property Guide indicated that property prices and sales volumes were likely to continue to fall through the first quarter of 2012 in China, but it ruled out a large-scale sell-off and a hard-landing for the economy.

Commission rates and sales incentives have hit an "historic high" for overseas property deals in Hong Kong as developers struggle to cope with a slump in demand, tighter lending rules and an over-supply of new units.
Local analysts have reported this week that the commission rates being offered in Hong Kong are starting to reach "historic highs" with developers like Wing Tai Properties reported to be offering commission rates of up to 4.5% for two-bedroom flats and 4% for one-bedroom flats at The Warren in Tai Hang.
Elsewhere in the city, Kowloon Development has also raised its commission payments for agents to 4% from 3.5% because, as Eddie Hui Chi-man, deputy director of the Research Centre for Construction and Real Estate Economics at Hong Kong Polytechnic University, said this week developers struggle with "a sudden increase in the supply of new flats."
Source: Xinhua News Agency