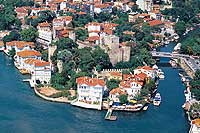 Foreign buyers from countries which do not have a reciprocity agreement with the Turkish government have been prohibited from purchasing property in Turkey. This has been a cause of much frustration for business people from the Middle Eastern countries like Saudi Arabia, Iran and other Gulf nations who frequently visit Istanbul and would have liked to purchase an Istanbul apartment.  

"Istanbul property has been in great demand from Middle Eastern buyers," says Graham Flaherty from One Touch Property Investment. "We have received a large volume of enquiries from Middle Eastern buyer who would like to have a bolt hole in Istanbul. To date, they have had to purchase property in the name of a company, which creates additional complications and expenses of £2,500 in legal fees alone."
Istanbul is where East meets West. Multinational companies such as Sony Ericsson, Vodafone, HSBC and Tesco have regional headquarters based in Istanbul. Ahmet Iplikci, a senior advisor at Republic of Turkey Prime Ministry in London, points to the various success stories of global companies investing in Turkey.
There was talk of the relaxation of the reciprocity rule back in November 2010; Turkish newspaper Daily Milliyet's real estate expert Tebernüş Kireççi wrote that if approved by Parliament, a draft prepared by the Ministry of Public Works and Housing may render Turkey "one of the top countries for foreigners in real estate ease-of-purchase."
Since then, they have taken huge strides towards opening the Turkish property market to foreign nationals with the appointment of Erdogan Bayraktar as the Environmental and City Planning Minister because he was previously President of TOKI of which is a public and private partnership in construction of private and social housing to meet the future demand of the Turkish people. Erdogan Bayraktar is well connected within the top echelons of the construction industry in Turkey, the people who are most interested in freeing up the market because of the tremendous potential revenue it could generate for the comanies and Turkey's balance of payments.     

Price Waterhouse Coopers has already rated Istanbul as number one for property development. The fundamental demand from the local community is thriving with 70% of the Istanbul population under the age of 35. One Touch Property's tip is: "Explore Istanbul property investment before the cash-rich Middle Eastern investors drive prices up and you will no longer be able to afford it."