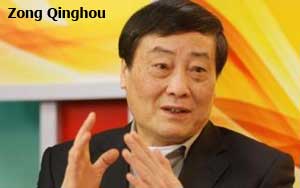 China's pool of wealthy citizens got a little poorer as the double whip of low global demand and the weakened property market diminished additional millions in earnings, the latest Shanghai-based group's Hurun Report indicates.
Billionaires belonging to China's property sector were nudged lower by the manufacturing tycoons in the list of China's Richest by Hurun.
The stringent government property measures enforced to keep price bubbles have dragged down property as a top source of wealth for the first time in 14 years since the Hurun research was published.
Hurun Research Institute, founded by Rupert Hoogewerf, said manufacturing took over with 20.7% of the individuals on the Rich List.
The beverage manufacturing group Wahaha Corp brought 67-year-old Zong Qinghou and family on top of the list with an estimated $12.6 billion in personal wealth.
Although five of those in the top 10 list still belong to China's property sector, a big climb from the country's information technology billionaires are now in the list.
Wang Jianlin is in the second spot with $10.3 billion in estimated wealth and whose business is in property and cinemas with his company, Wanda Corp. The other property developers in the Hurun Report's Top 10 billionaire's row include Reignwood Corp's Yan Bin, Longfor's Wu Yajun & family, Evergrande's Xu Jiayin, and Fu Wah's Chen.
The biggest climbers belong to the information technology sector led by search engine Baidu's owner Li Yanhong, who took the third spot as he raked in an estimated $8 billion. While Jack Ma, with $2.5 billion in estimated personal wealth, gained with the buy-back of 20% of Alibaba's shares from Yahoo.
"Of the Top 1000 of the Hurun Rich List, 469 saw their wealth shrink, of which 37 shrunk by over 50%, mainly those from solar, textiles and retail sectors. 291 saw their wealth grow, 114 stayed the same and there were 150 new faces," the Hurun Report adds in a statement.
"Although this year has seen some significant wealth bloodletting, it is worth remembering that these entrepreneurs are still up 40% on two years ago and almost ten times ten years ago," notes Mr. Rupert Hoogewerf, Hurun Report chairman and chief researcher.