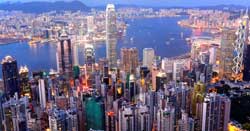 To further discourage buyers from the mainland, Hong Kong has imposed a new policy restricting non-residents from acquiring property in the city.
Hong Kong's chief executive Leung Chun-ying announced that only permanent residents can buy flats in the designated 1,100 homes stated under the "Hong Kong Land for Hong Kong People" policy.
Residential units considered for resale will be restricted to locals living in the island-city for at least 30 years. Privately-held companies are disallowed to buy homes on resale.
Mr. Leung told reporters that this the first time that a policy will be considering the welfare of HK permanent residents at a time that property ownership is similar to a rare and precious resource.
"Hong Kong's land for property is rare and precious resource, when using this land, we must make it a priority to fulfil the housing needs of the Hong Kong permanent residents," Mr. Leung added.
The newly installed administration of the Hong Kong plans to increase the land supply by converting 36 sites belonging to the government for residential purposes and could accommodate 12,000 units.
The targeted areas for the 1,100 high rise residential buildings is at the former site of the Hong Kong Kai Tak airport, estimated at 3.95 acres (1.6 hectares).
Home prices in Hong Kong have risen in the past few years with the deluge of demand from affluent mainland families moving in the city encouraged by low interest rates.
Sources: Channels News Asia