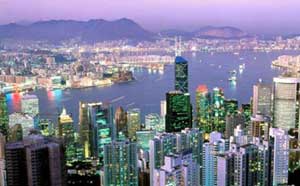 The availability of affordable homes has been raised as a major concern for Hong Kong by the International Monetary Fund (IMF) in its latest preliminary conclusions of China's special administrative region.
Home ownership will remain elusive in Hong Kong, the IMF said because of the limited availability of cost-effective homes for the more than 7 million people in the city.
The demand-supply imbalances, according to the IMF, will continue to be an issue in Hong Kong and grapple home prices in the island-city that should be addressed by taking up the construction of public housing more aggressively.
"Improving affordability ultimately hinges on a sufficient provision of new housing. Therefore, the government's efforts to ensure a steady and adequate supply going forward, including through public housing, are welcome, although the impact may be limited in the short run given planning and construction lags," the IMF said in its preliminary conclusion evaluating Hong Kong's economic condition in the near term.
Hong Kong's Executive Council president Leung Chun-ying conferred to this problem in his recent speech saying that the city needs to boost its housing supply or "risked losing its best and brightest talents."
The IMF further said that the economic growth of Hong Kong, known as a gateway to Asia, is seen expanding 1.25% this year and by 3% in 2013.
Time limit on Stamp Duties
The multilateral agency led by Christine Lagarde said in a report published in its website imf.org that the effort of the Hong Kong authorities to impose additional stamp duties to lighten persisting property price bubbles could in time dampen unwanted demand, "but should be adjusted accordingly as its full impact becomes apparent."
The additional stamp duties imposed by Hong Kong last month has been put in place to discourage the influx of wealthy mainland Chinese buyers in the city.
Stamp duties worth a total of 30% had recently been imposed by Hong Kong to further thresh out speculative buyers in the market.
Hong Kong authorities are slapping a 15% special stamp duty on properties to be sold for shorter periods of no less than four years. An extra 15% transaction cost will be imposed on local and foreign companies and non-local buyers.