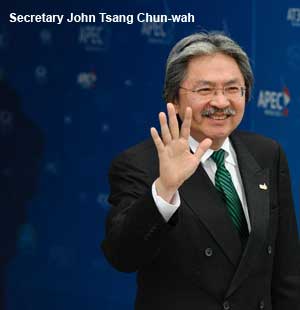 Hong Kong is yet to give up on its property cooling measure, but interest rates may increase in anticipation of the U.S. Federal Bureau's next move, Finance Secretary John Tsang Chun-wah said.
The Federal Reserve's hint of easing the quantitative easing by year-end might see the sudden exit of hot money from Hong Kong and other Asian markets, Mr. Tsang explains at the sidelines of an event hosted by the Hong Kong Association of Banks.
An increase in rates is seen affecting the property sector, Mr. Tsang adds, though this might only happen when the U.S. starts raising interest rates, which nowadays remained close to zero.
Mr. Tsang notes that it is still hard to predict how the eventual increase in rates will erode the island-city's property prices, but has assured that there is adequate liquidity based on the cost of holding a property and the low mortgage lending rate are in place.
He, however, pointed out that asset bubbles are still imminent and the government is prepared to take action if needed.
The 14-day interbank rate in the mainland rose on record last week at 8.56% due to mounting liquidity concerns.  
Mr. Tsang explains that the 14-day interbank rate is crucial for a bank in order to meet the end-of-quarter book balancing. The end of quarter reporting is due by end of this week.
The mainland banks' interest rates could be a cause of worry for Hong Kong banks, he tells South China Morning Post.
Nonetheless, Standard Chartered Bank's CEO, Benjamin Hung Pi-cheng, predicts Hong Kong interest rates will remain flat for the entire year adding that the island-city's rates are pegged to the US rates.