House prices were down 10.2% during 2022
Finland's housing market is now struggling, with the average price of dwellings plunging by 10.2% (inflation-adjusted) in 2022 from a year earlier, in contrast to year-on-year increases of 1.36% in 2021 and 4.58% in 2020. It was its worst performance in recent history.
Quarter-on-quarter, house prices declined 3.21% in Q4 2022.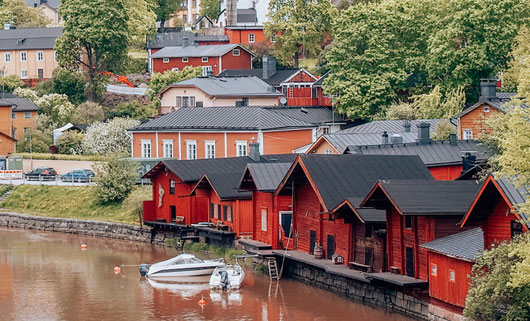 Demand is now falling sharply; construction activity mixed
In 2022, total transactions of old dwellings plummeted by almost 20% to 66,425 units, from 82,865 units in the previous year, according to Statistics Finland. It is in contrast to a 16.1% increase in 2021.
Dwelling permits in residential buildings fell by 19.6% y-o-y to 36,749 units in 2022, and dwelling starts dropped 18.2% to 38,618 units. In contrast, dwelling completions rose by 11% y-o-y to 41,636 units last year.
Rents, rental yields: low to moderate yields in Helsinki at 2.18% to 4.93%
Finland: city centre apartment, buying price, monthly rent (2-BR apartments)
Buying price
Rate per month
Yield
Helsinki
€ 695,000
€ 2,095
3.62%
Recent news. The Finnish economy expanded by 2% during 2022, against a backdrop of the ongoing Russia's invasion of Ukraine, high inflation, and rising interest rates. This followed an expansion of 3% in 2021 and a contraction of 2.2% in 2020.
The European Commission expects Finland's economy to slow sharply, with a projected real GDP growth rate of just 0.2% this year, as private consumption and investment will likely be subdued.