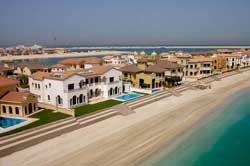 Dubai's property rental prices continue to improve during the second quarter of 2012, sending a strong positive outlook for the sector, according to leading UAE property management firm, Asteco, in its first half  report for the year.
The three years of limited sales decline is now being averted thanks to the tenants' constant search for value for money property, Asteco CEO Elaine Jones said in a published report.
"Looking ahead to the 2012 year end, sales prices will continue to rise for quality developments, especially villas. The number of owner-occupiers rose steadily in line with improved financed options offered by banks, which we expect to continue. Further demand will also be evident from overseas buyers escaping economic woes in the Eurozone and political instability in other parts of the region," shares Ms Jones.

Well-managed property developments will continue to set the scale for quality property preferred by clients in the city. She adds that apartments with 2 to 3 bedroom apartments in Downtown Dubai and Dubai Marina saw a 10% increase in sales during the period, the Asteco chief explains.
Prices for one-, two- and three-bedroom apartments in Downtown Dubai rose 9%; in Palm Jumeirah and Dubai Marina, prices moved up to 8% and are still popular to buyers.
Tenants do not mind paying as much as Dhs90,000 and AED120,000 a year so long as the standards for safety, convenience, the aesthetics are not compromised, she adds.
Asteco reports that leasing rates at Mirdiff recorded the biggest increase in rent, jumping 13% a year for a three-bedroom house to Dhs90,000. Arabian Ranches recorded an 11% rental growth now pegged at AED140,000 per year.
Rental prices for apartments in other places in Dubai have arrested declines and had so far been stable with JBR apartments looking at a 3% up trend.
Dubai's increasing popularity has also encouraged Zagat, an online leading provider of user-generated lifestyle information, to conduct a survey of the best shopping, restaurants, night spots and other attractions in Dubai among travellers worldwide.