A survey by Cushman and Wakefield has led the firm to predict a 5-10% increase in global commercial real estate investment this year, taking the total investment to $606 billion.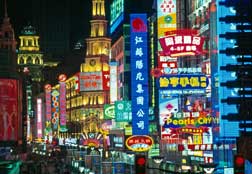 According to the findings of the International Investment Atlas, investors believe that Asia's emerging markets will be a major driver of growth, with China's second-tier cities picked out in particular as hot-beds for commercial property investment growth. The survey also suggests that investors will turn away from yield compression into rent and income growth in order to increase the productivity of their portfolios.

The growth of 5-10% seems bullish at a time in the world's history when not one but several European countries look in real danger of defaulting on their sovereign debt, but compared to last year's growth in commercial property investment, the prediction has to be called bearish.

Last year saw global commercial real estate investment grow 42% to reach a total of $564 billion. Investment in Latin American commercial property grew 63% and in Asia the growth was 27%. This represented 80% of the five year average for commercial investment according to the survey. Bearish or no, last year's growth looked incredibly unsustainable, whereas this year's prediction represents a return to a more stable market. "Yields fell in most areas last year, as higher demand and limited supply impacted (prices). The global average (yield) fell 21 basis points (bp) to 7.6 percent (in 2010) and a further fall averaging 30 bp is forecast for 2011," the survey said.

Asia led global commercial property investment this year for the second straight year, followed by the US and UK. Cushman & Wakefield's managing director of Asia Pacific capital markets John Stinson said that China will remain the number one market globally, and investment elsewhere in the region will continue to grow. "With eight of the world's top 20 markets situated in Asia Pacific, this region will continue to dominate as investors are attracted to other gateway cities, including Singapore, Hong Kong, Shanghai, Tokyo and Sydney," he said.

"We will start to see some of this activity spill over into some attractive emerging markets later this year, including Malaysia, Indonesia, India and some second- and third-tier cities in China," he added. London was the top of the city chart in terms of investment volume, followed by Tokyo, New York and then Paris in fourth according to the survey. Greg Vorwaller, Cushman & Wakefield's global head of capital markets cautioned that 2011 would present hurdles for global commercial property markets. "There are upside risks to consider, in the potential for economic recovery to be sustained and for increasing levels of business and financial confidence to translate into greater than expected levels of market activity," he said.

Vorwaller also predicted that diversification would be pushed back up investors' priority lists, and that they would be looking to diversify in all key areas, region, country, sector and currency.