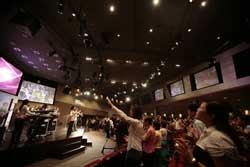 Singapore's New Creation Church recognises the power of contemporary audience-capturing ministry and strong business returns of a good investment.
Unlike other church congregations that still abides by the rule of poverty or still do money-related business in secrecy, the New Creation Church believes in prosperity that can be shared.
Data gathered from New Creation Church website, the Asian Wall Street Journal and Bloomberg indicate that this Christian congregation does not only collect tithing worth 10% every month from members in order to fund projects that include financial aid for members, it also believes in the power of investment that could rake in earnings in time.
The forthcoming completion of a $783-million 5,000-seater auditorium that doubles as a retail complex will soon rise up in Singapore with the generous funding from church members. A special service was held to partly raise the money needed for it.
Bloomberg's Sharon Chen said in a report that the church held a so-called "Miracle-Seed Sunday in July, which sought donations that were said to be audited and overseen by Deloitte & Touche LLP auditors.
The planned commercial complex will be the venue for future gatherings of the church and if the opening date proceeds in November, guest performers including David Foster, Chaka Khan and Babyface will grace the event.
Reported as a joint project with Southeast Asia's biggest property developer, CapitaLand Ltd, the real estate commercial complex is considered the biggest investment by any religious group in Singapore, SLP International Property Consultants said in a Bloomberg report.