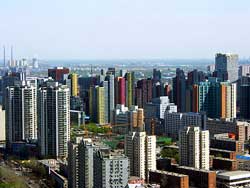 Altering its tact targeting middle income and low income segments in terms of property ownership has been beneficial to property developer China Vanke Company in 2011.
The listed Chinese property developer reported a 32% increase in its profit in 2011 to 9.62 billion yuan ($1.5 billion) from 7.3 billion yuan earned in 2010, company officers led by executive vice-president Xiao Li said in a press conference in Hong Kong on Monday.
Mr Li said China Vanke's contracted sales for the full year of 2011 amounted to 121.5 billion yuan. He noted that this is their second year to reach above 100 billion yuan.
He said the company targeted the mass market and this provided a boost in sales. According to CB Richard Ellis-Asia-Pacific, it has been observed that in China amidst the bleak property sales, buyers have opted to acquire property from the big brand names like Vanke.
Vanke is the first property developer in China to report its full earnings in 2011.
The first two months of 2012, were still not good for China's property sector because home sales dropped 25% as the government continues with its property cooling measures. Home prices in February, according to SouFun Holdings Ltd, recorded its biggest decline in 19 months.
Despite the intensifying debates among local and central government officers during the national party congress that begun last week, China remains steadfast with its property policy stance.
The measures, which include higher down-payments, a ban on lending for second and third home purchases, trial taxes in Shanghai and Chongquing, have halted price movements in the Chinese housing market as of January.
According to the January data gathered from the National Bureau of Statistics, prices did not move in the 70 cities analysed, unlike the upward price changes recorded within the same period in 2010
Local government officers of Wuhu and Shanghai tried but failed in circumventing the strict property regulations prescribed by the central government in the last two months. Nonetheless, they were sought to retract their plans days after they were declared.
Premier Wen Jiabao stressed on the first day of the National People's Congress in Beijing that the property curbs imposed by the government will continue until housing prices are within reasonable levels.