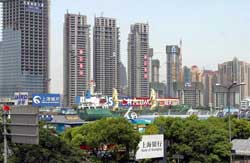 China's State Council has been alarmed with the recent spate of strategies initiated by local authorities to help boost the selling of properties in districts.
The State Council announced that investigative teams will be sent out later this week to check on these property sweeteners to encourage buyers in spite the restrictions.
To "further ensure that the property regulation measures are implemented, speculative housing demand is curbed, and to strengthen the effects of the property regulation measures", the State Council said in a statement.
The State Council wants the tax policies, differential credit, housing purchasing limits, and the supply management in 16 city and provincial municipalities thoroughly checked by the said teams.
Local authorities in Beijing, Shanghai, Tianjin, Hebei, Chongqing, Zhejiang, Fujian and Jiangsu are to cooperate in the said investigation.
This Council, the highest policy-making body in China, has been convinced that some property measures put in place to burst the market speculations had been eased due to the added pressure on city coffers compromising project budgets.
Nonetheless, Prime Minister Hu Jintao has insisted imposing said property rule curbs amidst the economic growth slowdown in the first and second quarters.
The latest city that tried to promote favourable property policies is the capital city of Nanjing in Jiangsu province.
Nanjing's local authorities, according to China Daily News, tried to offer housing provident fund loans worth 2 billion yuan ($313 million) to first-time homeowners and offered some subsidies by so-called qualified professionals.
Beijing-based investment firm, China International Capital Company said in a note to clients that this is a signal that local government authorities are trying to boost the property sector in their jurisdictions, but the central government will not allow any dissent with its imposed rule.