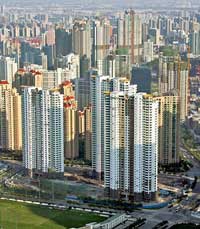 China is dead set in expanding property taxes in other cities by the end of this year after its trial run in Shanghai and Chongqing, reports said.
The State Council after a meeting in Shenzhen last week has definitely agreed to make the property taxes permanent and imposed in other cities as well, Qin Hong, vice director of the policy research centre of with the Ministry of Housing and Urban-Rural Development (MOHURD) said in report by the People's Daily news.
Mr. Qin Hong added though that the final list has not been issued, it will be imposed by end of 2012.
Real estate agency E-house China's researcher Yang Hongxu noted that the likely impact of these property tax rates will come in time as property tax measure are progressive in nature.
With a likely increase in the tax rate and expansion of its base, the reform could have a much bigger effect," Yang Hongxu told the People's Daily news.
The property tax measures imposed in the cities of Shanghai and Chongquing have different guidelines, which some say will be another setback for the property sector if done nationwide.
In Chongqing, the property tax covering both retroactive and new transactions were unlike that of Shanghai's, which covers only new property transactions.
Gu Yunchang, secretary-general of the China Real Estate Association, told the Global Times on Monday that the Shanghai property tax mode "is more moderate and is easier to be followed (than that of Chongqing)."
Shanghai imposes tax rates ranging from 0.4 to 0.6 percent. Permanent residents in the city with newly bought second homes are also to be taxed, while each member of the family are given exemptions of about 60 square metres that they occupy.