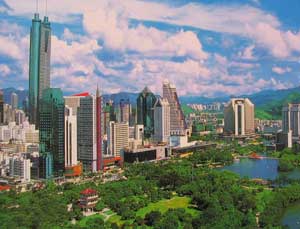 China's property sector still showed strength in the first half with sales rising 20.3% to 3.68 million yuan or $599.3 billion, the state bureau said on Monday.
From January to June, commercial and residential property sales reached 3.34 million yuan, an increase of 43.2% compared to year-ago levels.
This increase stems from the economic cushion extended by house purchases pushed by rapid urbanisations in third to second-tier Chinese cities, explains Credit Suisse analyst Jinsong Du to Dow Jones.
CIMB Securities analyst Johnson Hu tells the Wall Street Journal that China's construction industry is seen growing 5 to 7% this year though inventory levels in major cities may have slowed down.
Large property developers in China are building up their land banking efforts believing that this urbanisation push will keep the housing demand of migrants on high levels.
China is not winning the battle to rein in prices and even property purchases in the last three years amidst limits to house purchases, harder-to-obtain bank credit for developers and stricter down-payment schemes.
Property controls in China are not working because of the decentralised property registration that allows those with money to invest in as much properties as they could and avoid being tracked by authorities, the South China Morning Post (SCMP) reports.
Efforts to centralise the document-filing had been futile because of the very huge bureaucracy involving the Land and Housing Ministries of China, SCMP's Stephen Cheng reports.
For one, the Land ministry has been estimated to have no less 300,000 employees, excluding the Housing ministry's own set of workers. This will take a lot of time and money to consolidate, the SCMP reveals.
A property consultant, who requested anonymity, says that because property registration records are in disarray, it makes it easier for corruption and graft to persist.
A senior police officer from Lufeng, China, Zhao Haibin had been removed from active service and now under investigation when he was discovered owning 192 houses in Huizhuo and several more in Zhuhai and Shenzhen.