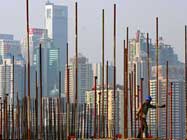 At a time when local governments are eager to boost revenues, China's major property developers have accelerated their land purchases amidst a cautious recovery in the real estate market.
The country's top real estate firms led by China Vanke Co. Ltd. have taken advantage of low land prices and have broaden their land banks with about $1.34 billion (8.87 billion yuan) in first- and second-tier cities at the onset of the fourth quarter, official data from local governments showed.
China's biggest developer in terms of market value, China Vanke said in a disclosure to the Hong Kong Stock Exchange that it has acquired parcels of land worth 4.67 billion yuan in Guangzhou and Hefei during the first week of September. The company said land acquisitions was also made in August worth 1 billion yuan.
HK's Centaline Research Department Head Zhang Dawei told China Daily News that property firms are in the right position to increase their land holdings with the regime of low prices and a more positive outlook on the market as sales have so far risen.
Home sales and prices
Residential and commercial property sales jumped 5.6% year-on-year amounting to 4.630 trillion yuan ($742.2 billion) from January to October this year, data from the National Bureau of Statistics showed. During the period of nine months, January to September, sales of residential and commercial property rose 2.7% to 4.035 trillion yuan.
China's property market have so far hit bottom and recently home prices have risen in October amidst the government pressure to keep the property industry in check.
Out of China's 70 cities, home prices in 35 cities have risen in October compared to the 31 cities recorded in September—the first jump since the month of July.
China Bureau of Statistics said in a statement that home prices in 18 cities remain unchanged all this time.
With new leaders in place after the Communist Party's convention, some changes are expected but still within the boundaries of controlling property prices, high instalment rates, and higher tax rates in first and second-tiered cities.  
Sources: China Bureau of Statistics, China Daily News, HK Stock Exchange