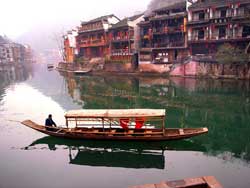 Local governments in China had creatively tried to fine-tune the strong property curbs to encourage more buyers in their provinces and cities.
Reports from the China Securities Journal and the China Daily News said that the province of Hunan had fine-tuned the down payment fees, lowered the transaction taxes and fees in order for first-time buyers to afford homes in the area.
In the municipality of Chongqing, on the other hand, urban residents can tap low-interest provident fund loans per household in order to purchase a home.
An HK property analyst said these moves undertaken by the local governments can encourage non-speculative demand in the property sector while the current environment of buying restraints still holds.
China invests in low-rent homes
China has issued some funding worth $10.5 billion for public housing for low rents to stave off the need for more affordable homes.
As the China State Council still refuses to lift the sanctions on property buying, the Ministry of Finance dispersed the funds for public-rent housing.
Reports said this is one of five categories identified as state-subsidised affordable housing in China.
The Finance Ministry announced on Thursday that this would hopefully give a boost to the property builders and construction sectors as private investment in real estate had slowed in recent months.
Sources: China Securities Journal, China Daily News, Reuters