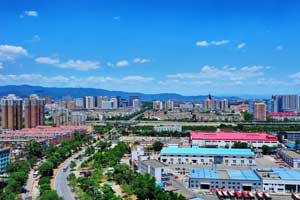 On the closing session of China's 18th National Congress of the Communist Party, the government announced the completion of the country's largest public rental housing project in Jingyuan Lu in Shijingshan district, Beijing.
Media attending the Communist Party's Congress were brought to the low-cost housing project, comprised by eight, 28 –storey buildings replete with a facility for a nursing home and a kindergarten.
Deputy Director of Beijing's housing security office Zou Jinsong told news reporters that the first tenants are ready to move in next month.
Mr. Zuo said they are now on the final phase of the project, which is the safety check on every unit before they are turned over to tenants.
It is still unclear, however, whether non-residents of Shijingshan district can be eligible to rent because most workers in the area are from other provinces and towns.
If the Beijing regulation issued in December 2011 is to be followed, workers belonging to the middle to the low income earners who had lived no less than a year in the district could avail of the government-subsidised public rental homes.
Rentals are estimated to be within the range of 40 to 45 yuan ($6.40) per square metre and are usually pegged on rates imposed by neighbouring private home rentals in the area. Government subsidies usually cover as much as 95% of total rental cost, Xinhua News reported.
Sources: Xinhua News Agency, China Daily News