House prices down by 3.82% during 2022
Canada's housing market continues to slow rapidly, amidst declining demand. During 2022, inflation-adjusted house prices in the country's eleven major cities fell by 3.82% from a year earlier, in sharp contrast to a year-on-year price growth of 10.17% in 2021. Quarter-on-quarter, real house prices declined by 5.04% in Q4 2022.
The central bank has taken action repeatedly – raising mortgage downpayment requirements and reducing amortization periods, among others – in an effort to reduce speculative buying and avoid a disastrous housing market crash. This resulted in a sharp slowdown in house price growth in 2018 and 2019. As the impact of these curbs wane, the housing market bounced back starting 2020 despite the pandemic. House prices have been increasing by double-digit figures in the past two years, but slowed sharply in recent months mainly due to rising interest rates and heightened global socio-economic uncertainty.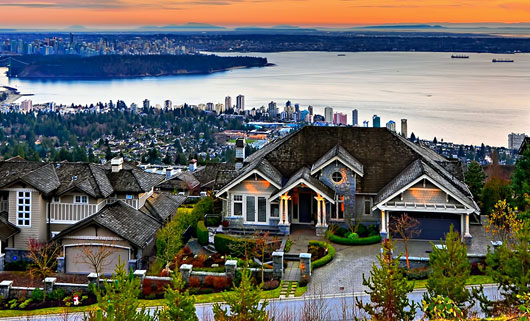 Demand falling sharply; construction activity weakens
During 2022, the actual number of sales transactions plunged by 25.2% to 498,269 units from a record high of 666,399 units a year earlier, according to the Canadian Real Estate Association (CREA). This was in sharp contrast to the annual growth in sales of 20.5% in 2021 and 12.6% in 2020.
CREA projects that about 495,858 properties will be sold this year via the Canadian MLS Systems, down slightly by 0.5% from the previous year.
Residential construction is also weakening. Housing starts fell modestly by 3.4% y-o-y to 261,849 units in 2022, in sharp contrast to a huge 24.5% increase in 2021, according to Canada Mortgage and Housing Corporation (CMHC).
Rents, rental yields: moderate yields, around 4% to 6%
Toronto apartment costs are around $9,409 per sq.m.
Canada: typical city centre apartment buying price, monthly rent (120 sq. m)
Buying price
Rate per month
Yield
Montreal
$348,600
$1,564
5.38%
Toronto
$1,129,080
$3,740
3.98%
Recent news: The Canadian economy grew by a modest 3.6% during 2022, following an expansion of 4.5% in 2021 and a contraction of 5.2% in 2020, according to the Bank of Canada. However economic outlook is now bleak, as higher borrowing costs adversely affect consumer spending and as export growth moderates amidst deteriorating global economic condition. The central bank expects Canada's economy to grow by a meager 1% this year.
In January 2023, Bank of Canada raised its key interest rate further by 25 basis points to 4.5%, its eight consecutive rate hike since March 2022, in an effort to curb inflationary pressures. The central bank also raised its bank rate to 4.75% and its deposit rate to 4.5% and is also continuing its policy of quantitative tightening.