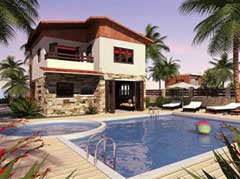 Brazil's real estate market will go through some cooling in the next six months in spite the sweetened financial deals introduced by mortgage financing companies and banks.
The persisting economic slowdown among the BRIC-member countries led by Brazil, India and China slightly dimmed the bullish trend in the local real estate market.
An agent selling the beachside homes in Rio de Janeiro known as the Barra da Tijuca, said buyers are now more reluctant to pour in their cash compared to last year.
He notes that though there is still potential in the real estate projects because of the forthcoming hosting of the 2014 World Cup and the 2016 World Olympics, the export slowdown has made a dent in housing demand.
The exuberance for real estate has diminished and demand is weaker some correction is taking place in the market, says real estate investment firm GTIS president Thomas Shapiro in an interview with Bloomberg.

New York-based GTIS has exisiting projects in Rio de Janeiro, but Mr. Shapiro notes that if a certain project does not attract enough buyers, it gets cancelled immediately.
Mr. Shapiro further adds that the market is self-correcting and weaker in the next six months.
Although home prices for a typical high end flat rose 21% to BRL 8,583 (US$ 4,221) per sq. m., according to GPG Research, the price tag of office spaces have declined 3.2% during the first half, according to Colliers International UK Plc studying 53 buildings across six districts in Brazil's capital.
In a recent outlook and recommendation on Brazil's economy and property sector, the International Monetary Fund had forewarned the government officials to improve the tools in determining the credit worthiness of consumers.
The debt levels, according to IMF, seemed sustainable as income levels rise with employment availability, a downturn could still put home borrowers under stress.
Thus, the IMF pushed for the availability of long term financing and pointed out the rise in delinquency rates as a sign of "financial distress" among households, where average debt servicing costs are equal to a "high" 23% of incomes.
Sources: Bloomberg and IMF