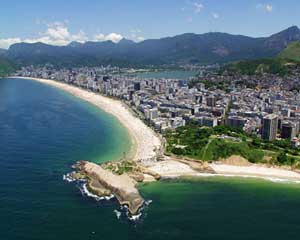 Brazil's home prices suffered during the first quarter as prices of new homes dropped between within a range of 5% to 7%, the capital's broadsheet O Estado de S. Paulo reported.
The house prices poll done by Empresa Brasileira de Estudos do Patrimonio, have indicated prices fell 7.8% in Sao Paulo to an average 5,900 reais ($2,935) at the end of March, compared with the average December price of 6,400 reais,
For apartments with more than 3 bedrooms, price declines were recorded within 1 and 5%, the report said.
Brazilian real estate may not be close to a bubble but real estate developers have shown dismal performance, Forbes.com pointed out citing the financial performance of Homebuilder Rossi Residential with a reported R$206 million ($102 million) loss and PDG Realty with  R$2.17 billion ($1 billion) in reported losses in 2012.
Ranking in 2012
Brazil has been ranked as one of the top countries with the highest house price increase in 2012, Knight Frank's Global Real Estate Index said in a report release this month.
Ranked third next to cities Dubai and Hong Kong, Brazil's house prices rose 13.7% by the end of 2012.
Data from the Brazil's Institute for Economic Research, or FIPE, have indicated that seven cities noted of price increases with Rio de Janeiro's and Sao Paulo's house prices rising beyond the 5% inflation. The highest record has been noted in September of 2012 when house prices in Brazil rose 15%, FIPE said.
Another Latin American country that made it to Knight Frank's list was Colombia, recording a spike of 8.3% in 2012.
Brazil's hosting of the FIFA World Cup in 2014 and the World Olympics in 2016 provided the boost to the growing home prices and construction industries.
Sources: Reuters, Forbes.com