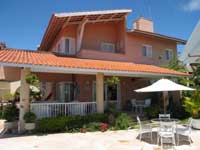 The BRIC-member nation of Brazil remains one of the best performing housing markets in the world according to the latest worldwide survey of house price indices from the Global Property Guide.
The latest GPG report revealed that house prices surged by almost 20% in 2011 in Sao Paulo, Brazil while the city was one of only a handful, which saw house prices rise in the fourth quarter, surging by 3.93%.
"The strong performance of Brazil's property market reflects several factors, including a very strong domestic economy, which remarkably experiences very little exposure to global economic fluctuations. Many people have forecast that Brazil's boom will come to an end, but there is little sign of that happening at the moment," notes Matthew Montagu-Pollock, editor of Global Property Guide.
Indeed, Brazil is fast becoming a sound property investment choice thanks to its affordable cost of living, great weather and strong capital appreciation and is performing exceptionally better than many European nations.
"In contrast with this trend, Brazil is definitely rising up in the property ranks. Having overtaken the UK to become the sixth-largest economy in the world and with the minimum wage of the Brazilian population rising by around 10% in 2011 domestic tourism and consumption has been heightened throughout the country," adds Dean Thomas, MD of DLT property, developers of Palm Springs Natal in northeast Brazil (www.palmspringsnatal.com).
Given that both Brazil's economy is flourishing and its property market is performing strongly, Brazil as an investment destination presents one of the most exciting opportunities available today.