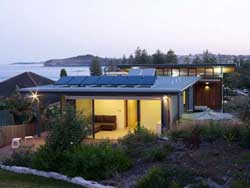 Australia's banks and other mortgage providers reported an increase in loan approvals for home buyers in December as a positive reaction to the central bank's benchmark rate reduction.
The Australian Bureau of Statistics (ABS) said in its compiled report for December, there was a 2.3% to 48,453 in the number of loans granted to build or buy houses and apartments in the country.
The statistics bureau said that this is so far the highest recorded home-loan approvals in more than 2 years, defeating analysts forecast of a 1.8% increase.
In November, a revised increase of 1.8% has also been recorded for home-loan approvals by the ABS.
The Reserve Bank of Australia's (RBA)'s financial aggregates report for the month also indicated an increase in housing credit delivered by local banks and finance mortgage providers.
The RBA said housing credit increased by 0.4 % over December, following an increase of 0.4% over November. Over the year to December, housing credit rose by 5.4 per cent.
Number of Owner Occupied Dwellings Financed
The number of owner occupied housing commitments (trend) rose (up 499, 1.1%) in December 2011 compared with November 2011. Rises were recorded in commitments for the purchase of established dwellings excluding refinancing (up 442, 1.8%), the purchase of new dwellings (up 15, 0.7%) and the refinancing of established dwellings (up 48, 0.3%), while a fall was recorded in commitments for the construction of dwellings (down 7, 0.1%). The seasonally adjusted estimate for the total number of owner occupied housing commitments rose (up 1070, 2.3%) in December 2011.
First Home Buyer Commitments
In original terms, the number of first home buyer commitments as a percentage of total owner occupied housing finance commitments rose to 20.9% in December 2011 from 20.0% in November 2011. Between November 2011 and December 2011, the average loan size for first home buyers rose $700 to $283,100. The average loan size for all owner occupied housing commitments fell $700 to $294,100 for the same period.
Sources: Reserve Bank of Australia, Australia Bureau of Statistics