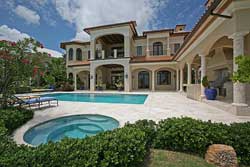 Australia's building approvals data has showed gradual improvement at 10.2% in June compared to the same period last year, according to the Bureau of Statistics.
This is a positive sign amidst the distraught environment in the country's real estate sector in recent months.
House prices in Australia also made significant advances during the period. The Statistics Bureau showed that the weighted average of prices across the eight capital cities rose by 0.5% in the June quarter.
Nonetheless, house prices are now on average 2.1% weaker than the recorded figures in 2011.
House price increases were recorded in Darwin, Sydney, Adelaide, and Perth. In Sydney, prices advanced by 1.4%; higher by 5.1% in Darwin. Perth saw a 0.6% upward price movement, while in Adelaide, prices rose by 0.5%, with a 0.6% increase in Perth.
Melbourne prices slid 0.4%, Canberra's prices dropped by 1.3%, while Hobart prices were weakened by 0.4%.
The building approvals data released on Tuesday by the Australian Bureau of Statistics indicated an improvement, although still low by a seasonally adjusted 2.5% per month.
States that saw increases in dwelling approvals include Western Australia (28.9%), Queensland (18.0%), Tasmania (9.2%), New South Wales (7.7%) and South Australia (4.1%) in seasonally adjusted terms. Victoria saw a decline at -14.6%
Private sector house approvals fell in New South Wales (-4.5%) and Victoria (-3.3%) but rose in Queensland (5.3%), Western Australia (4.4%) and South Australia (0.4%).

The value of total buildings approved fell 9.8% in June, in seasonally adjusted terms, after rising for 2 months. The value of residential building rose 0.2% while non-residential building fell 22.3%.
ANZ chief economist Warren Hogan is seeing a positive recovery in Australia's commercial property sector.
"Low vacancy and elevated incentives present considerable upside to effective rents and room rates, particularly in the office, industrial and hotel sectors," Mr Hogan said in a statement.
However, he warns that "a robust economic backdrop will underpin tenant demand, while supply will be constrained by rising development costs and tight credit conditions."