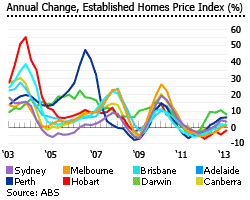 With the lowest cash rates now pegged at 2.5%, Australia's property sellers are hoping it could further perk up demand and entice buyers.
The Monetary Board of Australia's Reserve Bank had decided to cut interest rates further by 25 basis points on Tuesday to spur stagnant economic growth in light of a softening currency.
"For the most part, the cut was as good as done last week with building approvals, PPI and job readings coming in softer than market expectations," CMC Markets sales trader Betty Lam says in an emailed assessment.
Property prices in Australia had remained competitive and slightly unaffordable in recent months depending on the location.
The Global Property Guide Research says in a report that the house price index for 8 capital cities went up by 2.6% during the year to Q1 2013. This is the second consecutive quarter with a nominal year-on-year growth, after months of declines since Q2 2011.
Properties in Darwin, Perth and Sydney post significant price jumps during the year to end –Q1 2013: Darwin had 8% increase; Perth, 6.1%; and Sydney at 3.6%.
Minimum price spikes were recorded in Brisbane, Adelaide and Melbourne. A price drop of 1.9% had been reported in Hobart, the Global Property Guide Research indicates.
Now is a great time for clued-in and prepared buyers to consider entering the property market, to get in ahead of the rising trajectory of property prices and to take advantage of the historically low interest rates, Mortgage Choice Australia spokesperson Belinda Williamson says in an emailed statement
"At the same time, sellers should heed the cash rate cut as a signal to spruce-up their property now in the lead up to the spring selling season," Ms Williamson adds. "The good news for those who already have a mortgage is that these currently low interest rates pose the perfect opportunity to repay their home loan faster and look to achieve their next financial goal sooner."