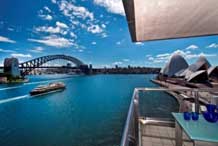 The NSW government's incentive for first-time homebuyers had given the construction industry a much-needed boost in the past quarter, the Housing Industry Association said in a report on Friday.
The HIA said there were increases in the homes constructed in New South Wales because of the $15,000 incentive given by the government to first-time home buyers with a 9.5% in housing commencements. Western Australia and Victoria also reported moderate to small increases, respectively.
This positive development, HIA economist Geordan Murray told smartcompany.com that the jump was as a result of the NSW grant.
HIA figures showed that in Western Australia, home constructions went up by 23.6%, with new homes estimated at 5,000 were recorded during the said December quarter.
It is in Western Australia that the mining areas known as the Pilbara region is located, thus, the rise in home building activities.
The construction period has likewise given the necessary push for rental spaces in Western Australia.
Rental growth in Perth, Darwin
In Perth and Darwin, rents climbed through 2012 according to data gathered by the Australian Property Monitors (APM).
For 2013, rentals are still deemed to increase in the said mining cities as well as in Sydney and Brisbane, the APM forecast. On the other hand, Melbourne are seeing a flat growth.
Darwin units saw weekly rents rising 19.6% to $550 compared to a year ago at $525.
Perth homes are the second top performing rental market recording a 17.5% increase from $450 to $470 per week.
The rise in rental rates could also be attributed to the vacancy rates, which according to research firm SQM is quite low at 0.7% in Perth and 1.1% in Darwin.
Sources: Smartcompany.com, Property Observer