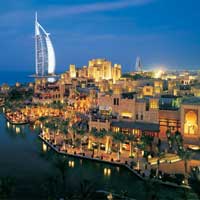 Property prices in Abu Dhabi are set for a decline as new developments are completed within the year, a market report by CBRE said that may prompt landlords to make some leeway for tenants seeking better rates.
The forecast of a property supply glut in this city in the UAE amidst a weak demand in the next 12 months will affect property prices in the near term, the report added.
The CBRE Abu Dhabi market review said that the impact will differ in different locations and quality of the developed project.
The city locations will still draw significant demand for residential and commercial buyers, the CBRE report said, citing that the completed Sowwah Square will be interesting in Abu Dhabi. There will also be partial developments in Marina Square and Reem Island that might also interest buyers, it said.
The CBRE report said that the coming of new developments in the market has initially made landlords more flexible in their leasing and rent-free periods in order to keep tenants and avoid long periods of vacancy for let-in properties.
For the residential sector, the property markets research indicated that moderate declines in rental rates will be seen averaging 16% year-on-year.
The mainland Abu Dhabi had recorded a quarterly decline of 5% against an annual 30% slide.
Current rates of villas in the island will remain attractive in prime locations and rentals will see a steady price growth in this segment, CBRE said.
The property research group said that sales during the quarter will remain subdued in general especially for projects that are still on the pipeline.
"Investors prepare and they want tangible assets by means of completed projects as assurance of returns," the CBRE said.