Russia's house prices are picking up again
Maria de Guzman | October 19, 2018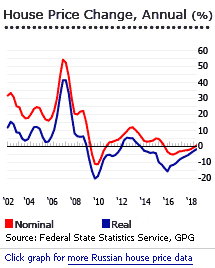 Resale apartment prices have started to rise again in nominal terms, increasing by 0.7% during the year to Q2 2018, according to the Federal State Statistics Service (Rosstat). When adjusted for inflation, however, the price index for resale apartments has fallen by 1.6% during the year.
In Moscow, the price index for resale apartments rose by 1.2% during the year to Q2 2018. Inflation-adjusted apartment prices fell by 1.2% y-o-y.
In St. Petersburg, resale apartment prices rose by 2.6% y-o-y to Q2 2018, and inflation-adjusted prices were up by 0.2%.
"The main reasons for this [is] advantageous ...loan conditions for "secondary housing" and the ambiguous situation in the market of new buildings associated with changes in the rules of the game, and the bankruptcy of some major players," said Pavel Lutsenko, general director of the portal Mir Kvartir.
"Growth in demand has stimulated the increase in the cost of second homes."
"Changes in the rules of the game" means amendments to Federal Law 214-FZ "tightening qualification requirements for developers, changing patterns of development companies, the introduction of compulsory bank support and reformat the targeted control using cash holders", according to the Internet portal irn.ru. The amendments also restrict  the number of building permits per developer.
Internet portal irn.ru. notes that while the volume of secondary housing supply in Moscow is declining (at least in annual terms), the demand for housing units continues to rise, supported by increased mortgages.  However it believes that the trend is only a "temporary phenomenon" due to cheaper mortgages, and predicts a price decline in the foreseeable future. It expects the average market price level to decline by around 5% to 10% per year, and by the end of 2020-2021, expects prices to have dropped by 15% to 20%, according to irn.ru.
Both locals and foreigners can own landed properties, according to the Land Code of 2001. The legislation was extended to Moscow in January 2006.
Real estate investment down in 1H 2018
The average price for a Moscow apartment in August was almost unchanged from last year, according to irn.ru. at around RUB 167,800 per sq. m.. But in dollar terms prices have fallen to US$ 2,609 per sq. m., from around US$2,801 per sq. m. last year, sharply lower than four years ago (2014), when dollar prices were just under US$5,000 per sq. m..   
While these lower prices did initially attract foreign buyers, with higher volatility luxury housing market demand has fallen in St. Petersburg, with sales volumes for prime residential properties down by 14% from the previous year, according to Knight Frank.
"The portrait of the buyer of prime flats has changed. The main share consisted of buyers aged 30−40 (while a year earlier, the activity was recorded from the age category of 40−50 years), living in St. Petersburg," according to Knight Frank. "The share of buyers living abroad noticeably decreased, while the share of residents from other regions of Russia, including Moscow, slightly increased."
In Moscow transactions of high-budget residential properties were up by 12% y-o-y in 2017, but "as in the previous year, buyers preferred less expensive lots in 2017," says Knight Frank. "The main interest of buyers in both the premium and elite segments was directed to flats and apartments with a budget of up to 100 million rubles."
Real estate investment activity also declined in the first half of 2018, with investment deal volumes down by 39% y-o-y. "Russia's real estate investment market was beset by geopolitical factors in Q2," says Olesya Dzuba, Head of Research, JLL, Russia & CIS. "New US sanctions against Russia announced in April resulted in rouble devaluation by 7-10% and raised currency and market volatility. This, in turn, has delayed the closing of some investment deals and led to investment volume decline by 63% YoY in Q2 2018."
How the previous commodity cycle impacted Russia´s housing market
Russia experienced a massive housing boom from 2000 to 2007, with secondary market prices skyrocketing by 436%, while primary market prices rose 362%.
The country fell deep into recession in 2009, with GDP contracting 7.8%, after global energy prices dropped. Apartment prices suffered a sharp dip in the second quarter of 2009 which lasted over two years. The market began to recover in 2012, with prices rising by 12.10% y-o-y during the year to Q4 2012 (5.23% inflation-adjusted). 
However prices started to decline again in Q3 2013.  A more recent global oil price crash, add to the economic sanctions imposed by the US and the EU, pushed Russia into another economic recession from 2015 to 2016. During this period, house prices in real terms plunged, falling 12.3% y-o-y from Q2 2015 to Q3 2016.   
These house price declines have however slowed since Q4 2016.
Central bank key rate increase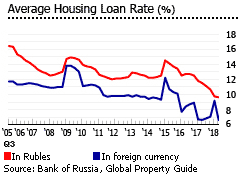 For the first time since 2014, the Central Bank of Russia (CBR) raised its benchmark interest rate by 25 basis points to 7.5% in September 2018, due to uncertain external conditions and "proinflationary risks".
The central bank hinted that it is considering to raise the key rate further, "taking into account inflation and economic dynamics against the forecast, as well as risks posed by external conditions and the reaction of financial markets".
In August 2018, Russia´s annual inflation accelerated to 3.1%,the highest rate since August 2017 mainly due higher food prices. It was however slightly down from 3.3% in the same month last year, according to the Federal Statistics Office (Rosstat).
"There's a growing uncertainty over sanctions against Russia, the growing geopolitical risks have increased the outflow of capital from emerging markets," according to central bank head Elvira Nabiullina. To aid in stabilizing the ruble, which raised inflation expectations in Russia, the central bank announced that it would also suspend foreign currency purchases over the next few quarters. As of August 30, 2018, the ruble had fallen by 17.9% year-to-date in 2018.
"It…looks like the bank's board made the move today to stem capital outflows resulting from fears about new U.S. sanctions," according to Capital Economics´ analyst William Jackson.
The central bank started tightening its monetary policy in late 2014, raising its key rate to a peak of 17% in December 2014 to mitigate inflation pressures brought by a weaker currency and the imposition of economic sanctions by the US and EU. However, since January 2015, the central bank has been gradually cutting the key rate, as soon as the inflation and depreciation expectations stabilized, slashing the rate from 17% in December 2014 to 7.25% in March 2018.
Record low interest rates fuelling mortgage lending growth
Outstanding housing loans in Russia rose by 69% y-o-y to RUB 1.31 trillion (US$ 19.19 billion) in the first half of 2018, according to DOM.RF (formerly Agency for Housing Mortgage Lending (AHML)). The rise in loans mostly occurred in the first quarter of 2018, when the value of mortgage loans rose by 109% y-o-y in January, followed by another robust increase of 93% y-o-y in February. (Note that it was only in 2006 that the laws underpinning mortgage-backed securities were introduced, allowing banks to refinance housing loans for the first time).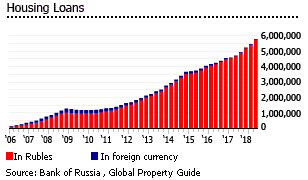 Low interest rates are behind the continuous growth of mortgage lending. In June 2018, the average interest rate for ruble-denominated mortgage loans was 9.63%, down from the previous year´s 11.5%. Rates for foreign currency loan rates, however, were the same as in June 2017, averaging 6.6%.
Aside from that, the Russian government also allocated worth RUB 600 billion of subsidized mortgages to young families starting this year. Families with a second or subsequent child born from 2018 to 2022 will be allowed to get mortgages at 6%, significantly below the current rate, which will be held fixed for three to five years, and is subjected to a recalculation after the initial period.
The banks´ mortgage portfolio quality has improved as loans in foreign currency have fallen. During the first half of 2018, only 6 mortgage loans were issued in foreign currency, amounting to RUB 167 million (US$ 2.42 million). Foreign currency debt now accounts for only 1% of the total mortgage debt.  
Rental yields in Moscow and St Petersburg are poor
Gross rental yields in Moscow´s upper-end areas are quite low, ranging from 2.92% to 2.95%, based on Global Property Guide research if June 2015. Monthly rents in Moscow´s elite areas range from €26 (RUB 1,833) per sq. m. to €32 (RUB 2,240) per sq. m.
In St. Petersburg, a 120 sq. m. apartment can generate a higher yield of up to 3.01%. However, bigger-sized 250 sq. m. apartments have lower yields of up to 2.62%. Monthly rents in St. Petersburg´s elite areas are lower than in Moscow, ranging from €12 (RUB 828) to €14 (RUB 990) per sq. m. per month.
New property laws have caused anxiety
From January 1, 2014 the cadastral value of real estate has been used in calculating tax, replacing the inventory value approach. One problem is that the cadastral values of many land plots have exceeded their market values, given that the mass valuation criteria used for revaluation in 2012 did not take into account land characteristics.
A tax rate of 0.1% has been imposed on real estate properties with cadastral value around RUB 300 million (US$ 8.6 million) or less since January 1, 2015, while residential properties with cadastral value higher than RUB 300 million have tax rates ranging from 0.5% to 1%, according to Knight Frank.
A new federal law came into effect on January 1, 2017 brought changes to the system of state cadastral valuation. The new law sets a transition period between January 1, 2017 and January 1, 2020, wherein state cadastral valuation may be performed under both the "old" and the "new" rules. 
Some of the changes in the new legislation:
Only employees from a state-financed institution will be allowed to conduct state cadastral valuations. In the past, appraisals were performed by independent appraisers chosen through a state procurement system.
The Rosreestr (the Federal Service for State Registration, the Cadastre and Cartography) is now tasked to supervise state cadastral valuations.
State cadastral valuations should be conducted not more than once every three years (not more than once in two years for the cities of Moscow, Saint-Petersburg and Sevastopol), but not less than once in every five years.
An unscheduled state cadastral valuation may be performed under special circumstances. For example, if the real market index of a certain area fell by at least 30% from the previous state cadastral valuation, then an unscheduled valuation is held.
Real estate owners can now submit a declaration of the features of relevant real estate items. Such declaration includes information required to calculate the cadastral value.
Regarding disputes concerning a computed cadastral value, applications can now be filed either to the commission or to the court. In the past, addressing the dispute to the commission first is mandatory.       
Russia´s economic crisis
The Russian economy has had a rough time in recent years. Following slower growth in 2014, the country´s GDP contracted by 2.8% in 2015 and by 0.2% in 2016, according to the IMF.
A brief snapshot of key events:
First, a catastrophic collapse in the price of oil, of which Russia is a major producer
Then, Russia´s intervention in Ukraine, which caused the country to be placed under an economic embargo
The ruble then collapsed. The ruble devalued to an all-time low (US$ 1 = RUB 85.91) on January 21, 2016
Rapidly rising inflation followed; inflation went up to 15.5% in 2015
The central bank raised the key interest rate in six rapid steps to 17% in December 2014
Russia sovereign debt was then downgraded to "junk status" (BB+) by Standard & Poor´s (S&P), a move followed a month later by Moody´s
Low incomes combined with skyrocketing prices have pushed millions of Russians into poverty since 2014. Russia´s economic downturn prompted ordinary Russians to protest against the economic crisis. In 2015, real wages in Russia fell by 9.5%, to an average of just over RUB 30,300 (US$ 385) per month, according to official data.
Russia´s poverty rate reached a peak of 16% of the population in Q1 2016, up from 11.2% in 2014. As of Q4 2016, almost 20 million Russians were living on less than 9,691 rubles (US$ 171) per month or roughly 13.5% of the population.
Positive outlook for Russia, a new set of US sanctions, and another term for Putin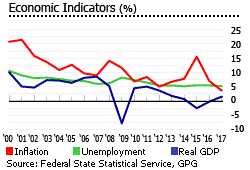 The Russian economy by 1.5% y-o-y in 2017, according to the Federal State Statistics Service (Rosstat). This economic recovery has continued during the first half of the year. Russia´s GDP rose by 1.9% during the year to Q2 2018, according to Rosstat.
However, Russia´s economics ministry has revised down its GDP growth forecast for 2018 to 1.9% from an earlier estimate of 2.1% for 2018, followed by a slowdown to 1.4% (from a previous forecast of 2.2%) in 2019.
The weaker growth estimate was partly attributed to the expected capital outflows following the new US sanctions against Russia. Aside from that, the government also proposed raising its VAT rate from 18% to 20% beginning 2019. The move is expected to lead to higher inflation that could dampen consumer spending.
Oil prices have been rising since last year, following the agreement between the Organization of Petroleum Exporting Countries (OPEC) and other non-OPEC members to cut oil production. This has been a key part of Russia´s economic rebound, since almost 70% of the country´s GDP is directly or indirectly dependent on oil.
As of September 28, Brent crude, the global benchmark for crude oil prices, was trading at US$ 82.72 per barrel, while the US benchmark West Texas Intermediate traded at US$ 73.25.
However the other underlying risk to the Russian economy - economic sanctions - persists. In June 2017, the US Senate has approved a legislation which imposes sanctions on Russia due to its involvement in the 2016 presidential elections, as well as to further punish the country for its support for the Syrian government and annexation of Crimea. This legislation prohibits the White House from easing or lifting sanctions without approval from the US Congress. A further set of sanctions was imposed on Russia by the US in August 2018, to punish Russia following the poisoning incident of a former Russian agent Sergei Skripal and his daughter in the UK last March.
In a similar manner, the European Union also extended its economic sanctions until January 31, 2019, putting pressure on Moscow to accomplish the Minsk ceasefire agreement.
In August 2018, Russia´s unemployment rate stood at a record-low 4.6%, according to Rosstat. The unemployment rate was slightly down from the previous months´ 4.7% rate, and even further below the EU´s average unemployment rate of around 6.8% in August 2018.  
Russian President Vladimir Putin will lead the country for another six years, having won a second consecutive term during the 2018 presidential elections last March with 77% of the vote. Putin´s nearest competitor, Pavel Grudinin of the Communist Party only got almost 12% of the vote, while Putin´s most serious competitor and the main opposition leader Alexei Navalny was barred from the race due to an earlier criminal conviction for corruption.
Russia - More data and information