Russia's house prices are picking up again
Maria de Guzman | October 19, 2018

Resale apartment prices have started to rise again in nominal terms, increasing by 0.7% during the year to Q2 2018, according to the Federal State Statistics Service (Rosstat). When adjusted for inflation, however, the price index for resale apartments has fallen by 1.6% during the year.

In Moscow, the price index for resale apartments rose by 1.2% during the year to Q2 2018. Inflation-adjusted apartment prices fell by 1.2% y-o-y.
In St. Petersburg, resale apartment prices rose by 2.6% y-o-y to Q2 2018, and inflation-adjusted prices were up by 0.2%.

"The main reasons for this [is] advantageous ...loan conditions for "secondary housing" and the ambiguous situation in the market of new buildings associated with changes in the rules of the game, and the bankruptcy of some major players," said Pavel Lutsenko, general director of the portal Mir Kvartir.

"Growth in demand has stimulated the increase in the cost of second homes."

"Changes in the rules of the game" means amendments to Federal Law 214-FZ "tightening qualification requirements for developers, changing patterns of development companies, the introduction of compulsory bank support and reformat the targeted control using cash holders", according to the Internet portal irn.ru. The amendments also restrict  the number of building permits per developer.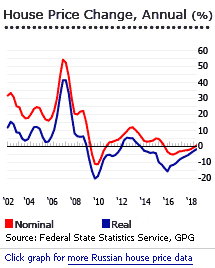 Internet portal irn.ru. notes that while the volume of secondary housing supply in Moscow is declining (at least in annual terms), the demand for housing units continues to rise, supported by increased mortgages.  However it believes that the trend is only a "temporary phenomenon" due to cheaper mortgages, and predicts a price decline in the foreseeable future. It expects the average market price level to decline by around 5% to 10% per year, and by the end of 2020-2021, expects prices to have dropped by 15% to 20%, according to irn.ru.

Both locals and foreigners can own landed properties, according to the Land Code of 2001. The legislation was extended to Moscow in January 2006.


Analysis of Russia Residential Property Market »