Polish housing market regaining momentum
October 18, 2014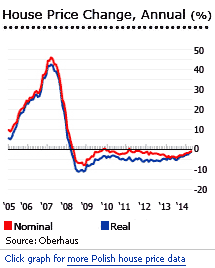 The Polish housing market is regaining momentum. A declining supply of new homes, interest rates at record lows, and new government programs aimed at stimulating demand, are all causing Polish house price falls to decelerate.
The average price of apartments in Warsaw, decreased by 0.9% year-on-year (y-o-y) to end-May 2014, to PLN 7,785 (€1,880) per square metre (sq. m.), according to Ober Haus, lower than the declines in April 2014 (-1.3%) and in May 2013 (-3.5%). When adjusted for inflation, property prices in Warsaw fell by just 1.2% y-o-y.
In Gdańsk saw the biggest house price fall of 5.9%, to an average price of PLN5,472 (€1,303) per sq. m. In Poznań house prices fell by 2.5% y-o-y to PLN 5,250 (€1,268) per sq. m. In both Cracow and Łódź house prices fell just 1.1% y-o-y.
House prices in Poland have been falling since mid-2008. According to Ober Haus, compared to pre-crisis peaks:
In Warsaw, house prices are down by 15.8%
In Cracow, house prices are down by 21.1%
In Poznań, house prices have fallen by 30.7%
In Gdańsk, house prices plunged by 30.3%
In Łódź, property prices plummeted by 36.9%
Price rises in the Polish property market have been driven over the past twenty years by the country´s strong economic growth. The boom period from 2004 to 2007 anchored the market's turning point, fuelled by an increased inflow of investments (mainly due to the country's accession to the EU), record low interest rates, and mortgage financing development.
Property prices suddenly surged in Warsaw by 23% in 2005, 28% in 2006, 45% in 2007, and 13% in 2008, according to REAS Some other cities such as Wroclaw saw even larger house price rises. But this market boom was immediately followed by a fall that continued for the next 6 years.
House price falls decelerating
House prices now appear to be on the verge of recovery. Demand is rising. The number of apartments sold in 2013 across Poland rose by as much as 20% compared to the previous year, when less than 30,000 units were sold. From Q3 2013 to Q2 2014, almost 41,900 units were sold in Poland's 6 primary markets, up by 16% compared to the peak in 2007, according to REAS.
Despite lower sales in Warsaw in the second quarter (about 17% below the previous quarter), the 3,800 units sold were still above the long-term average of 3,100-3,200 units per quarter. There were many cash buyers, including those making investment purchases driven by foreseen increase in prices and diminished supply, and those attracted by newly-launched dwellings priced lower than government-subsidy thresholds.
However though Poland's economy expanded by 3.3% on an annualized basis in the second quarter of 2014, a jump from 0.8% during the same period in 2013, there is much uncertainty.
To the west, the economic contraction in Germany (currently the largest buyer of Polish goods) may continue for a second quarter. To the east, Russian aggression in Ukraine, and trade sanctions against Russia, are hurting Polish businesses. Even Lithuania and other Baltic states to the north of Poland are affected. To the south, Hungary continues to struggle to climb out of recession.
Completions at new low: most units already sold
Completions were at a multi-year low in the first half of 2014, with only 66,457 completions, down 2.2% on the same period in 2013, and 2% less than in 2012, according to the Central Statistical Office.
About 71% of the units completed in 2014 have already been sold, while among the completions planned for the following year, 42% were already sold, according to Jones Lang LaSalle.
Optimists say that shortages in new flats and houses in the coming two to three years should allow real estate prices to start rising in 2016.
On the demand side, two government programs will boost demand. The Apartments for Youth (Mieszkanie dla Młodych) programme started in January 2014 after being approved early last year, replacing the "Families on their Own" programme. It seeks to aid families by subsidizing home purchases particularly in the lower end market.
The BGK fund, on the other hand, aims to purchase up to 20,000 apartments in coming years in all major cities of Poland. These apartments will be held by the government and will be rented out to the public at or lower than market rates. It is expected that this fund will focus on the cheaper end of the market, and may start buying before 2014 ends.
A survey by auditing firm Ernst and Young (EY) concluded that Poland ranks as the most attractive property market in Europe in 2014. 33% of the surveyed participants rated Poland as "very attractive" while the remaining 67% gave a rating of "attractive." Coming in at second in the rankings is Germany and at the bottom of the list, France. 41 percent of the respondents "strongly agreed" that transactions volumes will likely increase in Poland in 2014.
Interest rates continue to fall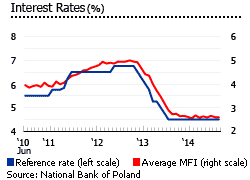 Following the Monetary Policy Council's meeting on October 7-8, 2014, the central bank has cut its main interest rate by 50 basis points to a record low of 2%.This was the first time in 15 months and was larger than the widely expected cut of 25 basis points.
The bank had previously signaled that it had finished its rate-cutting programme. But it was forced to reverse course by the stagnating German economy, and the fallout from the Russia-Ukraine conflict.
Monetary and financial institution (MFI) interest rates for house purchases also decreased from 4.7% in August 2013 to 4.6% in August 2014.
The danger of foreign-currency denominated mortgage loans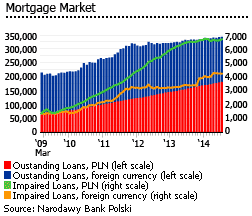 The foreign currency-denominated proportion of housing loans (including Swiss franc loans) rose from 9% in 1999, to 50% in 2001, and remained at 47% at end-July 2014, according to Polish central bank, Narodowy Bank Polski.
However, foreign currency-denominated loans have been decreasing in recent months. In July 2014, foreign currency loans dropped 6.8% y-o-y, while Polish zloty loans increased by 15.9%.
The number of the total outstanding loans in July 2014 increased by 3.9% to 343,502. Of which, 180,849 (or 53%) were Polish zloty-denominated; and 162,653 (or 47%) were foreign currency-denominated.
Impaired loans rose 10.61% to 10,876 in July 2014 compared to a year earlier. Of which, 6,677 were Polish zloty-denominated (which increased by 3.2% y-o-y); and 4,198 were foreign currency-denominated (which increased by 24.9%).
More people are renting, and yields are good
Renting is becoming an unavoidable choice for more and more Poles, as stricter requirements for mortgage financing, uncertainty in the labour market, and low growth prospects, discourage households from incurring long-term debts. The movement of people from other cities into the capital, especially students or young people looking for work, is also driving people to rent.
Official data from the 2002 National Census show that 21% of households in Warsaw are renting apartments, with half of this in social and communal housing.
Most residential properties in Poland are owned by private individuals. About 10.7% of the dwelling stock is rented at lower rates, with 5.7% in communal or social housing, 2.1% in cooperative tenancy, 1.2% in state-owned companies, 1.2% the State Treasury, and 0.5% in public building societies, according to the 2011 National Census. The remaining dwelling stock is primarily owner-occupied.
According to the latest Global Property Guide research, yields are high in the capital, reaching as high as 7.3%.
A joint report by REAS, PWC and CMS reveals that a studio unit with a floor area of 30 sq. m, in Warsaw, on average, cost around PLN 1,500 (€356) per month which is already a third of a typical monthly salary in Warsaw. One and two-bedroom units cost about PLN 2,000 (€475) and PLN 2,900 (€689), respectively. But for some areas in the peripheral districts, rents are about 40% cheaper. Krakow, Wroclaw, Poznan, and the Tricity also have cheaper rents. Monthly rent rates for a studio unit in these cities are about PLN 1,100 (€261). In Poznan, rates are even lower. Units in the city centre rent for around PLN 1,100 (€261), and rental rates are lower in peripheral areas.
Building permits and construction starts are up
The Polish residential market lags behind Western European countries in terms of quality, age of stock, and level of market saturation, according to Ernst and Young. Of the 13.7 million residential units in Poland, 72% were built before 1989, mostly during the communist era using prefabricated technology, which tends to be of very poor quality. Modern units built from 2000 onwards comprise only about 12% of the total and are concentrated primarily in six areas: Warsaw, Krakow, Poznan, Wroclaw, Tricity, and Lodz.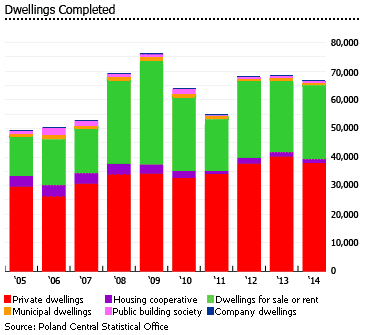 So there is substantial pent-up demand. The fall in completions mentioned earlier is a legacy of the housing bust, but things are changing. The number of building permits granted rose by 12.9% y-o-y to 76,480 in the period January-June 2014. The number of dwelling starts also increased by 22.5% to 72,253.
A substantial proportion of Poland´s dwelling are being built by private investors, rather than developers.
Of the dwellings completed in January-June 2014, the bulk (56.9%) came from private investors, who completed 37,820 dwellings
Developers completed 25,647 dwellings (38.6% of total completions)
Housing cooperatives completed 1,392 dwellings
Other investors (public building society, municipal and company construction) in the period of six months of 2014 completed 1,598 dwellings
Poland´s economy has been strong, but risks are increasing
Poland, which does not use the euro, has grown faster in recent years than any other EU member, owing to its large internal market.
It is the only European country which avoided recession during the global financial and economic meltdown. The Polish economy expanded by 5.1% in 2008, 1.6% in 2009 and 3.9% in 2010. GDP grew by 4.5% in 2011. However during the past two years growth slowed to 1.9% in 2012 and 1.6% in 2013.
However Poland cannot escape the slump in the Eurozone, which accounts for over 50% of Polish exports.
Poland's economy expanded by 3.3% on an annualised basis in the second quarter of 2014, a jump from the 0.8% during the same period in 2013 but a slight decrease from the previous quarter. HSBC has downgraded its growth forecast for 2014 and 2015 to 3.1% and 3.4%, respectively. According to the bank, prospects of closing the output gap, bringing inflation back to target and normalizing interest rates are more distant now than a few months ago. And risks for the next year are increasing.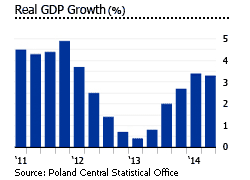 The government's budget deficit is at worrisome levels and consumer spending, which fueled the Polish economy early in the crisis, has begun to slacken. Core inflation fell 0.3% in August, one of nine European states to see prices fall over the past year, according to the OECD.
It looks like a couple of difficult years ahead, but Poland´s underlying economic momentum seems strong.
Poland - More data and information