Moldova's property market at a standstill
January 24, 2014

After almost four years of falling house prices, Moldova's property market remains at a standstill.

During the year to end-June 2013, residential property prices in Moldova were unchanged from a year earlier, at an average of €650 per square meter (sq. m.), based on figures released by Nika Imobil real estate agency. When adjusted for inflation, property prices actually dropped by 1.3% over the same period.

On a quarterly basis, residential property prices remained unchanged (dropped by 1.08% in real terms) in June 2013.

Moldova's housing market, especially those in Chisinau and surrounding areas, saw tremendous growth in the early-2000s, boosted by the renovations and completions of unfinished buildings after the fall of the Soviet Union. Moldova saw a house price explosion partly due to increased demand from foreign investors and higher remittances from Gastarbeiters (foreign workers in Germany) combined with lack of supply.

Before the global financial crisis of 2008, residential real estate prices in Moldova had risen annually by 30 to 40% from 2002 to 2007, according to Lara Real Estate Agency. In January 2003, the average price of both newly built and used blocks of flats ranged from US$270 to US$330 per sq. m. During the year to June 2008, residential property prices skyrocketed by 41.3% (38.2% in real terms) y-o-y to an average of €900 per sq. m., according Nika Imobil. Housing construction increased sharply over the period.

Moreover, property sales transactions in Moldova quintupled from 17,907 in 1999 to 89,451 in 2005, based on a report published by the World Bank. In addition, the total number of registered mortgages skyrocketed by 12 times over the same period.

The property market started to feel the pinch of the global crisis in 2008. Based on figures released by Nika Imobil:

In 2009, property prices plunged by about 20% (-14.7% in real terms).
In 2010, property prices fell by 5.6% (-12.4% in real terms)
In 2011, house prices remained unchanged (increased 0.3% in real terms) from a year earlier
In 2012, property prices dropped 3% (increased 0.5% in real terms)

Transactions have also declined sharply, as sellers do not want to sell their property with zero-profit while buyers delay purchasing, hoping for further price declines. The volume of new construction has also fallen by about 40% over the period, in response to huge oversupply.

In 2013 things started to stabilize, though transactions remain far below the pre-crisis levels. The average price of houses in the secondary market is currently about €500 to €800 per square metre (sq. m.), according to Incasso Companie De Colectare A Datoriilor. On the other hand, the average price of houses in the primary market ranges from €400 to €1,000 per sq. m. Land prices intended for housing construction range from €7,000 to €50,000 per 0.01 hectare (ha.).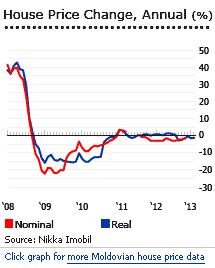 As the country turns to the west, more properties are being quoted in euros instead of US dollars which is the norm in Russia. Moldova's government seeks closer European ties and aspires to become a member of the European Union (EU).

Chisinau is the country's political, economic, and cultural capital. It is the only city in Moldova with reasonable living conditions for expatriates. Many houses are built specially for rental. The city's prime residential area is in its western section: Buiucani, the City Centre, and Botanica.

There are no restrictions on foreigners buying properties in Moldova, except for agricultural lands and lands of forest fund.