Vietnam: low supply pushes property prices up; outlook still uncertain
Lalaine C. Delmendo | November 18, 2021
Vietnam's residential property prices continue to rise. But both demand and supply are exceptionally low, due to the Covid pandemic. In Q3 2021, the primary stock of apartments plummeted by a huge 70% y-o-y in Ho Chi Minh City and by 27% in Hanoi, according to Savills.
"It broke the record for the lowest supply level since 2014," said JLL Vietnam. "A series of new launching events were delayed due to social distancing regulations throughout Q3 2021. Developers strongly applied digital technology to reach out to customers in the state of lockdown."
Source: Jones Lang LaSalle Incorporated
Yet demand is also weak. In Hanoi, apartment sales, as well as sales for villas and townhouses fell by 54% y-o-y in Q3 2021, based on figures from Savills. In HCMC, apartment sales plunged 94% in Q3 2021 from a year earlier, while villas and townhouses sales dropped 79%.
These contrary forces are, for the moment, pushing the market up:
In Ho Chi Minh City, apartment prices rose by 10.9% in Q3 2021 from a year earlier (8.2% inflation-adjusted), to an average of US$2,683 per square metre (sq. m.), according to JLL Vietnam. Quarter-on-quarter, apartment prices in the city increased 4.4% in Q3 (3.7% inflation-adjusted).
In Hanoi, property prices have been continuously rising, too. The average price of apartments in the capital rose by 9.3% y-o-y (6.6% inflation-adjusted) to US$1,650 per sq. m. in Q3 2021. On a quarterly basis, prices increased 5.8% during the latest quarter (5% inflation-adjusted).
The outlook for the property market remains bleak. "It remains uncertain with borders blocked, flights disrupted and immigration limited," said Savills. "Full recovery might be expected from 2023 onwards, aligning with global vaccination progress."
The IMF forecasts that Vietnam's economy will grow by a modest 3.8% this year, sharply down from its annual average growth of 6.5% in the past two decades.  In Q3 2021, the Vietnamese economy contracted by 6.17% from a year earlier, in contrast to y-o-y growth of 6.57% in Q2 and 4.65% in Q1, amidst stricter measures due to the resurgence of infections, according to the General Statistics Office. 
"The COVID-19 pandemic has seriously affected all aspects of the economy with many key production cities and provinces having to impose strict lockdowns," said the GSO.
Foreigners are not allowed to own land. In fact, even citizens are not allowed to own land. In Vietnam, land is theoretically collectively owned by the people, but regulated by the State.
Foreign residents in Vietnam are permitted to purchase dwelling houses and can own the house but not the land on which it is built.
Sales plummeting
Increased pandemic-related restrictions have dramatically reduced launch sales events and project visits.
In Hanoi:
Apartment sales fell by 54% y-o-y to 2,400 units in Q3 2021, amidst a citywide two-month lockdown, according to Savills. The absorption rate stood at 12%, down by 7 percentage points from Q3 2020.
For villas and townhouses, there were just 210 units sold in Q3 2021 – down 54% from a year earlier. Likewise, the absorption rate fell by 6 percentage points to 19%.
In HCMC:
Apartment sales plunged by 94% y-o-y to about 400 units in Q3 2021, according to Savills, with the market absorption rate falling to 14%, 58 percentage points lower than the previous year. The total sales and absorption rate are the lowest in the past five years.
Sales of villas and townhouses fell sharply by 79% y-o-y to just 290 units in Q3 2021. The absorption rate stood at 57%, down by 15 percentage points from a year earlier.
Apartment supply has fallen
In Hanoi, the total stock of apartments was about 19,600 units in Q3 2021, down 8% from the previous quarter and by 27% from a year earlier, according to Savills.
Eleven new launches and the next phases of two existing projects are expected to add 7,900 units by Q4 2021, 81% in Tu Liem, Gia Lam, and Hoang Mai districts.
"Hanoi plans to turn five suburban districts Hoai Duc, Dong Anh, Thanh Tri, Gia Lam, and Dan Phuong into urban districts by 2025," said Savills. "With their large land banks, they will become key residential development targets. From 2023 onwards, these districts will account for 36% of supply."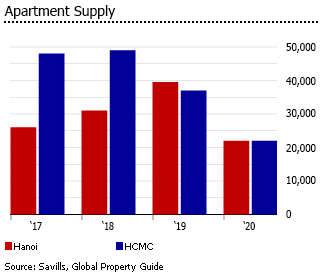 Likewise in HCMC, primary supply reached the lowest level in five years at about 3,000 units in Q3 2021 – falling by 18% from the previous quarter and by a huge 70% from a year earlier. Over 7,000 additional units are expected to be delivered by end of this year.
"By 2024, future supply is estimated at 120,000 units from 119 projects, mostly Grade B at 48% share. Thu Duc City will be the main supplier with a 44% share," said Savills.
Supply of villas and townhouses falling, too
In Hanoi, the primary supply of villas and townhouses fell by 40% y-o-y to 1,088 units in Q3 2021. Hoang Mai accounted for 32% of supply, followed by Dong Anh with 20% and Hoai Duc with 15%.
Similarly in HCMC, the primary supply of villas and townhouses fell to 510 units in Q3 2021, down 73% y-o-y.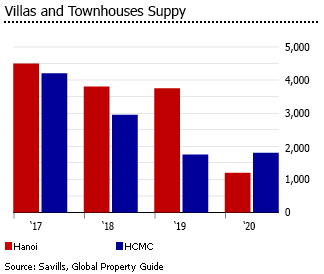 "With the fourth Covid wave, developers were cautious in launching projects, new supply continued to be scarce," said Savills. "New supply will be limited in the short term as only a few projects are planning to launch in Q4, including a new project and two next phase launches in Thu Duc City and Nha Be."
Accordingly, some projects in both cities delayed launching to 2022 because of pandemic-related restrictions.
Government urged to relax foreign ownership laws
The Vietnam Association of Realtors (VARS) recently urged the government to relax foreign homeownership restrictions. "The association is suggesting the government extends the foreign ownership cap from the current 30% of apartments in any given project to 50%," said Tran Minh Hoang, VARS deputy general secretary.
"Non-nationals with high capital are not really interested in mid-end and affordable like Vietnamese people. They are on the market for luxury and high-end properties so they would not pose competition to local buyers – and developers could increase their sales," Hoang added.
During 2020, foreign direct investment (FDI) fell by 25% to US$28.5 billion, after reaching a decade-high FDI of about US$38 billion in 2019. It was the lowest recorded since 2017.
In H1 2021, the total FDI registered in HCMC was US$1.4 billion with new capital of about US$264 million, according to the HCMC Statistics Office. In Hanoi, registered FDI in H1 2021 totalled US$761 million.
There are about 83,500 foreigners currently living in Vietnam, the total number of foreign arrivals having surged 16.2% in 2019 to a record 18 million, according to the General Statistics Office (GSO).
The Construction Ministry has also proposed recently to allow foreign investors to own hospitality properties like condotels and villas. Currently, there is no regulation on ownership of hospitality property in the country.
Vietnam opened up to foreigners six years ago. Through the Housing Law (Law on Housing No. 65/2014/QH13) which became effective on July 1, 2015, foreigners who have been granted a Vietnamese visa, plus foreign investment funds, banks, Vietnamese branches and representative offices of overseas companies could now purchase residential property. Foreigners can now own all types of properties, including condominiums and landed property such as villas and townhouses. Properties owned by foreigners can be sub-leased, inherited and collateralized.
Moreover, overseas Vietnamese who have maintained their Vietnamese citizenship are treated like locals and are permitted to own unlimited property in their own names. It is estimated that about 70% of the 4 million overseas Vietnamese around the world still maintain their original citizenship.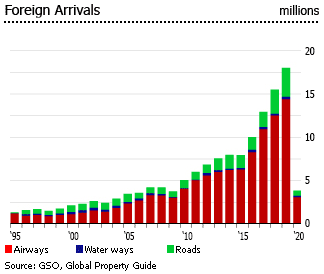 For foreign individuals the house ownership period is 30 years, but it can be extended. The new law also limits foreigners from owning more than 30% of a single apartment building, or more than 350 houses and apartments in a ward, a subdistrict-level administrative area.
Detailed guidelines on implementing the Housing Law (Decree 99) became effective on December 10, 2015. According to Decree 99, foreigners are allowed to own houses in Vietnam as long as they were able to meet these conditions:
The foreigner's valid passport should have an entry stamp affixed to it from Vietnam's immigration authority.
They should not be in the category of people entitled to preferential treatment or diplomatic immunity in accordance with the Ordinance on Preferential Treatment Rights and Immunities Applicable to Representative Diplomatic Offices, Foreign Consulates and Representative Offices of International Organisations in Vietnam.
On August 15, 2016 the Ministry of Construction Circular 19/2016/TT-BXD (Circular 19) which contains guidelines on the Law on Housing, and on Decree No. 99/2015/ND-CP, became effective.
As for individual houses under commercial housing projects (including villas and semi-detached housings), foreigners are allowed to own 10% of the total individual houses of a particular project.
Perpetual Lease
In theory, freehold land does not exist in Vietnam. Land can only be leased, even by Vietnamese; though in reality many leases seem to be for indefinite terms. "Buying" land is technically a transfer of leasing rights. The creation of a perpetually renewable lease means that Vietnam now has one of the most open property markets in Asia.
New free trade agreements to attract more foreign investors
In recent years, Vietnam signed two landmark free trade agreements that are expected to boost foreign investments and accelerate institutional reform.
The EU-Vietnam Free Trade Agreement (EVFTA), which came into force in August 2020, will provide opportunities to increase trade and support jobs, through the following:
eliminating 99% of all tariffs;
reducing regulatory barriers and overlapping red tape;
ensuring protection of geographical indications for over 200 products;
liberalizing government procurement rules;
obligations on antitrust and mergers; and,
 provisions on sustainable development, particularly on climate, labor, and human rights.
The EVFTA is considered the most comprehensive agreement so far between the EU and any ASEAN country.
The Comprehensive and Progressive Agreement for Trans-Pacific Partnership (CPTPP) also came into force in January 2019 – a free trade agreement between Australia, Brunei Darussalam, Canada, Chile, Japan, Malaysia, Mexico, Peru, New Zealand, Singapore and Vietnam. The agreement is expected to benefit the real estate market.
Foreign investors are protected through the Investor State Dispute Settlement (ISDS) mechanism, which applies to cross border investments in property development.
The CPTPP also enlarges the real estate services in which foreign investors can participate in, including real estate brokerage services, real estate exchange floors, real estate consulting services and real estate management services, with respect to both residential and commercial properties.
Rental rents falling; occupancy rates remain low
In Hanoi, the average monthly apartment rent was US$24 per sq. m in Q2 2021, down by 8% from a year earlier, according to Savills. Likewise on a quarterly basis, rents in the capital city dropped slightly by 1% from the previous period. The average occupancy rate in Hanoi was 69% in Q2 2021, at par with last year but down 13 percentage points from two years ago.
Expats working in industrial parks are a major source of demand for serviced apartments in Hanoi. "The Covid outbreaks peaking in Bac Giang and Bac Ninh industrial parks since May 2021 impacted demand negatively," said Savills.
The supply of serviced apartments in Hanoi increased 20% y-o-y to 5,550 units in Q2 2021. Two long-awaited projects in Ba Dinh and Dong Da Districts launched 136 Grade-B units, according to Savills. The supply of Grade-A apartments was steady over the past five years, at 53% share, mainly managed by Ascott and Oakwood. Nineteen future projects are expected to provide an additional 2,400 units.
In HCMC, serviced apartment rents averaged US$21 per sq. m per month in Q2 2021, down 10% y-o-y and 2% q-o-q, according to Savills. The average occupancy rate in the city was 64%, up 3% from the previous year but down 16% from two years ago.
The total stock of rental apartments in HCMC was down 3% in Q2 from a year earlier, due to the withdrawal of three CityHouse projects. By 2023, over 700 units are expected to launch.
Moderate to good rental yields
Gross rental yields in Hanoi and Ho Chi Minh City - the return earned on the purchase price of a rental property, before taxation, vacancy costs, and other costs - are quite attractive. In Hanoi, yields remain high at around 4% to 7% last year, according to research conducted by the Global Property Guide. In HCMC, yields are slightly lower, at between 2.6% to 6.3%, depending on district.
Overall, round trip transaction costs are low in Vietnam. See our Property transaction costs analysis for Vietnam and Property transaction costs in Vietnam, compared to the rest of Asia.
Interest rates falling, mortgage market still underdeveloped
In October 2020, the State Bank of Vietnam (SBV), the country's central bank, lowered its benchmark refinancing rate by 50 basis points to 4%, following a 50 basis points rate cut in May and 100 basis points in March, in an effort to minimize the impact of the coronavirus pandemic on economic activity. Likewise, the discount rate was also lowered to 2.5%, from 3%. The key rates were kept since.
Commercial banks have also reduced interest rates on home loans in recent months.
Sacombank is now offering a home loan interest rate of 9.5%, from 11.5%.
Eximbank's home loan rates were cut to 9%, from 11%.
Some foreign banks have also eased their home loan interest rates. Standard Chartered has slashed its rates from 6.45% to 6.19%; Shinhan Bank from 6.7% to 6.3%; and UOB from 8.7% to 6.49%.
In general, home loan interest rates in Vietnam are attractive, with preferential interest rates of 5.99% to 9.5% per annum for 3 to 36 months. After that period, borrowers will have to pay commercial interest rates, depending on the bank.
The Vietnamese mortgage market is still underdeveloped; most homebuyers pay cash. Developers are now starting to work with banks to offer mortgages to buyers, but high interest rates and strict loan procedures still hinder the local mortgage market. The loan-to-value (LTV) ratio rarely exceeds 50% of the appraised value of the property. The term period is usually 15 years.
The memory of a housing bust (2009-2013)
Vietnam witnessed a prolonged housing crisis after the global crisis. Property prices plunged by double-digit figures. The government was embarrassed, banks were bankrupted, and the economy slowed sharply.
The banking system effectively collapsed. One out of every ten loans in the banking system stopped paying.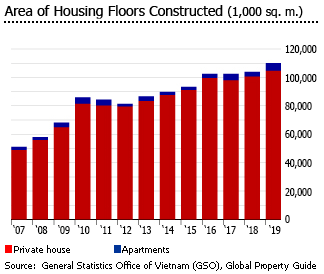 To bolster demand, the government provided the real estate market with a US$1.4 billion stimulus package in 2013, subjected developers to stricter financial requirements, and bought US$8 billion of non-performing loans. The central bank slashed the refinance rate and discount rate several times, and gave VND5 trillion (US$221 million) credit to homebuyers through Vietinbank. These measures were, over time, successful.
Pre-pandemic real estate growth
The government's efforts helped the real estate market recover - in fact, apartment prices in HCMC surged 75% (63% inflation-adjusted) from 2017 to 2019.
Vietnam has begun to be seen as the next luxury property market hotspot, with a booming economy, coupled with laws that recently have made it easier for foreigners to buy. As a result, wealthy international investors have been drawn to the country.
Vietnam's improving infrastructure is also a plus factor. "Vietnam focuses on investment in infrastructure including 2,000 km of new highways, subway systems in Hanoi and Ho Chi Minh City, and many airport expansion and construction projects," said JLL.
Aside from increasing foreign interest, the property market was also buoyed by strong demand from wealthy locals. The homeownership rate in Vietnam exceeds 90% - one of the highest rates in the world.
"We have more and more very rich Vietnamese, particularly entrepreneurs looking for places to put their money," said Niel MacGregor of Savills Vietnam.
Vietnam's economy is now struggling
The IMF forecasts that Vietnam's economy will grow by a modest 3.8% this year, sharply down from its annual average growth of 6.5% in the past two decades. 
Tourism is struggling. During 2020, there were 3.8 million international visitors, down 79% from the previous year's 18 million visitors, according to the country's GSO. Tourist arrivals grew by an annual average of 23% during 2016-19.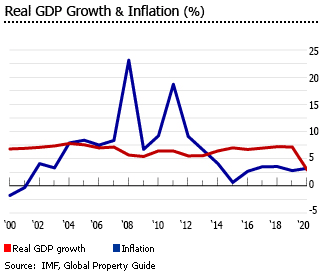 In Q3 2021, the Vietnamese economy contracted by 6.17% from a year earlier, in contrast to y-o-y growth of 6.57% in Q2 and 4.65% in Q1, amidst the recent reimposition of stricter measures due to the resurgence of infections, according to the General Statistics Office. It was the sharpest decline ever recorded.
Services sector declined 9.28% in Q3 2021 from a year earlier
Industrial and construction sector fell by 5.02% y-o-y in Q3 2021
Agriculture sector expanded slightly by 1.04%
During 2020, the economy had managed to post decent growth of 2.91% in 2020 from a year earlier, and coming after almost four decades of uninterrupted growth:
1981-1990 - average real GDP growth of 5.9% per year
1991-2000 - average real GDP growth rate of 7.6% annually
2001-2010 - average real GDP growth rate of 6.8% annually
2011-2020 – average real GDP growth rate of 6.2% annually
The country's unemployment stood at 3.72% in Q3 2021, up from 2.62% in the previous quarter and 2.5% a year earlier, according to GSO - the highest level in two decades. From 6.42% in 2000, Vietnam's unemployment rate has continuously declined to reach 2.21% in 2019, according to the IMF, but increased slightly to 3.3% last year due to the pandemic.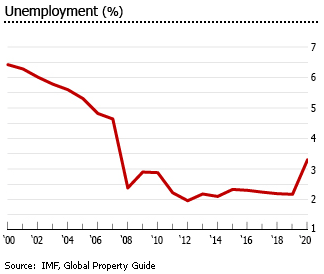 Annual inflation slowed to 1.77% in October 2021, far below the government's target of around 4%.
Vietnam, U.S. reached accord over alleged currency manipulation
In January 2016, the central bank announced a move to a market-based exchange rate mechanism, setting daily reference exchange rates, to discourage hoarding of US dollars.  However the new rate is not really "free". The central bank sets a reference rate daily, and local and foreign banks in Vietnam can trade within a band of plus or minus 3%.
In 2019, the US indicated that Vietnam was under scrutiny for possibly manipulating its currency. Then in August 2020 the US Treasury confirmed that the dong was undervalued by about 4.7% against the dollar in 2019 due in part to "government action on the exchange rate." In December 2020, the Treasury officially labeled Vietnam a currency manipulator, claiming that it "conducted large-scale and protracted intervention, much more than in previous periods, to prevent appreciation of the dong".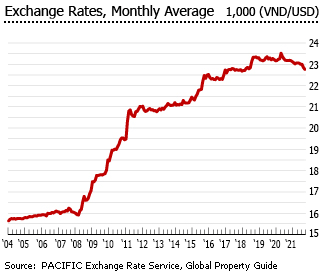 Finally in July 2021, Vietnam reached an agreement with the U.S., pledging "to avoid manipulating its exchange rate in order to prevent effective balance of payments adjustment or to gain an unfair competitive advantage and will refrain from any competitive devaluation of the Vietnamese dong."
Sources: