Vietnam's property market remains fundamentally strong, buoyed by real owner-occupier demand which has been resilient despite the pandemic.

In Ho Chi Minh City, apartment prices surged 27.5% in Q2 2020 from a year earlier (23.6% inflation-adjusted), to an average of US$2,582 per square metre (sq. m.), according to JLL Vietnam. Quarter-on-quarter, apartment prices in the city increased 5.3% in Q2 (6.3% inflation-adjusted).

The price increases "showed that developers' [were able to] insist on their prices, given the scarcity of supply and the healthy demand from owner-occupiers," said JLL. The entrance of Phase 1 Galleria of Metropoles Thu Thiem, a luxury project in District 2, and the price increase in some projects such as One Verandah, and Giai Viet Central Premium have together raised the average market price in HCMC, added JLL.

Likewise in Hanoi, property prices have been continuously rising, albeit at a slower pace. The average price of apartments in the capital rose by 4.9% y-o-y (1.7% inflation-adjusted) to US$1,493 per sq. m. in Q2 2020. On a quarterly basis, prices increased 1.3% during the latest quarter (2.2% inflation-adjusted).

Vietnam is now widely seen as the next luxury property market hotspot, with a booming economy, coupled with laws that recently have made it easier for foreigners to purchase property. As a result, wealthy international investors have been flocking into the country in recent years.

Sales have been greatly assisted by the Housing Law and Law on Real Estate Business (effective July 1, 2015), by the law on Sell and Transfer of Real Properties (subsequently fleshed out by Decree No 99 (effective December 10, 2015) and by Circular 19 (effective August 2016). Moreover, the Comprehensive and Progressive Agreement for Trans-Pacific Partnership (CPTPP), officially came into force in January 14, 2019, is also expected to attract more foreign investors.

Vietnam's improving infrastructure is also a plus factor. "Vietnam focuses on investment in infrastructure including 2,000 km of new highways, subway systems in Hanoi and Ho Chi Minh City, and many airport expansion and construction projects," said JLL.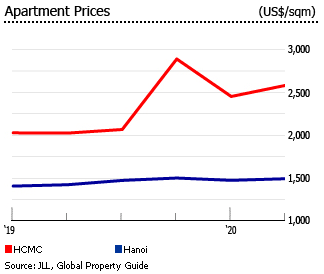 The Vietnamese economy grew by a meagre 0.36% in Q2 2020 from a year earlier, a sharp deceleration from the prior year's 6.73% growth, as economic activity has been hampered by the coronavirus outbreak, according to the country's statistics department. It was the slowest y-o-y expansion since the series began in 2000. Recently, the IMF has forecast that Vietnam's economic growth will slow to 2.7% this year, down from 2019's robust growth of 7%. However, Prime Minister Nguyen XuanPhucis still targeting growth above 5% this year.

Foreigners are not allowed to own land. In fact, even citizens are not allowed to own land. In Vietnam, land is theoretically collectively owned by the people, but regulated by the State.

Foreign residents in Vietnam are permitted to purchase dwelling houses and can own the house but not the land on which it is built.