Russia: if this is autumn, how bad will winter be?
November 10, 2015
Russia´s currency has collapsed, and interest rates are sky high. The economy has entered its first recession since the 2009 financial crisis, with GDP contracting by 4.6% during the year to Q2 2015, according to the Federal State Statistics Service (Rosstat).  Yet inflation is so high that it still looks as if Russian housing prices are rising.
It´s an illusion.  Apartment prices, in nominal terms, rose by 2.86% during the year to Q2 2015, but when adjusted for inflation the price index for resale apartments plunged by 11.19%, according to the Federal State Statistics Service (Rosstat).
In Moscow, inflation-adjusted apartment prices fell by 6.78% y-o-y to Q2 2015.
In St. Petersburg, inflation-adjusted apartment prices fell 10.33% y-o-y to Q2 2015.
Russian house prices have been falling for nearly two years. And this is likely just the beginning.
"As you can see, growth is very weak," said Paul Lutsenko, Mir Kvartir's director general. "The secondary market has been killed with the disappearance of the mortgage market, which took place late last year."
Even in nominal terms, there were price declines in all except six out of 51 Russian cities during the third quarter of 2015, according to the portal Mir Kvartir, the exceptions being Moscow (up 2.3% in nominal, i.e., non-inflation adjusted terms), Tula (1.9%), Sochi (1.5%), Kostroma (0.5%), Astrakhan (1.3%), and Ryazan (0.2%).
Russia´s economic crisis
These house-price declines are hardly surprising, given what the Russian economy is going through: 
First, a catastrophic collapse in the price of oil, of which Russia is a major producer 
Then, Russia´s intervention in Ukraine, which caused the country to be placed under an economic embargo, now extended to 2016 
The ruble then collapsed. At time of writing the dollar had gained 78% against the ruble
Rapidly rising inflation followed; it is now 15.8% p.a.
The central bank raised the key interest rate in six rapid steps  to 17% in December 2014.
Russia sovereign debt was then downgraded to "junk status" (BB+) by Standard & Poor's (S&P), a move followed a month later by Moody's
In September 2015 annual inflation was still rising, according to Federal Statistics Office (Rosstat), though the central bank expects inflation to be around 12% to 13% by the end of the year, and between 5.5% to 6.5% by end of 2016.
Average interest rates for ruble-denominated loans rose to 14.1% in Q2 2015, up from 12.2% in Q2 2014. Foreign currency loan rates were also up to 10.7% in Q2 2015, from 9.6% in Q2 2014.
In these circumstances what it is surprising is that real estate prices have not fallen further. 
The effects of the economy´s 4.6% GDP decline during the year to Q2 2015 -  the economy's worst performance in six years - have been dramatic.
The number of new passenger cars sold in Russia dropped by 43% in the first nine months of the year, according to PricewaterhouseCoopers. The number of Russians living on less than 9,662 rubles ($169) a month -- the official poverty line -- surged to nearly 23 million at the end of March, according to official data, three million more than last year.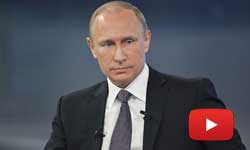 During 15 years of Vladimir Putin´s leadership, Russia saw its official poverty rate drop steadily to 11% in 2014. Now that trend has been reversed, and 16% of Russians are now officially poor.
Housing: if this is autumn, how bad will winter be?
Most new residential complexes are now being discounted by 10%–15% in Moscow, according to irn.ru. Price cuts are growing in all segments, reaching more than 20% in the wider Moscow region and up to 36% for luxury apartments in Moscow. In August, 78% of all sales on the secondary market included such discounts, according to the same report.
"That´s a gigantic figure," said Inkom Real Estate secondary market department head Sergei Shloma. Those buying luxury housing are buying not so much to earn a return as to preserve capital, says Knight Frank director Alexei Treshchev. He added that investment transactions in the "pure sense" are almost totally absent from the housing market now.
"Institutional investors are looking at the situation in Russia as if it were now autumn. And if this is autumn, they ask, then what kind of winter lies ahead, and how cold will it get?" said Holger Mueller, PwC partner for real estate sector services, at the PROEstate 9th International Investment Forum for Real Estate in September 2015.
Foreign buyers are happy
One bright spot on the horizon is that the decline in the rouble means a strong tourism market, and may attract foreign property buyers. With most developers of luxury apartment complexes setting their prices in rubles, they are increasingly attractive for foreign currency buyers.
According to the Internet portal irn.ru, the average price for a Moscow apartment on August 31 was 187,000 rubles per sq. m., close to the 180,000 rubles per sq. m. benchmark of a year earlier (the portal calculates the average price based on housing offers, without counting luxury or non-standard dwellings in its calculations, and corrects the final figure using the price of actual transactions). The dollar price dropped steeply over the same period from $4,935 to $2,810 per sq. m., reflecting the dollar´s 78% gain in value against the ruble.
Foreign demand may be why in St Petersburg, the market for expensive housing has lost hardly any ground, while demand in the mass-market segment has declined by 25–30% on average, according to Vera Serezhina, division director for strategic marketing and market research at RBI.  Serezhina estimates that from January to July 2015, around 90,000 sq. m. of elite housing was sold. This is almost as much as for same period in 2014, and even more than in the first half of 2013.
However, competition is undoubtedly getting tougher. Since 2013, the number of apartments for sale in St. Petersburg has increased two fold, but the average buyers´ budget has decreased. 
Other buyers are taking advantage. Analysts at Knight Frank St. Petersburg say that this year there has been twice the number of requests for apartments with areas over 220 sq. m. and four rooms.  The average buyer´s budget, however, has decreased.
Deals in the premium segment are overwhelmingly facilitated by instalment payments. Mortgages are extremely rare, says Lyudmila Teor, head of  marketing for Solo Group.
How the previous commodity cycle impacted Russia´s housing market
From 2000 to 2007 Russia experienced a massive housing boom, with secondary market prices skyrocketing by 436% while primary market prices rose 362%.
The country fell deep into recession in 2009, with GDP contracting 7.8%, after global energy prices dropped. It was Russia's deepest recession in 15 years, after robust economic growth from 1999 to 2008 thanks to booming energy and commodities revenues. The recession was followed by a recovery, with Russia's GDP growing by 4.5% in 2010, 4.3% in 2011 and 3.4% in 2012.
The recovery was followed by a 1.3% and 0.6% slowdowns in 2013 and 2014, respectively, the lowest economic expansions since 2009.
In nominal terms, apartment prices in Russia suffered a sharp dip from the second quarter of 2009, lasting just over two years.  House prices began to improve in 2012, both in nominal and real terms, with prices rising by 12.10% y-o-y during the year to Q4 2012 (5.25% inflation-adjusted).  Inflation-adjusted prices started to decline again in Q3 2013.
How to get back to normal?
The authorities are trying to return the country to normality, but are acutely conscious that a too rapid normalization of interest rates could spark inflation. Yet since the beginning of 2015, the Central Bank of Russia has already made five consecutive key interest rate cuts, from 17% in December 2014, to 11% in July 2015.
The central bank´s task is not easy.  In September 2015, the bank decided to keep the key rate at 11% because the weak currency is still pushing inflation upwards.
"The central bank and government are between a rock and hard place -- they would like to get rates down further and help growth but if they do that the danger is they might lose control of inflation and the ruble could fall further," said Macro Advisory senior partner Chris Weafer.
"The current surge of inflation is driven by the accelerated price adjustment to the ruble depreciation..." said the central bank. "Further the inflation pressure will be contained by decrease of economic activity."
The weakness of Russia´s general situation prompted S&P to downgrade Russian debt. "The downgrade reflects our view that Russia´s monetary policy flexibility has become more limited and its economic growth prospects have weakened. We also see a heightened risk that external and fiscal buffers will deteriorate due to rising external pressures and increased government support to the economy," said S&P. 
Mortgage market steeply down in 2015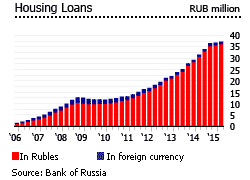 The amount of mortgage loans provided in Russia during January-July 2015 decreased by 40% year-on-year to RUB 557.5 billion, according to a research note published  by the Agency for Housing Mortgage Lending (AHML).  In July alone, the amount of mortgage loans provided was RUB 96.8 billion (-39% year-on-year).  The average interest rate on mortgage loans in July was 13.4%.  In 2014, around 26.7% of the total number of registered residential property rights were burdened by a mortgage.
During the first half of 2015 registered titles for purchase/sale agreements and co-investment contracts, declined by 12% from the same period last year, according to the Federal Service for State Registrations (Rosreestr).
In response to the crisis, the Russian government has extended its mortgage lending support programme to help housebuilders struggling to maintain sales.  A decree in July raised the ceiling of state support to mortgage lending from 400 billion to 700 billion roubles to support the construction of economy-class housing.
In 2006, laws underpinning mortgage-backed securities were introduced, allowing banks to refinance housing loans for the first time. Since then, mortgage lending growth has helped drive growth in the housing market.
Moscow dropped from 10 most expensive cities; higher yields in St. Petersburg
In 2015, Moscow was suddenly dropped from the list of ten most expensive cities for expatriates, slipping from last year's 9th place to 50th place, according to the latest Mercer Cost of Living Survey.  St. Petersburg shared the same fate, falling from 35th place to 152nd place.
According to Mercer analyst Kate Fitzpatrick, currency fluctuations play a big part in the rankings but they made a specially strong impact this year, given the ruble's almost 50% loss of its value against the US Dollar in 2014, and were combined with the economic sanctions imposed by Western countries.
Gross rental yields in Moscow's upper-end areas are quite low, ranging from 3.07% to 3.84%, based on Global Property Guide research in June 2014. Monthly rents in Moscow's elite areas range from €32 (RUB 2,276) per sq. m. to €42 (RUB 2,987) per sq. m.
In comparison to Moscow, apartments in St. Petersburg generate higher yields, especially smaller apartments. A 60 sq. m. apartment could yield up to 6.20%, while bigger-sized apartments could yield from 3.46% to 4.36%. Rents in the elite areas of St. Petersburg are cheaper than in Moscow, ranging from €18 (RUB 1,280) to €20 (RUB 1,422).
New property laws have caused anxiety
All change in the tax laws!  From January 1, 2014 the cadastral value of real estate has been used in calculating tax, replacing the inventory value approach. This may mean a higher tax and rent burden for buyers and renters, as cadastral values of many land plots may have exceeded their market values, given that the mass valuation criteria used for revaluation in 2012 did not take into account land characteristics.
A tax rate of 0.1% has been imposed on real estate properties with cadastral value around RUB 300 million (US$ 8.6 million) or less since January 1, 2015, while residential properties with cadastral value higher than RUB 300 million have tax rates ranging from 0.5% to 1%, according to Knight Frank.
Anxiety was also caused in 2013 by proposed new registration laws.  The proposed legislation requires foreigners and Russians to register their permanent address after 90 days of changing address.
Those who fail to register will be fined from RUB 2,000 (US$ 60) to RUB 3,000 (US$ 90) – or RUB 5,000 (US$ 150) in Moscow and St. Petersburg. Landlords will also pay up to RUB 7,000 (US$ 210) for every unregistered occupant residing in their properties.
Fake registrations or registration of a person who doesn't reside at a property could lead to a fine of up to 500,000 (US$ 15,000) and a 3-year imprisonment.
Gloomy economic outlook at end of 2015
The country's economic outlook in 2015 has been downgraded to a 3.3% contraction, from a 2.8% decline predicted earlier this year, according to Russia's Economy Minister Aleksei Ulyukayev. The Ministry of Economic Development expects a positive outlook in 2016 with a 1% to 2% growth, although this too was a downgrade from an earlier forecast of 2.3%. The announcement of an outlook downgrade happened a day after crude oil prices, Russia's main export, hit its six-year low in August 2015.
The economy is believed to already have reached its bottom, but is still delicate, according to Minister Ulyukayev. "I think that we won´t go further downward, but whether we will achieve significant growth is difficult to say".
In September 2015, both the IMF and the World Bank also downgraded their economic forecasts for Russia in 2015 and 2016. Both institutions expect a 3.8% decline on Russian economy in 2015, and a 0.6% GDP drop in 2016.
As of October 30, Brent crude, the global benchmark for crude oil prices, was trading at US$ 48.3 per barrel. The US benchmark West Texas Intermediate started trading at US$ 46.02 per barrel during the same period.
"If the price falls below $40 per barrel, then we, most likely, would be faced with a production decline," according to Deputy Energy Minister Alexei Teksler. "With a price of $40-$45 per barrel, the companies will revise their models, if the low price persists long term," Teksler added.
Aside from plunging energy prices, the economic sanctions imposed on Russia by the international community were another factor in the country's currently ailing economy. The European Union and the United States lead other countries and international organizations in imposing economic sanctions to Russia in response to the latter's annexation of Crimea in early 2014. The sanctions imposed on Russian individuals, companies, and officials played a role in the collapse of the ruble which eventually led to a financial crisis.
In June 2015, the European Union extended its economic sanctions until January 31, 2016. "This follows an agreement at the European Council in March 2015, when EU leaders linked the duration of these sanctions to the complete implementation of the Minsk agreements, which is foreseen by 31 December 2015," noted to a press release from the European Council. Later on, the supposed deadline of January 2016 was moved further to March 2016, aiming to put pressure on Moscow to accomplish the Minsk ceasefire agreement. In July 2015, the US imposed additional sanctions on Russia, adding 11 individuals and 15 companies on the sanctions list.
Russian financial crisis; soaring inflation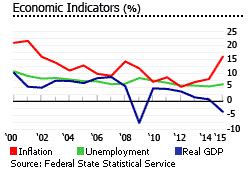 The ruble´s decline was partly due to policy initiated in late 2013 by the central bank allowing the currency to fall in hopes that an anticipated major currency devaluation would boost exports.
In September 2015, the depreciation of the ruble continued with a depreciation of around 2% with respect to US dollar. It was rather moderate as compared to the previous month's 2.3% fall, as the ruble hit a seven-month low, trading at around 70 rubles to a dollar. According to the World Bank, the increased pressure on the ruble and other emerging market's currency in September was due to the uncertainty on the US Federal Reserve decision on interest rates.
The collapse of the ruble in 2014 has prompted the Central Bank of Russia to intervene by using its foreign currency reserves in order to sustain the ruble. Russia, which had the sixth highest total reserves in the world amounting to around US$ 400 billion, spent almost US$ 2 billion worth of reserves in December 2014.
In September 2015, Russia's unemployment reached 5.2%, its lowest rate this year, according to Rosstat. The unemployment rate is still lower than the EU's average unemployment rate of just below 10%.    
Russia and the conflict in Ukraine
The conflict between Ukraine and Russia continues. In October 2015, Russia admitted sending troops to Syria. According to the Russian Ministry of Defense "special forces were pulled out of Ukraine and sent to Syria".
The conflict was not limited to land, as in October 2015 Ukraine banned Russian airlines from flying into their country. Russia labeled the ban an "act of lunacy" on the part of Ukraine.
The governments of the two countries have a complex relationship, given that Kyiv and Ukraine have long been considered by Russia as part of their heartland.
Former president Viktor Yanukovych tried to establish closer ties both with the European Union and Russia, in order to attract capital to Ukraine. Ukraine was about to sign an association agreement with the EU which would have provided funds contingent on reforms. However, agreeing to this treaty would also have meant breaking ties with Russia, and required the release of former Ukrainian Prime Minister Yulia Tymoshenko.
In the end, Yanukovych refused to sign the treaty and signed an agreement with Russia instead, which led to civil unrest and eventually the ouster of Yanukovych. He was temporarily succeeded by Oleksandr Turchynov (later replaced by President Petro Poroshenko).
After the Ukrainian revolution, the Russian government did not recognize the new Ukrainian government, and reacted by calling the revolution a coup d'etat and annexing Crimea. The revolution was also followed by protests in Ukraine's south-eastern regions by pro-Russian ultranationalists and anti-government groups.
In March 2014, the Russian parliament granted President Putin the authority to use military force in Ukraine. On March 11, the Crimean parliament voted in a referendum and declared their independence, along with the city of Sevastopol as the Republic of Crimea. On March 16, Crimea voted to rejoin Russia, reporting a 96.77% vote with 83.1% turnout. The following day, Crimea declared independence from Ukraine and requested recognition from the United Nations as part of the Russian Federation. The same day, Russia recognized Crimea as a sovereign state.
On March 27, a UN General Assembly resolution voted the Crimean referendum invalid. Meanwhile, The European Union, the United States, joined by other countries, accused Russia of violating Ukrainian sovereignty and breaking international law. This resulted in sanctions against Russia and against Russian companies and individuals, sanctions ratcheted up in the wake of the downing of Malaysia Airlines flight MH17.
A ceasefire was reached in September 2014, between Ukraine and pro-Russian separatists and both camps agreed to pull back heavy weaponry from the front lines. However, Ukraine's ceasefire claim was denied by Russia. A few days before that, it was reported that Moscow sent a convoy of trucks within Ukraine's border containing what Russia claims to be humanitarian aid, even without the consent of the Ukrainian government.
Two months later, NATO officials affirmed that tanks, weapons, and troops have continued invading the borders of Ukraine. According to the United Nations, around 1.7 million children were under "extremely serious" situations in the affected areas of eastern Ukraine, by the end of the year.
In January 2015, Donetsk International Airport fell under the control of the rebels. A few days after the airport takeover, President Poroshenko asked the International Criminal Court at the Hague to investigate the apparent "crimes against humanity" that occurred in the conflict.
Another ceasefire deal went into effect in February 2015, after persuasions coming from Germany and France, although the United States earlier expressed its consideration in supplying lethal aid to Ukraine. The agreement had already been violated after a few days.
Russia - More data and information