Greek house prices are still rising, but more slowly than last year.  2019 was a year of an amazing recovery in house prices, but since then house price rises have been slowing amidst the imposition of strict lockdown measures to prevent the spread of the new coronavirus.

In Greece's urban areas, house prices rose by a modest 3.38% during the year to Q3 2020, less than the previous year's 8.49% growth and the slowest expansion in two years, according to the Bank of Greece. When adjusted for inflation, house prices rose 5.38%. Quarter-on-quarter, house prices in urban areas were up slightly by 0.56% in Q3 2020 (2.3% in real terms).

This slowdown was also seen in the major cities:

Athens led with an annual house price increase of 5.61% in Q3 2020 (7.65% in real terms) but it was a sharp slowdown from the prior year's 11.66% growth. During the latest quarter, house prices rose by 0.73% (2.47% in real terms).
In Thessaloniki, the country's second largest city, house prices rose by 4.26% (6.28% in real terms) y-o-y in Q3 2020, a slowdown from an annual rise of 7.75% in Q3 2019. Quarter-on-quarter, prices increased slightly by 0.1% (1.9% in real terms) in Q3 2020.
In other cities (excluding Athens and Thessaloniki), house prices fell slightly by 0.35% (but increased 1.58% in real terms) during the year to Q3 2020, in contrast to a y-o-y rise of 5.37% a year earlier. During the latest quarter, prices increased 0.5% (1.58% in real terms) in Q3 2020.

Greek residential property prices fell 42.5% (-47.7% in real terms) from 2007 to 2017. The housing market started to recover in 2018, with house prices in urban areas rising by 3.51% and by another 7.56% in 2019. In fact, Athens registered an even stronger house price growth of 11.57% in 2019 (11.47% inflation-adjusted).

Foreign demand has fallen sharply due to closed borders and other coronavirus-related measures. In the first three quarters of 2020, capital inflows from abroad for the purchase of properties declined 42.5% from a year earlier, to just €593 million. But it remains 43% higher than the 2017 level.

The property market accounted for 25.3% share of total foreign direct investments (FDI) in Greece, down from 32.3% in the previous year.  Revenues from the Golden Visa program plunged, with the number of permits issued in 2020 unlikely to exceed 20% of the total in 2019. In 2019, a record number of permits were issued, at 3,428, with about €1 billion investments, according to the Migration Policy Ministry. However in the first nine months of 2020, only 368 permits were issued.

The Golden Visa program was launched in 2013 to revive the housing market from a prolonged slump. It offers residency to non-EU investors purchasing or renting property worth over €250,000, similar to Hungary, Spain and Portugal. The plan is valid for five years and is open to renewal.

The government is now considering the introduction of new incentives for foreign investors.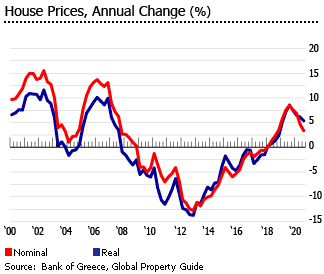 Construction activity remains robust despite the pandemic. During the first nine months of 2020, the number of permits rose by 15.5% y-o-y to 13,568 units, following annual rises of 13.5% in 2019, 10.1% in 2018 and 9% in 2017, according to the Hellenic Statistical Authority. The floor space and volume of permits also increased by 14.5% and 10.7%, respectively. But the total is far below the 70,000 to 80,000 permits issued annually from 2004 to 2007.

Greece, which saw a quarter of its GDP shattered by almost a decade of financial crisis, finally emerged from recession in 2017 – growing by 1.5% in 2017 and by 1.9% annually in 2018 and 2019.  But the Greek economy is believed to have contracted by 9.5% in 2020, mainly due to the adverse impact of the COVID-19 pandemic, according to the International Monetary Fund (IMF). In fact, in the central bank's latest view, the economy is projected shrink by as much as 11%.