---
Property prices in Germany up again
Last Updated: October 15, 2015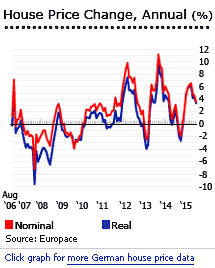 Although Germany is building lots of houses, the pressure of demand is such that supply is still barely meeting demand.  House prices continue to surge, after several years of upward movement.
The national property index rose 5.3% during the year to July 2015 (5.1% inflation-adjusted), compared to the 2.6% price rise during the year to July 2014 (1.7% inflation-adjusted), according to data provider Europace.
Europace's hedonic price index for existing homes -  which should be more accurate - increased 5.9% in nominal terms, and new home prices rose by 6.4% y-o-y (6.2% in real terms).
The German housing market was one of the few that avoided a slump in the wake of the 2008-2009 global financial crisis. Extremely low interest rates and bond yields have encouraged rapid house price growth and persistently growing demand. House prices have been rising faster than rents and incomes.
In 2009, the hedonic price index for existing homes decreased marginally by 1.8% y-o-y (-2.1% inflation-adjusted).
In 2010, prices quickly recovered, growing 2.3% y-o-y (1.2% inflation-adjusted)
In 2011, price rises continued, increasing 2.7% y-o-y (0.6% inflation-adjusted)
In 2012, prices rose 5.7% y-o-y (3.7% inflation-adjusted)
In 2013, prices increased 4.7% y-o-y (3.1% inflation-adjusted)
In 2014, price rises mellowed down to 2% y-o-y (1.1% inflation-adjusted)



The quantitative easing programme by the European Central Bank, worth about US$65 billion per month, is fuelling fears of housing price bubbles in several European countries – with Germany, Norway and the U.K. most at risk, according to a report by Moody's Analytics.

The QE programme lowers bank interest rates to zero, encouraging demand for homes. This is likely to increase prices for German homes, which could be overvalued by as much as 10%, warned the Bundesbank in late 2013.

Concern about house prices is mounting. Tax breaks for home purchase were abolished in 2006. Now the authorities are pondering capping the amount home-buyers can borrow.

This is how the authorities explain the benefits of capping borrowing:  "On the one hand, over-indebtedness situations and thus crises should become less likely," says Claudia Buch, Vice President of the Bundesbank.  "On the other hand, the impact of crises, if they do occur, should be contained by larger risk buffers."

Home prices have risen more or less everywhere in Germany during the year to Q1 2015, according to Dr. Klein's trend indicator of property prices (DTI):

In North-East Germany
Berlin is booming.  Apartment prices in Berlin rose by 5.1% y-o-y to a median price of €2,785 (US$ 3,119) per square metre (sq. m.).
The median price of one- and two-family houses in Berlin rose by 7.1% y-o-y to €1,966 (US$2,202).
Hanover's prices rose by 5.2% y-o-y to €1,773 (US$ 1,986) per sq. m.
The median price of one- and two-family houses in Hanover rose by 4.9% to €1,710 (US$ 1,915) per sq. m.
In Dresden apartment prices rose 7.6% y-o-y to €1,991 (US$ 2,230) per sq. m., while one- and two-family houses rose by 5.5% to €1,902 (US$ 2,130) per sq. m.
Hamburg apartment prices rose 3.0% y-o-y to around €3,247 (US$ 3,636) per sq. m..
One- and two-family houses in Hamburg rose 3.6% to a median of €2,240 (US$ 2,509) per sq. m..
In West Germany
Dusseldorf apartment prices rose only 0.5% y-o-y, to a median price of €2,128 (US$ 2,383) per sq. m. during the year to Q1 2015.
One- and two-family houses in Dusseldorf rose 4.0% to a median price of €2,079 (US$ 2,329) per sq. m., higher than the previous year.
Cologne's apartment prices rose 9.9%, to € 2,372 (US$ 32,656) per sq. m. The median price of one- and two-family houses rose by 5.0% y-o-y, to €1,995 (US$ 2,234) per sq. m.
In Dortmund, apartment prices rose 6.1%, to a median price of €1,385 (US$ 1,551) per sq. m., while one- and two-family houses rose by 3.4%, to €1,773 (US$ 1,986) per sq. m.
In South Germany
Frankfurt apartment prices rose by 1.7%, to €2,647 (US$ 2,964) per sq. m., while one- and two-family houses rose 6.5% to a median price of €2,148 (US$ 2,406) per sq. m..
Munich apartments were up by 10.7%, to a median price of €4,691 (US$ 5,253) per sq. m.. One- and two- family houses increasing by 6.1% to €3,068 (US$ 3,436) per sq. m.
Stuttgart apartments rose by 8.3%, to €2,206 (US$ 2,471) per sq. m. One- and two-family houses in Stuttgart increased by around 2.7% to €2,262 (US$ 2,533) per sq. m.
Berlin 
Germany's capital, Berlin, is the second most populous city and seventh most populous urban area in the European Union. The city's residential sector has been boosted by its young population and growing reputation as a European media hub. It hosts several renowned universities, orchestras, museums, entertainment venues and other creative industries.  At the end of 2014, Berlin had a population of around 3.56 million, up 4% from 2011.
According to investors surveyed by Pricewaterhouse Coopers (PwC) and Urban Land Institute (ULI), demographic trends are in favour of Berlin and other eastern cities. Berlin has knocked Munich off the top spot as an investment prospect this year, as the city is believed to have "excellent fundamentals and an extremely low level of pricing."
In the first six months of 2015, over €2.2 billion (US$2.5 billion) was invested in residential properties in Berlin, more than 4 times the level a year ago. Large stock exchange listed residential property companies are very active in the market, making purchases of €1 billion (US$1.1 billion).
The city will need around 20,000 new residential units this year, according to the 2015 forecast by the Federal Institute for Research on Building, Urban Affairs and Spatial Development (BBSR).
Hamburg
Hamburg is "Germany's Gateway to the World", and its port is Europe's third largest. It is Germany's second largest city, and the eighth largest in the European Union. It is a major tourist destination, and its Speicherstadt was declared a World Heritage Site by UNESCO in July 2015.
Over €730 million (US$829 million) was invested in around 4,800 apartments in the city in the first half of 2015, more than three times the level of the comparable period last year. Over 60% of which was only from three transactions – 2,000 apartments purchased by French residential fund REIT Foncière Dévelopment Logements; 500 apartments sold to US investor Hines; and around 900 apartments purchased by public sector residential company SAGA.
Building permits granted in Hamburg rose to over 11,000 in 2014, up from 9,000 in 2013. Completions, however, stagnated at around 6,000 units. With a population of over 1.8 million in 2014, up by 15,000 y-o-y, BBSR forecasts around 9,500 new-build apartments will be needed in 2015.
Munich
Munich is the third largest city in Germany and is home to many major universities, museums, and architectural attractions. It is a traffic hub and is one of Germany's fastest growing cities. It ranked the highest (4/230) among the major German cities in the 2015 Quality of Life Index by Mercer.
Munich has lost its top property ranking to Berlin, which is now broadly considered as more liquid and considerably cheaper. The gradual shifting to smaller regional cities that offer higher returns and more diverse opportunities is quite evident, according to PwC and ULI. Nonetheless, Munich remains on many people's wish-list along with Paris and London. The city's new target of 8,500 new apartments yearly is still insufficient to meet demand. According to BBSR, the city requires 11,200 new apartments in 2015 and an average of 10,000 new apartments per year until 2020.
Cologne
Cologne, Germany's fourth largest city, host to more than thirty museums and hundreds of galleries, has seen increased momentum in 2014, according to a survey by the Cologne Chamber of Industry and Commerce.
For the fourth year in succession, new-build completions amounting to 1,000 residential units has increased in Cologne - but according to BBSR, at the end of 2015, almost 4,900 completions are required.
Transaction activity in the first half of 2015 amounted to €110 million (US$125 million) for 1,500 apartments, 50% up on the full-year level for 2014 - but this was largely driven by the takeover of almost 1,200 apartments for refurbishment in Chorweiler for around €51 million (US$58 million) by the public sector residential property company GAG, the largest transaction to-date.
Frankfurt
Frankfurt is the fifth largest city in Germany. It is known for its major trade fairs such as Messe Frankfurt, one of the largest in the world; Frankfurt Motor Show, the largest motor show in the world; and Frankfurth Book Fair, also the largest in the world. It ranked 7th out of 230 cities, just behind Düsseldorf (6th) in the 2015 Quality of Living Index published by Mercer.
The city's residential sector is attracting investors as housing developments keep pace with the city's growing population – which has climbed above the 700,000 mark in 2014. By 2027, population is forecasted to reach over 800,000.
"There's a great dynamic in Frankfurt, it's very international and offers good investment opportunities," says an investor interviewed by the PwC and ULI. Population growth is focused on the large new-build districts in the city such as Riedberg in the north of the city (peripheral districts) and the Eu ropaviertel (City Centre I). The BBSR forecasts a requirement of 3,900 new-build apartments in 2015.
The full-year transaction activity in 2014 has already been exceeded in the first six months of 2015 with around 1,700 apartments traded (€450 million or US$511 million). Almost 80% of the volume can be attributed to the sale of development projects on the River Main. To-date, the largest transaction in the city was cornered by the portfolio sale of three residential complexes in the Sachsenhausen and Gallus districts for around €140 million (US$159 million) to two special funds belonging to the fund manager Industria. Another project, Schwedler Gärten, worth €110 million (US$125 million) was purchased by the special fund of fund manager Aberdeen.
Stuttgart
Stuttgart is the sixth largest city in Germany and is known as the Cradle of the Automobile for its industrial reputation. It ranked 21st out of 230 cities in the 2015 Quality of Living Index published by Mercer.
The construction sector in the city is particularly optimistic, according to the Chamber of Industry and Commerce. After a decline in 2013, new-build completions climbed in 2014, mostly attributable to the completion of the Seepark am Probstsee in Möhringen. Completions have, however, continuously fallen short of target, which now stands at 3,900 new apartments for 2015, based on BBSR estimates.
In the first half of 2015, more than €460 million (US$522 million) was invested in Stuttgart's residential market – a record-high for two consecutive years. This was supported by the sale of 3,300 Südewo apartments to Deutsche Annington in June. Still, the remaining volume of over €90 million (US$102 million) was almost eight times the volume seen in the first half of 2014.
Düsseldorf
Düsseldorf, Germany's seventh largest city has a population of 600,000. It ranked 6th out of 230 cities, just behind Munich (4th), in the 2015 Quality of Living Index published by Mercer.
Completions climbed to 2,246 new apartments in 2014, the highest level since the mid-1990s. According to BBSR, 1,800 new apartments will be required by the end of 2015.
Transaction volumes in Düsseldorf increased more than three times to almost €220 million (US$250 million) in the first six months of 2015 from the level seen in the same period in 2014. This is equivalent to over 1,000 traded apartments during the period, with almost half cornered by one transaction – the sale of the Living Circle residential project in Grafenberg to the Industria special fund Wohnen Deutschland II for around €100 million (US$114 million). A project development in Heerdt was also purchased by InCity Immobilien AG €25 million (US$28 million), with apartments to be marketed individually. Further construction work is expected on the Le Quartier Central, Gartenstadt Reizenstein and Quartier D3 residential development projects in Düsseldorf.
Germany isn't building enough houses to meet demand
Germany is expected to need to build an average of 272,000 flats and houses per year till 2020 to keep pace with rising demand.  Construction activity struggles to match this. Dwelling permits rose 5.4% to 284,851 in 2014, and completions were 14.2% higher than in 2013, at around 245,325 units, according to the German Federal Statistical Office (Destatis). This level is the highest in 9 years. In 2015 around 270,000 completions are expected, according to Construction Minister Barbara Hendricks.

Liam Bailey, Knight Frank's Global Head of Residential Research, notes that Europeans looking to invest in property are turning to Germany, which has had a stronger economy compared to the rest of Europe in the last 12 to 24 months. "A lot of money is flowing into the German market and we had not seen this historically," he says.
After the mid-1990s there was a substantial drop in housing completions, in part caused by policy changes such as a rise in VAT from 3% to 19% in 2007, and the abolition of owner purchase subsidies.
Dwelling permits in Germany rose by 5.4% to 284,851 in 2014, an 11-year high. As of the first half of 2015, permits were at around 140,037, up 2.3% from the comparable period in 2014.
In the first six months of 2015 alone, market transactions amounted to €17.5 billion (US$ 19.6 billion), almost equaling the record for the full year of 2005 (almost €20 billion or US$ 22.4 billion) according to Jones Lang Lasalle. So far, an estimate of 270,000 apartments have been traded this year.
Influx of refugees
Germany has by far taken the most refugees of all European countries. Around 800,000 migrants are expected to arrive in Germany this year, four times as many as in 2014.
With limited supply of suitable empty flats, the German authorities are turning to public buildings, including former schools and sports centres, as well as a concert hall, in Thuringia and a former barracks in Brandenburg, according to Financial Times (FT). But even these are not enough. Germany is already placing orders for temporary housing, in particular, container-based housing.
"Everywhere in Germany there is one thing people are talking about in the market — asylum seekers, asylum seekers, asylum seekers," says Peter Bonitz, managing director and owner of CHB Bonitz, a Berlin-based company that will supply 1,650 container homes for the city of Berlin.
Rental yields are low in Germany
Most Germans live in rented accommodation. The proportion of renters to total households is among the highest in the world. According to Eurostat and the U.S. Census Department, only 53% of households are home owners in Germany compared to 65% in the U.S., and 67% in the U.K.
Germany's rental yields are low, partly because of recent price rises, but more importantly because investment in housing used to be heavily subsidized by tax-breaks. 
Rental yields in Berlin for 50 – 120 sq. m. flats range from 3.54% to 3.33%, while 200 sq. m. flats have a 2.83% yield.
In Frankfurt, rental yields for 50 – 120 sq. m. apartments range from 3.91% to 3.3%.
Apartments in Munich have generally lower yields. Yields for 50 – 120 sq. m. flats range from 3.24% to 2.56%.
Rental yields on smaller flats are generally higher than bigger units, according to Global Property Guide research in May 2015.
From 1990 to 2014 rents for existing contracts rose by 73.5%, while rents for new contracts rose by 42.6%. House prices rose rather less (55.9%) over the same period.  During 2014 rents rose across Germany by around 3.1% according to BulwienGesa.
Germany's conservative mortgage market
The worries of the Bundesbank seem odd, because despite strong demand, mortgage loans had fallen to about 40.9% of German GDP in 2014, down from 82.1% of GDP in 1998 - an unusually low level for a developed economy. As of July 2015, outstanding home loans amounted to €1,061 billion (US$ 1,188.2 billion), with  € 25.3 billion (US$ 28.3 billion) worth of new loans, reports Deutsche Bundesbank.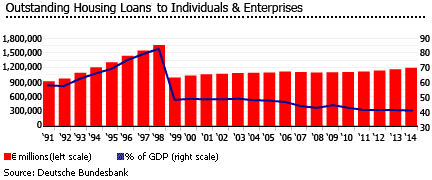 Germans' conservative borrowing is often attributed to the hyperinflation experienced in the 1920s and  has resulted in Germany being less financially volatile than many other developed countries says Deutsche Bank real estate economist Jochen Moebert.   However, changes in tax incentives are likely to be a better explanation of the decline in the mortgage loans to GDP ratio.
German home-buyers mostly borrow at fixed rate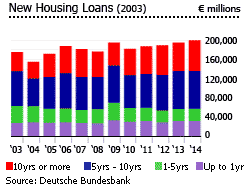 About 68% of the new loans approved had an initial rate fixation (IRF) of 5 years or more during the period 2003-2014. Loans with IRF of up to one year have never exceeded 20% of new loans approved.
In 2014, loans with IRF of up to one year were only 15.9% of total loans approved. This gives considerable stability to the German housing market, which tends not to suffer from the sudden lurches in rates, or in the value of houses.
An important explanation for Germany's interest-rate stability is the loan sources of Germany's banks, which borrow long, and so are keen to lend long-term.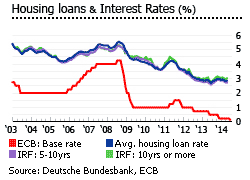 Housing loan interest rates tend to be stable.  Even the dramatic cut in ECB key interest rates, from 4.25% to 1% between September 2008 to May 2009, only caused interest rates on 5-year plus fixed loans to fall from 5.17% to 4.35%.
It is only since the ECB implemented its 0.75% base rate in July 2012 that housing loan rates have been below 3%.  Since September 2014, the ECB's base rate has been 0.05%.
Housing loan rates in Germany in July 2015:
Interest Rate Fixation (IRF) up to 1 yr:   2.17%
IRF 1-5 yrs: 1.91%
IRF 5-10 yrs: 1.86%
IRF 10 yrs or more: 2.1%
Robust economic growth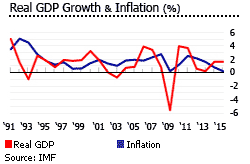 The German economy expanded by 1.6% year-on-year (seasonally adjusted) in the second quarter of 2015.
"The conditions are currently in place for fairly solid economic growth in the second half of 2015, fuelled by both external and domestic demand," according to the Bundesbank.
Following the sharp slowdown in 2012, Germany's economy slowed further in 2013, growing by only 0.2%, according to the IMF. The economy bounced back in 2014 with a 1.6% growth and has since then been registering robust GDP growth.
Germany's unemployment rate was 4.8% in June 2015. In contrast, the entire euro area's unemployment rate was around 11.1%.
Germany's inflation was 0.1% in July 2015, according to Federal Statistical Office (Destatis). The European Central Bank (ECB) projects area-wide inflation to come in at 0.1% this year, and 1.1% in 2016.
Germany - More data and information