---
Germany's house prices up on strong economy, rising employment
Last Updated: November 04, 2010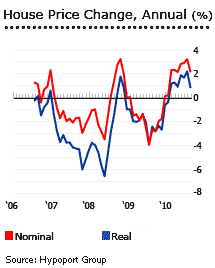 House prices in Germany continued to rise in Q3 2010, buoyed by strong economic and employment growth.  The over-all house price index increased 2.3% y-o-y to September 2010, the ninth consecutive month of annual price increases, according to Hypoport AG, a leading financial services portal.
The average price of existing homes was up by 4.5% y-o-y to €177,000 in September 2010. 
The average price of apartments and new homes increased 3.9% to reach €140,000 and €232,500, respectively.
On a monthly basis, however, the rate of increase for the overall index in September was lower than in the past three months, and the average price of existing homes and apartments in September was slightly down on July. 
So prices are expected only to inch up in the near future - or remain stable.
The ascent of house prices in the first half of 2010 was largely due to support from the government deficit, and to economic growth caused by the revival of exports.  After expanding by an average of 2.85% y-o-y during the first two quarters, the economy is now forecast to grow by 3% to 3.5% in 2010. This is in sharp contrast to the 4.9% contraction in 2009.
Germany's unemployment dropped below 3 million in October 2010 - for the first time since 1992 - according to the Federal Labour Office. Unemployment had risen sharply after reunification, and peaked at 5 million in 2005.
Economic expansion is expected to continue in 2011 but at a slower pace - from 1.8% to 2%. The slower anticipated growth in 2011 is attributed to the slower growth in Germany's major trading partners and the reduction in government spending. In line with EU's initiative to reduce budget deficits, Germany is set to cut the overall budget deficit to 3% in 2012 to comply with EU rules.
The deficit is expected to be around 4% of GDP in 2010, up from 3% in 2009.
Germany's unimpressive market
While this is good news, Germany's property market has performed unimpressively from the mid-1990s to the mid-2000s, when most European countries were experiencing housing booms.
East- West gap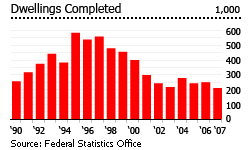 After Germany's re-unification in 1990, the Neue Bundesländer (New Federal Countries) and East Berlin saw much new residential building. A major incentive was tax write-offs for the construction of large-scale rental dwellings. Completions rose from 257,000 units in 1990, to an average of 500,000 units between 1995 and 2000.
Unfortunately, many of these investments turned bad. The expected rents were not attained. Whole buildings stood empty for long periods, despite their high quality.
Since then, prices in northeastern Germany have trended below average. But housing prices have risen significantly in many southwestern German cities, according to Bulwien Gesa.
For instance, the average price of owner-occupied flats in Frankfurt and Dusseldorf, both in West Germany, rose by more than 7% from 1995 to 2003.
On the other hand, the average price of flats in Berlin fell by 7.75% over the same period. Completions are still dropping, but over-supply continues to depress house prices in the east.
Greying population
More Global Property Guide pages:
A serious problem is that Germany's population has been shrinking since 2002, by an average of 50,000 persons per year. Also the population is getting older, and the ageing trend will continue till 2030. Retired people on shrinking pensions are not likely to buy new houses, or move to better flats.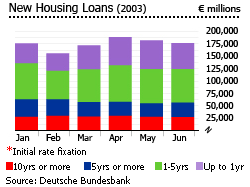 Eastern Germany is affected more than west. This is shown by the fact that the number of households is projected to rise 7% in western Germany over the next 15 years, but only 2.4% in eastern Germany.
The uneven growth is seen clearly in terms of regions. Ten Neue Bundesländer are expected to see static household growth, while 13 regions will experience falls. Yet in prosperous West Germany, only 3 out of 74 regions are expected to see a decline in households.
There will also be a shift away from apartments, towards single and two-family houses (duplexes) in the next 15 years, according to Empirica. By 2020, an additional 1.5 million single-family houses are projected to be needed in the west, while only 500,000 units will be added in the east. The shift may lead to further apartment price falls.
Fixed rate mortgages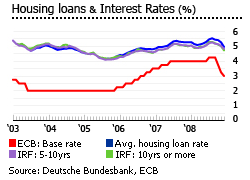 Home-buyers in Germany mostly borrow at a fixed rate, which helps keep the market stable, and not subject to booms and busts. More than 60% of new loans approved from 2003 to 2008 had an initial rate fixation (IRF) of 5 years or more.
Loans with IRF of up to one year have never exceeded 20% of new loans approved.
So Germany housing loan interest rates fluctuate much less than in countries with variable rate mortgages. Average housing loan dropped from above 5% during in Q1 2004, to just below 4.5% for most of 2005. When the ECB raised key interest rates 2006-2007, average housing loan rates rose to just above 5% after April 2007.
Then rates fell to 4.96% in December 2008, after the ECB cut key rates successively.
Relative stable interest rates, with rate changes affecting only a low proportion of borrowers, are key to Germany's house price stability.
Sluggish mortgage market
Germany's mortgage market is Europe's second largest in monetary terms, after the UK. However, mortgage growth has been sluggish since 2000.
As a percentage of the GDP, outstanding housing loans rose from 30% in 1991 to 50% in 2000. By 2007, they were back to 45% of GDP.
Outstanding housing loans to individuals and domestic enterprises rose rapidly in the 1990s, from €440 billion in 1990 to €1.03 trillion in 2000.
Yet they began to contract in 2007, when they were at €1.101 trillion, and data to Q3 2008 showed them shrinking further, to €1.097 trillion.
Rental yields up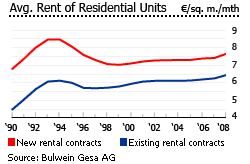 Another drag on Germany's housing market is people's preference for rental housing.
Most Germans live in rented accommodation. Although the proportion of renters to total households slightly slid from 58% in 1990, to 55% in 2004, this rate is still among the highest in the world. Private landlords own about 46% of the housing stock, social housing is around 6%, and co-operative rentals are around 6%.
Monthly rents rose an average of 3.2% in 2008 on new contracts, to €7.65 per sq. m., while existing contract rents rose 3%, to €6.44 per sq. m., according to Bulwien Gesa.
Rent increases have outpaced real estate prices since 2000, leading to slightly higher yields.
Rents for existing contracts rose 8.4%, while rents for new contracts rose 7.8%, between 2000 and 2008. Over the same period, owner-occupied house prices rose only 4.5%, while the average price of terraced houses fell by 13.8%.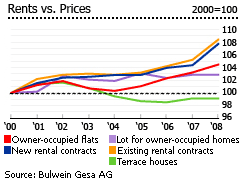 Rental yields on smaller flats are generally higher than bigger units, according to Global Property Guide research.
In Berlin, rental yields for 30 – 60 sq. m. flats range from 5.4% - 6%, while bigger units (90 sq. m. – 250 sq. m.) have yields of 4.3% to 4.8%. In Frankfurt, rental yields for small units are at 5.6% - 6.6%, higher compared with bigger units, at 4.6% - 4.7%.
Munich flats have generally lower yields, at 3.8% to 5.9%, again with smaller units earning the highest returns.
Slumbering giant
The global financial crisis has stalled Germany's recovery. After anaemic economic growth from 2001 to 2005 (average annual growth of 0.57%), Germany's economy bounced back under the leadership of Chancellor Angela Merkel, with strong export growth and economic reforms. GDP growth rose to 3.2% in 2006, and 2.6% in 2007.
Now, Germany's main export markets such as France, US, UK, Italy and Netherlands are in economic slowdown or recession. Germany officially entered recession in Q3 2008, with the economy contracting 0.5% q-o-q after a 0.4% contraction in Q2.
GDP growth for 2008 is down to 1.3%. The economy is expected to contract by 2.5% in 2009 and before posting a negligible 0.1% growth in 2010.
Unemployment, brought down from 10.6% in 2005 to 7.1% in October 2008, rose to 7.2% in December 2008. As export-oriented manufacturing jobs are lost, unemployment is expected to rise further to 8.1% in 2009 and 8.6% in 2010.
Rescue efforts
In October 2008, the government approved a €480 billion rescue package to stabilise the country´s troubled banking system.
Then in January 2009, it added an additional €50 billion stimulus package for public investment and tax cuts for the next two years, and announced €100 billion to underwrite fresh credit to companies.
With the election coming in September, it is still unclear whether the stimulus can save Merkel's coalition government.
Despite provisions for infrastructure spending, tax cuts for poor households and households with children, and tax rebates for car buyers, there is no specific support for the housing market.
Expect Germany's housing markets to continue subdued, probably for years to come.
Germany - More data and information