Despite the global pandemic, Germany's long-running house price boom continues strong, thanks to low interest rates, weak construction supply, as well as the increased demand from more than 1 million refugees. In a country where the housing market has historically been extraordinarily stable, this is a significant shift.

The German hedonic price index rose by 11.12% (9.28% inflation-adjusted) during the year to Q1 2021, its 45th straight quarter of y-o-y rises, according to Europace figures. Hedonic price indices attempt to compare like-for-like exactly, so are the best measure of house price trends.

Quarter-on-quarter, nationwide house prices rose by 3.23% (1.33% inflation-adjusted) during the latest quarter.

By property type:



Apartment prices rose by 11.46% (9.61% inflation-adjusted) during the year to Q1 2021, slightly lower than the 13.61% increase registered in Q1 2020. In a quarterly basis, apartment prices rose by 4.02% (2.1% inflation-adjusted).
New home prices rose by 7.51% (5.73% inflation-adjusted) y-o-y and by 1.63% (-0.24% inflation-adjusted) q-o-q.
Existing home prices surged by 14.73% (12.83% inflation-adjusted) y-o-y and by 4.07% (2.15% inflation-adjusted) q-o-q.

The German housing market was one of the few that avoided a slump in the wake of the 2008-2009 global financial crisis. And now, it is poised to escape again the fallout from the COVID-19 pandemic. Strong house price rises are expected to continue this year, buoyed by low interest rates, as well as the prevailing supply shortage in major cities.

"More than €20 billion marks a new multi-year record high for the investment volume 2020," said CBRE in its 2021 Real Estate Market Outlook report for Germany. "Activity in the German residential investment market can be expected to run at an uninterruptedly high level in 2021."

This is supported by Deutsche Bank AG in its German Property Market Outlook 2021 report: "The cycle is likely to remain intact in 2021 thanks to the low interest rate environment, fundamental supply shortage and current undervaluation."

Today's rapidly rising residential prices reflect a delayed response to a long period in which Germany has not built enough. After the mid-1990s there was a substantial drop in housing completions, in part caused by policy changes such as a rise in VAT from 3% to 19% in 2007, and the abolition of owner purchase subsidies.

From an annual average of 476,000 permits from 1992 to 1999, dwelling permits fell substantially to an average of 222,000 permits every year from 2001 to 2015.

However recent extremely low interest rates and bond yields have encouraged persistently growing demand, despite the fact that most German mortgage borrowers borrow on long-term interest rates, which are higher than "tracker" rates. In February 2021, the average interest rate for new housing loans was 1.17%, down from 1.28% a year earlier and 1.78% two years ago, according to Deutsche Bundesbank.

The migration crisis has added to the pressure. According to the UN's High Commissioner for Refugees, Germany is hosting the fifth most refugees of any nation, at about 1.1 million - the highest number of any developed Western country.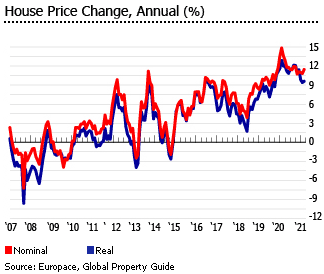 Housing supply is not keeping up with this demand. Dwelling permits increased 3.8% y-o-y to 360,578 units in 2019 and by another 2.2% to 368,400 units in 2020, following y-o-y declines of 0.3% in 2018 and 7.3% in 2017, according to Destatis - insufficient to meet surging demand. The country needs to build around 400,000 flats annually to prevent housing shortages in cities, according to HDB President Thomas Bauer.

During 2020, Germany's economy contracted by 5%, less than expected.  It was a smaller decline than the 5.7% contraction during the global financial crisis. The European Commission expects the German economy to grow by 3.2% this year and by another 3.1% in 2022.