After five years of robust house price rises, Germany's housing market continues to grow even stronger. In a country where the housing market has historically been extraordinarily stable, this is a significant shift.

The reasons? decade-long economic growth, more than 1 million refugees, high work-related immigration, record-low unemployment, weak construction supply and low interest rates.

The German hedonic price index rose by 10.93% (10.32% inflation-adjusted) in May 2020 from a year earlier (hedonic indices attempt to compare like-for-like exactly, so are the best measure of house price trends), the highest price growth ever recorded for the month of May, based on Europace figures.

During the year to May 2020:

Apartment prices rose by 11.81% (11.2% inflation-adjusted), up from a y-o-y rises of 10.22% in May 2019 and 4.8% two years ago.
New home prices rose by 8.04% (7.45% inflation-adjusted), up from a y-o-y rise of 7.95% in a year earlier and 5.44% two years ago.
Existing home prices rose by 13.28% (12.66% inflation-adjusted), up from the annual growth of 8.91% in the previous year and 9.03% two years earlier.


The German housing market was one of the few that avoided a slump in the wake of the 2008-2009 global financial crisis. And now, it seems that it is poised to escape again the fallout from the COVID-19 pandemic.

"We are sticking with our assessment that the house price cycle will sustain itself until 2022 at least," said a Deutsche Bank in its German Property Market Outlook 2020 report. "There are two reasons for this: The first of these is the sluggish supply of new homes, with numbers having virtually stagnated in recent years. Secondly, the credit cycle jumped sharply in 2019, which could spark even more dynamic growth in house and apartment prices.

Extremely low interest rates and bond yields have encouraged persistently growing demand, despite the fact that most German mortgage borrowers borrow on long-term interest rates, which are higher than "tracker" rates.

Residential property transaction volumes in Germany rose by 7% to €20 billion (US$22.5 billion) in 2019 from a year earlier, according to JLL. It represents the second-highest transaction volume since records began.

Low construction activity is another reason for the continued increase in house prices. Housing supply is not keeping up with demand. In 2019, dwelling permits increased 3.8% y-o-y to 360,578 while dwelling completions rose by 2% y-o-y to 293,000 units, according to Destatis. Yet it remains insufficient, due to a rising urban population and surge of migrants. In the medium term, the country needs to build around 400,000 flats annually to prevent housing shortages in cities, according to HDB President Thomas Bauer.

The migration crisis has added to the pressure. According to the UN's High Commissioner for Refugees, Germany is hosting the fifth most refugees, at 1.06 million, compared to any other nation, and the most of any other developed Western country.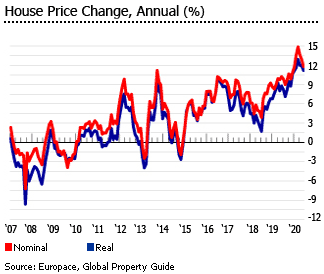 But unlike the housing market, the overall German economy is now in recession. In Q1 2020, real GDP shrank by 2.2%, following a 0.1% decline in Q4 2019. It was the biggest quarterly drop since the 2008 financial crisis. But even before the coronavirus pandemic, Europe's biggest economy was already slowing. In 2019, the economy grew by a minuscule 0.6%, its weakest performance since 2013, amidst slowing domestic car industry and weak goods exports due to global trade tensions.

The economy is projected to contract by 6.5% this year before returning to a 5.9% growth in 2021, based on figures from the European Commission.