After five years of strong house price rises, Bulgaria's housing market is slowing sharply.  Bulgaria's economy is expected to contract by around 7% this year because of the coronavirus pandemic.

The nationwide house price index rose by 4.72% (1.69% inflation-adjusted) during the year to Q1 2020, following y-o-y rises of 6.21% in Q4 2019, 5.58% in Q3, 5.02% in Q2 and 7.29% in Q1, according to the National Statistical Institute (NSI) - the slowest house price rises since Q1 2016.

Prices of new dwellings rose by 2% during the year to Q1 2020, sharply down from the previous year's 11.9% y-o-y rise. In fact when adjusted for inflation, prices dropped 0.9%. During the latest quarter, prices of new dwellings fell slightly by 0.9% (-1.2% inflation-adjusted).
Prices of existing dwellings rose by 6.3% (3.2% inflation-adjusted) in Q1 2020 from a year earlier, higher than the 5% y-o-y growth in Q1 2019. Quarter-on-quarter, existing house prices increased 2.4% (2% inflation-adjusted).

In recent years almost zero interest rates on bank deposits have encouraged people to invest in real estate. That's why the housing market started to rise in 2014 and has been accelerating ever since, recovering from a massive crash after the boom from 2000 to 2008, when residential property prices surged around 300%.

Demand is now falling. In Sofia, Bulgaria's capital, property sales fell by 6.3% to 5,285 units in Q1 2020 from a year earlier, according to the Registry Agency.

In the first half of 2020, newly built dwellings soared 52% y-o-y to 7,133 units, following an almost 49% increase in 2019. Yet dwelling permits and starts have been derailed by coronavirus-related restrictions. In H1 2020, dwelling permits fell by almost 25% y-o-y to 12,245 units while dwelling starts dropped 9% y-o-y to 9,220 units.

House prices are expected to remain more or less steady in the medium term, amidst falling demand as well as supply.

"Supply is expected to shrink. It is likely that some sellers postpone the sale of their properties until the containment of the pandemic," said Colliers International. "Projects that are scheduled to start construction in 2020 could potentially be delayed or suspended until next year. This will reduce supply in the short term and keep prices at their current level."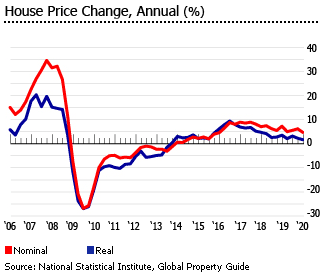 Bulgaria's economy is expected to contract by 7.1% this year, according to the European Commission, following expansions of 3.4% in 2019, 3.1% in 2018 and 3.8% in 2017 and annual average growth of 1.2% from 2009 to 2016.

European Union citizens can purchase properties in Bulgaria, including land. Before January 2012 foreigners could purchase land only in the name of a legal entity and were not allowed to own a property.