China's house price boom over in the 1st tier cities
Maria de Guzman | August 19, 2019

Home price rises are slowing in China's biggest cities.  But they're still picking up in the regional centres.  So the average price of new dwellings in China's 70 cities rose by 10.78% y-o-y in June 2019, based on the figures from the National Bureau of Statistics of China.  Recent price growth nationally was even faster than six months ago as 2018 ended with a house price rise of 9.7% y-o-y in December 2018.

In June 2019, new home prices went up in 63 out of the total 70 cities, down from 67 cities in May, based on the NBS survey. Most of the price gains were felt in the second and third-tier cities, while the four top-tiered cities had weaker price growth, with an average increase of 0.2% on the previous month.

"The drop in growth reflects the growing expectation of more tightening measures to come. As many as 251 real estate restriction policies were announced in the first half of this year, 31% more than the same period last year," said Centaline Property Agency Ltd.'s chief analyst Zhang Dawei.

Among the four top-tier cities, Shenzhen saw the highest house price rise in June 2019, with house prices increasing by 0.5% on the previous month. Shanghai and Guangzhou both saw a 0.3% m-o-m growth. In contrast, Beijing saw a slight drop in prices by 0.1% from the previous month, according to the NBS.

In Shanghai, the second-hand house price index barely rose (up by 0.08%, or -2.5% inflation-adjusted) during the year to June 2019, an improvement from the 1.8% y-o-y (-3.5% inflation-adjusted) price decline in June 2018, according to Ehomeday.

According to Savills China, in Q2 2019:

In Beijing, the average price of high-end apartments rose by 0.7% q-o-q and by 5.3% y-o-y to CNY 96,915 (US$ 13,780) per square metre  (sq. m.). The average price of high-end villas increased by 0.3% q-o-q and by 2.7% y-o-y to CNY 72,070 (US$ 10,247) per sq. m.
In Shanghai, the average transaction price of first-hand mass commodity residential housing fell by 4.1% q-o-q to CNY 54,200 (US$ 7,707) per sq. m. in Q2 2019.
In Shenzhen, the average transaction price of a first-hand residential housing rose by 1.3% to CNY 55,632 (US$ 7,910) during the year to Q2 2019. However, prices were down by 3.6% q-o-q.
In Guangzhou, the average sales price of residential units increased by 5.9% q-o-q to CNY 28,937 (US$ 4,114) per sq. m. in Q2 2019.

Rules on who can purchase property

Foreigners who have worked or studied in China for at least a year are allowed to buy a home. Foreigners go through supervision procedures which last about a week, before they are allowed to buy properties in designated areas.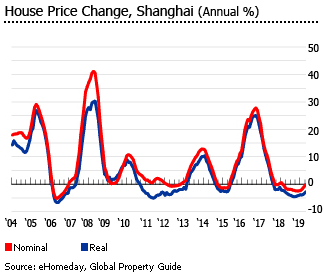 Foreigners cannot be landlords. Property ownership for investment by foreign companies and individuals is prohibited. Chinese living overseas and residents of Hong Kong and Macau are exempt from these restrictions.

There is no private ownership of land in China. One can only obtain rights to use land. A land lease of up to 70 years is usually granted for residential purposes.