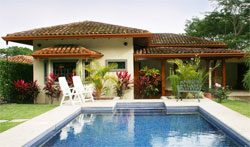 Costa Rica is not just a land of beaches, black beans, and coffee. It is a treasure trove of natural landscapes, exotic birds and mammals and cultural diversity.

The first European to set foot on Costa Rican soil was Christopher Columbus in 1502. It became a colony of Spain. Because of its relative isolation and distance from the main colonial cities in the region, though, Spain mainly left it alone, and Costa Rica was soon known as one of the poorest Spanish colonies in the region.  Still, Costa Rica's socio-political, cultural, and religious consciousness was significantly shaped by the Spanish colonial rule and the Catholic Church. Most Costa Ricans are white, many of them of Spanish descent. There are remnants of the Amerindian cultures that lived here before the Spaniards came, and a very small portion of the population is Amerindian.
Costa Rica is a developing country and the smallest country in Central America. It is divided into five distinct geographical zones: the Central Valley, the Caribbean coast, the Central Pacific, the Northern zone, and the Northern Pacific.
The Central Valley is Costa Rica's most populated region, as it includes the country's cosmopolitan capital, San José. Costa Rica's coffee boom began in the valley, with the first plantations tilled on the slopes of the dormant Barva Volcano. Coffee is still the country's best-known export. It made many local planters rich, and they not only shaped the country's economy, but handed down a magnificent and significant legacy: the Teatro Nacional, widely considered Costa Rica's most beautiful building, built from coffee taxes. The Central Valley continues to witness an increase in residential and commercial real estate development.
The Northern and Central Pacific coasts have some of the most beautiful beaches in the country, and the Caribbean Coast has a Jamaican beat that is unique in the country.
Costa Rica is the most visited nation in Central America. It receives about two million visitors every year, many of them eco-tourists drawn to the country's beautiful and protected marine and forest areas. Costa Rica has built up one of the most successful ecotourism industries in the world. It is the country's second largest source of the income after silicon chip production. However, large developments such as high-rise hotels and the growing number of tourists to protected sites have begun to have a negative effect on the environment.
The government strives to protect and preserve the country's rich biodiversity through the establishment of national parks. These protected areas include volcanoes and virgin forests, wildlife reserves, and several beaches.
Costa Rica has many North American and European expats. Its ecological zones continue to attract foreigners to visit on holiday or to settle here.
---