Qatari property prices rising gently
January 17, 2014
Property prices in Qatar continue to rise, supported by robust economic growth.

At Viva Bahriya-Pearl, whose 29 towers are located in The Pearl-Qatar:
The average sales price of new apartments rose by 6% during the year to end-Q3 2013, to QAR17,500 (US$4,810) per square meter (sq. m.), according to Asteco.
The average price of existing apartments increased by 3% y-o-y to QAR16,000 (US$4,397) in Q3 2013.
At the Porto-Arabia Pearl, the first phase of The Pearl-Qatar which has a total of 31 towers:
The average apartment sales price in the primary market was rose by 7% to QAR16,000 (US$4,397) per sq. m. in Q3 2013 from the same period last year.
In the secondary market, the average apartment sales price soared by 9% y-o-y to QAR13,000 (US$3,573) per sq. m. in Q3 2013.
At the Lagoon Plaza, an extravagant twin towers complex in Doha:
The average sales price of new apartments rose by 4% to QAR14,000 (US$3,848) per sq. m. in Q3 2013 from a year earlier.
For existing apartments, the average sales price rose by 8% to QAR11,000 (US$3,023) during the year to Q3 2013.
Property transactions in Qatar remained stable in Q3 2013 from the previous quarter, according to Asteco. However, there was a significant rise in the applications for mortgage valuations, fuelled by expatriate homebuyers in freehold areas. Likewise, land transactions remained strong, reaching more than 1,100 in Q3 2013, with a total value of about QAR1.7 billion (US$467.2 million).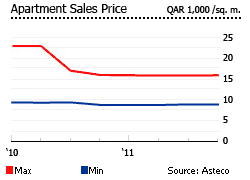 Qatar issues permanent residence visas to foreigners buying freehold properties, under Law No. 17 of 2004, which permitted foreign freehold property ownership for the first time. A property boom followed, fuelled by Qatari purchasing power and by an influx of expatriates, triggering a property price surge from mid-2000s to early-2008.
However, property prices declined sharply between Q4 2009 and Q2 2011, mainly due to the adverse impact of the global financial meltdown. In 2009, house prices dropped by as much as 40%. Then in 2010, house prices dropped again by about 4%, according to Saudi-based banking firm, Samba Financial Group. House prices started to stabilize in 2011, thanks to spectacular economic growth.
Three areas have been set aside for the visas-for-sale scheme: the Pearl-Qatar, West Bay Lagoon and Al Khor Resort. The visa remains valid as long as the foreigner keeps the property in his name. Foreigners and expatriate residents account for about three-fourths of the population. About 82% of the population lives in Doha and Al Rayyan, according to the Qatar Statistics Authority (QSA).
Qatar's property market is expected to remain strong in 2014, amidst a projected real GDP growth rate of 5% this year, based on forecast released by the International Monetary Fund (IMF).
Land price variations
Massive construction developments in preparation for the 2022 FIFA World Cup are already affecting land prices. Al Shamal, home to the proposed Al-Shamal Stadium—one of the venues for the 2022 FIFA World Cup, experienced the highest increase in land prices in October 2011 - about 20% up on the previous month, according to Century21 Qatar. It was followed by Umm Salal (19.5%), Al Khor (19.1%) and Al Rayyan (14.6%).
But other areas have seen land price falls over the same period—Doha (-18.7%), Al Wakra (-8.4%), and Al Da'ayen (-1.1%). Doha has Qatar's most expensive land, at QAR538 (US$148) per sq. ft.
CHANGES IN AVERAGE PRICE OF DWELLINGS (%)

MUNICIPALITY

AVERAGE LAND PRICES
(QAR PER SQUARE FEET)

AVERAGE LAND PRICES
(US$ PER SQUARE FEET)

M-O-M CHANGE (%)

Doha

538

148

-18.7

Al Rayyan

282

77

14.6

Umm Salal

196

54

19.5

Al Khor

181

50

19.1

Al Da'ayen

180

49

-1.1

Al Wakra

174

48

-8.4

Al Shamal

138

38

20.0

Source: Land Registry, Ministry of Justice, Century21 Qatar
Housing demand and supply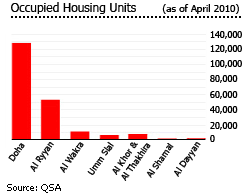 There were about 259,066 housing units in Qatar as of April 2010, according to QSA. About 193,376 units were apartments, while the remaining 62,496 units were villas. Of the total housing units, about 81.4% (or 210,955 units) were occupied.
Of the total value of real estate transactions in November 2011
43% or QAR988 million (US$271 million) were in Doha.
17% were in Al Rayyan
16% in Al Da'ayen
14% in Al Wakra.
Source: Century21 Qatar.
More than 74,000 residential more units are expected to be completed by 2020, according to Asteco. Of which, about 66,000 units will be apartments and the remaining 8,000 units, villas and townhouses.
Foreigners can buy in massive freehold areas:
The Pearl, in which Qatar offered its first freehold properties, is a QAR36.4 billion (US$10 billion) Riviera-style development, on a vast man-made island off the coast of Doha, the capital city. It will provide over 40 kilometres of new coastline, linked to the mainland by a 4-lane, palm-tree lined highway. Doha´s international airport is only 20 km away.
Developed by the United Development Company, The Pearl-Qatar offers 16,000 villas and 25,000 apartments.
West Bay Lagoon is a 2 million sq. m. private beachfront compound, centred on the Zigzag Towers. At the northern tip of Doha's West Bay district, it is surrounded by artificial lagoons.
The Barwa - Al Khor project is a complete city, including seafront chalets, villas and elite apartments, covering 5.5 million sq. m. in Al Khor, 57 km north of Doha. The QAR30 billion (US$8.24 billion) Barwa Real Estate development will house 63,000 residents in 24,114 elite residential units. It will also have hotels and sports facilities.
Phase 1, with a total cost of QAR7.3 billion (US$2 billion), is expected to be completed in 2013.
No less than 18 leasehold areas for foreigners
Foreigners can alternatively buy leasehold property for 99 years, renewable, in 18 designated areas, including the multi-billion dollar Lusail project, under Cabinet Decision No. 6 of February 2006. Foreigners can use the properties commercially or residentially, transfer the lease to another party, and sublet or rent.
Lusail City is an QAR18 billion (US$4.9 billion) waterfront community on the northern coast of Umm Salal, 15 km north of Doha. It is expected to house over 200,000 residents in 10 hotels, 3,000 villas, 12,000 apartments and retail areas.
Developed by Qatari Diar, Lusail will cover an area of around 21 million sq. m. This mega project, in 16 zones, will contain an Energy City costing QAR9.5 billion (US$2.6 billion), and an Entertainment City, costing QAR5.5 billion (US$1.5 billion). It is expected to be completed in 2014.
Another mixed use development project is Al Waab City, owned by Nasser Bin Khaled Group, which will cover about 1.2 million sq. m. Incorporating "green strategies" and sustainable design principles, it is expected to cost QAR13 billion (US$3.6 billion). This development is slated to be finished in 2015.
Another notable development is Asia Towers, which will have four 55-storey towers near West Bay. Each tower will contain about 1,600 residential apartments. Developed by Ezdan Real Estate Company, it is estimated to cost QAR2.5 billion (US$686 million).
Other leasehold property developments in Qatar:
Musheireb (Area #13)
Frij Abdul Aziz (Area #14)
Doha Jadeed (Area #15)
Ghanem Al Qadeem (Area #16)
Al Rifa Al Hitmi (Area #17)
Al Salata (Area #18)
Bin Mahmoud (Area #22)
Bin Mahmoud (Area #23)
Rawdat Al Khail (Area #24)
Al Mansoura & Bin Dirham (Area #25)
Najma (Area #26)
Umm Ghuwailina (Area #27)
Al Khulaifat (north and south) (Area #28)
Al Sadd (Area #38)
New Mirqab & Al Nasser (Area #39)
Doha International airport (Area #48)
Al Dafna & Onaiza & Al Qitar (Area #60 & 61 & 63)
Al Kharaij & Jebel Thiya (Area #69 & 70)
Interest rates slashed
The benchmark overnight lending and repo rate was cut by 50 basis points to 4.5% in August 2011, while the overnight deposit rate was slashed by 25 basis points to 0.75% over the same period, a move to support private sector credit growth.
Qatar National Bank (QNB), the leading financial institution in the country, offers home and land financing at rates as low as 4.35%. For expatriates, the maximum loan amount is QAR3 million (US$823,280) with a term period of not more than 15 years.
The size of Qatar's mortgage market is estimated at about 14% of GDP. To further develop the mortgage market, Qatar Chamber of Commerce and Industry is now drafting the country's first mortgage law, according to The Peninsula, a local English newspaper.
There are a total of 14 banks in Qatar. Seven are Qatari-owned, two are Arab banks and the rest are branches of foreign banks.
The rental market is stabilizing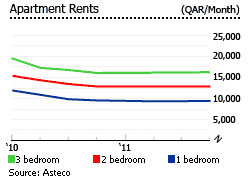 After a two-year fall, rents for residential properties have already stabilized across all locations in Qatar, according to property consultant, Asteco.
Average rents were almost unchanged during 2011. In the wake of the global crisis, residential rents dropped about 25% during 2009, according to Century 21 Qatar. In the Pearl, rents have fallen by as much as 50% over the same period.
In Q4 2011:
The average rent for one-bedroom apartments ranged from QAR3,000 (US$823) to QAR10,500 (US$2,881) per month
Three-bedroom apartments rent for QAR6,000 (US$1,647) to QAR17,500 (US$4,802) per month
Five-bedroom villas rent from between QAR10,000 (US$2,744) and QAR30,000 (US$8,233) per month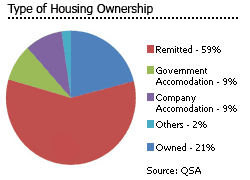 The number of residential leasing transactions slightly increased in Q4 2011 from the previous quarter.
The Pearl-Qatar offers the most expensive rental properties in Qatar, with an average monthly rent of QAR9,500 (US$2,607) for one-bedroom apartments and QAR16,250 (US$4,459) for three-bedroom apartments. In contrast, Al Muntazah, located in Doha, has the cheapest with an average monthly rent of QAR3,500 (US$960) for one-bedroom apartments and QAR6,250 (US$1,715) for three-bedroom apartments.
Currently, gross rental yields in the country stands at around 10%, based on a report published by Alpen Capital, an investment bank.
In 2012, residential rents are expected to increase, which will also result into a rise in rental yields, according to Alpen Capital.
About 59% of all occupied housing units in Qatar are rented, according to QSA.
Economic growth to slow in 2014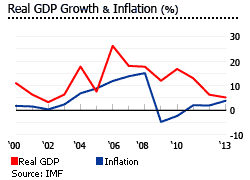 The country's economy grew by an average of 21% from 2006 to 2008. Despite the global crisis, Qatar's economy recorded spectacular growth rates of 12% in 2009 and 17% in 2010. Economic growth slowed sharply to 6% in 2012, after GDP growth rate of 13% in 2011, mainly due to a self-imposed moratorium on new hydrocarbon projects to conserve resources.
In 2013, the economy was estimated to have expanded by 6%, thanks to strong services sector, a surge in public spending on infrastructure projects and an unexpected expansion in gas production, according to the country's Ministry of Development Planning and Statistics (MDPS). In 2014, economic growth is expected to slow to 4.6%.
"Strong investment in the infrastructure and real estate sector along with high public spending and the population growth will maintain the momentum in the economy," according to the country's planning ministry.
The country's budget is expected to remain in surplus in 2014, though the balance will be lower as the government embraces massive infrastructure spending.
In November 2013, the country's annual inflation rate stood at 2.8%, according to MDPS. The country's inflation rate was 1.86% in 2012, slightly lower than the 1.92% seen in 2011, according to the IMF. After annual inflation of 13.5% from 2006 to 2008, consumer prices fell by an average of 3.6% per year from 2009 to 2010. In 2014 inflation is expected to be 3.5%, according to the MDPS.
The country's unemployment rate dropped to 0.5% in 2012 from 0.6% 2011, the lowest in the Middle East, according to Qatar Statistics Authority (QSA). Qatar's highest-ever unemployment rate was 3.9%, which was seen in December 2011.
Qatar - More data and information