Egypt's housing market made a surprise comeback, buoyed by the government's tough economic reforms in recent years, particularly the recent liberalization of foreign land ownership rules in the country.

During the year to Q1 2021, the nationwide real estate price index surged 28.3% (22.6% inflation-adjusted), in sharp contrast to the y-o-y fall of 30.8% in the same period last year, according to Egypt's leading real estate portal Aqarmap.

Quarter-on-quarter, the index increased 1.1% during the latest quarter (0.7% inflation-adjusted).

President Abdel Fattah el-Sisi recently removed the last restrictions on foreign ownership of land and property in Egypt, in an effort to buoy the housing market. He also allowed the government, the biggest landowner in Egypt, to use its land for public-private partnership schemes. These improvements, together with the fundamentally strong local demand, are now beginning to boost the housing market, and the overall economy in general.

In November 2016 Egypt floated the Egyptian pound (EGP), causing a dramatic depreciation against major currencies – making real estate more attractive from the perspective of the wealthy Egyptian. If he lives abroad, Egyptian property is much less expensive, because of the currency depreciation. In May 2021, the average exchange rate stood at EGP 15.67 per USD 1 – about 43% decline from its value of EGP 8.88 per USD 1 before the decision to float the currency.

There is a huge, real demand for housing in Egypt, as the country's population increases by 2.5 million annually and there are about one million marriages taking place every year.

In addition, the government implemented other reforms recently, in line with the three-year IMF reform programme:



A value-added tax (VAT) was introduced.
Egypt's Investment Law was amended to attract more foreign investors.
Fuel and electricity subsidies have been continuously reduced since 2014, as part of the government's goal of reducing spending. In Q1 FY 2020-21, spending for fuel subsidies has been reduced by 46% y-o-y to EGP 3.9 billion (US$249 million).
The price of sugar was raised by 40%.
The CBE has abolished a 'priority list' for imports.
The time and day limits during which banks are allowed to execute foreign currency exchanges have been extended.

Other initiatives included the launch of several mega-projects to boost economic growth, including the expansion of the Suez Canal and the construction of a new capital city.

"We remain optimistic in our outlook for Cairo's residential market in the medium-to-long term, as the government strongly supports the sector," said Jones Lang Lasalle. "Various initiatives introduced in 2020, such as reducing the interest rate and setting the lending rate at 10.25%, are likely to stimulate investments. Also, more recently, property restrictions on foreign ownership of land and property were removed."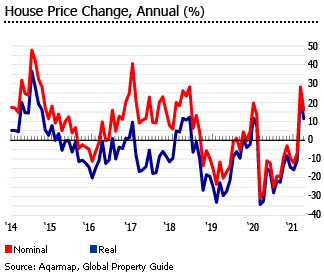 "These efforts are complemented by private developer initiatives such as introducing long-term payment plans, decreasing down payments, and launching cash-back offers," Jones Lang Lasalle added.

During 2020, Egypt weathered the impact of the COVID-19 pandemic, with its real GDP rising by 3.6%. In fact, Egypt was the only nation in MENA that avoided a negative GDP growth last year. The economy has expanded by a healthy 4.8%, on average, during the past five years.

The Egyptian economy is projected to expand by 2.5% this year and by another 5.7% in 2022, according to the International Monetary Fund (IMF).

Foreigners can buy property in Egypt, under Law No 230 of 1996. However, foreigners cannot buy more than two pieces of real-estate, which cannot exceed 4,000 square metres (sq. m.), and their purpose must be for a family member to live in the property. If registered, the property cannot be sold or rented for five years.