Panama's vast infrastructure projects boosting real estate prices
July 05, 2014
Spurred by major government infrastructure projects (the completion of the Panama Canal in 2015, the construction of Line 2 of the metro rail system, the port of Colon upgrade, etc.), and by a continuing investment and tourism boom, residential property prices rose as much as 10% in 2013, according to Panama Equity Real Estate. 
There was strong demand from US, Canada, Venezuela and Colombia, and the improving economy of some European countries like Spain and UK also helped.  So too did a lower supply of new apartments.
The election of rightist businessman Juan Carlos Varela as president in May promises continuity, and a reduction of tensions with Venezuela.
There has been a noticeable rise in the last six months in property values in waterfront districts like Balboa Avenue, Punta Pacifica and Costa del Este.
Today's vibrant scene contrasts with the price declines of recent years. After the building boom, prices in many projects dropped 30% to 50% from 2008 to 2012 according to industry estimates.
Investment hotspots and tourist haven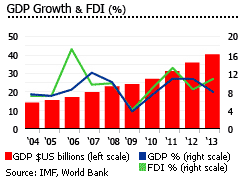 Panama is a tourist haven. Tourism has increased by 83% in the last five years, according to Panama America. For what it is worth, the country snagged top spot in International Living's Global Retirement Index as the world's best place to retire, due to its convenience (ease of access from US, currency in US dollars, English is widely understood), world-class amenities, good beaches, and affordability.
Panama City has been a long-time tourist favourite due to its inexpensive cosmopolitan living. It is divided into two main areas – the old colonial town of Casco Viejo, and the modern business and shopping district of high-rise buildings and malls.
It also had the highest foreign direct investment (FDI) share of GDP in Latin America in 2013, at 10.8% of GDP, according to International Monetary Fund (IMF).
The US$4 billion foreign investment in 2013 is 24% up on 2012.  Over the past 3 years, foreign investment was US$7.7 billion—US$4 billion on mining, US$2.2 billion in energy projects, US$650 million in new hotels and US$500 million at the Port of Corozal. 
Construction spending increased 32% in 2013, including US$1 billion non-residential spending, mostly hotels and offices, plus a 21% increase in residential spending.
Most properties in Panama City are apartments. According to Global Property Guide figures, average prices for Panama City in 2013 were:
Inland apartments (120 sq. m.) –US$218,880
Inland apartments (175 sq. m.) –US$298,900
Inland apartments (300 sq. m.) –US$513,000
Beachfront apartments (80 sq. m.) –US$170,560
Beachfront apartments (120 sq. m.) –US$240,120
Beachfront apartments (200 sq. m.) –US$370,000
Beachfront apartments (370 sq. m.)  –US$767,380
Gross rental yields range from 6.82% to 9.52%, with smaller sized apartments yielding more.
Boquete, in Panama's mountain highlands, has a fast growing expatriate community. The popular option here is to buy land and build a home, but there are many completed homes on offer. Sample property prices for Boquete are as follows:
2-bedroom, 1-bathroom home, about 1,600 sq. ft. –US$90,000
3-bedroom, 2-bathroom home, about 1,500 sq. ft.–US$179,000



Another desirable location is Coronado, a popular beach town and relaxed community for expats, and only an hour from Panama City.

Sample property prices for Coronado are as follows:
1-bedroom, 1-bathroom home, about 1,000 sq. ft. –US$100,000
2-bedroom, 2-bathroom home, about 1,050 sq. ft. –US$140,000
Strong economy
After more than 10% annual GDP growth in 2011-2012, Panama's economy slowed to 8.3% in 2013, and further to 5.8% in 1Q 2014—the slowest growth rate in more than 4 years. This reflects work delays at the Panama Canal (originally planned to be finished this year), and the end of other public work projects, and the Colon Free Zone dispute with Venezuela and Colombia.
According to Minister of Economy and Finance Frank De Lima, the 1Q result is weaker than expected, but the government is sticking to its 7% growth forecast for 2014. 
The ongoing US$5.25 billion expansion of the Panama Canal, which began in 2007, has experienced delays and cost overruns amounting to US$1.6 billion. Now 70% completed, the project will allow the canal to accommodate larger ships, and in 2015 is expected to more than double average annual canal earnings from US$2 billion, to around US$5 billion.
The United States and China are the principal users of the Panama Canal. In 2007 Panama and the United States signed a Trade Promotion Agreement free trade agreement. Panama approved the TPA the same year, and the US in October 2011. The agreement took effect in October 2012.
Other major infrastructure projects include Panama's metro rail system, the first in Central America. Line 1 was completed this Aprile, while the second line is expected to be completed in 2017. There is also a planned US$8 billion upgrade of the port of Colon.
New President, continued support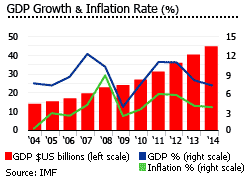 Opposition leader Juan Carlos Varela won the presidential elections in May and became president-elect.  He defeated outgoing President Ricardo Martinelli's choice, political newcomer José Domingo Arias, winning 39% of the vote, compared to 32% for Arias, a result interpreted as a rebuke for Martinelli. 
Martinelli was a dynamic and pro-business president, but was widely seen as authoritarian, and in 2011, The Economist described foreign investment as hurt by "doubts about the rule of law", citing suspected corruption in the bidding for the metro contract and the flooding of a wealthy Panama City neighborhood with sewage due to a lack of enforcement of planning laws. Reports of Martinelli receiving a bribe from Italian president Berlusconi featured prominently in the election campaign. There was intense bitterness between the candidates.  Hearing of Varela's win, Martinelli said "I know the candidate, and really, may God help us!".
Varela, a former Martinelli ally, is a free-market conservative, but he takes office with a legislative minority that will force him to negotiate with the centrist and centre-left politicians that dominate Congress. Despite winning the presidency, Varela's Panameñista Party only got 11 of the 71 seats in Congress which were also up for election.
The new president is likely to continue former President Ricardo Martinelli's investment program that maintained strong economic growth for Panama, but also says he will focus on reducing inequality and helping the poor.
Among the first countries to congratulate Varela was Venezuela, which earlier this year broke ties with Panama, accusing the Central American nation of fomenting a coup against President Maduro by offering support to a Venezuelan opposition leader. Maduro has announced that his government is restoring diplomatic relations with Panama now that the country has a new president.
Panama's economic growth is expected to remain buoyant over the medium term, as it continues to enhance its regional and global logistics role for the movement of goods, capital, and people and its moderating inflation. The expansion of the Panama Canal will boost annual revenues upon completion.  Together with other major infrastructure projects, it will also improve the country's connectivity, and breathe new life to the economy and the real estate market.
Panama - More data and information