House prices decrease in Panama, but investment booming
May 11, 2011
Residential property prices have fallen in Panama, and are still expected to adjust downwards, as demand shifts from upscale and luxury apartments to middle- and low-income smaller apartments. Residential property prices now reach as low as US$1,050 to US$1,200 per square metre, down from US$1,350 to US$1,500 square metre before the downturn. Commercial property prices, on the other hand, are steadily rising as more foreign investments pour in.
Despite the recent economic downturn, investment interest in the country has not wavered.  Many developments are being built, spreading to the outskirts of Panama City, and to the East and West of the country as well. Both apartments and stand-alone homes are being built. 
Investment hotspots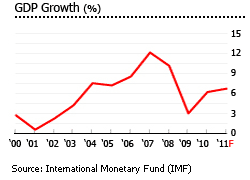 In 2009 Forbes named Panama as one of the ten best retirement havens in the world. Panama's advantages include ease of access from the US, world-class amenities, good beaches, low cost of labour and low taxes.
Panama City has been a long-time favourite of foreign nationals. It is divided into two main areas – the old colonial town of Casco Viejo, and the modern business and shopping district of high-rise buildings and malls.
Most properties in Panama City are apartments. Average prices for upscale properties depend on size and location. According to Global Property Guide figures, prices for Panama City at the end of 2010 were as follows:
Inland apartments (90 sq. m.) – less than US$150,000
Inland apartments (350 sq. m.) – a little over US$500,000
Beachfront apartments (80 sq. m.) – a little over US$175,000
Beachfront apartments (350 sq. m.) – more than US$550,000
Beachfront houses – a little over US$900,000
Gross rental yields ranging between 8% and 9.3% can be expected for any apartment size.
Several luxury complexes are being developed in and around Panama City. Towards the city's west, residences can be bought from US$250,000 up to US$800,000. Toward the east coast, houses and apartments start at US$150,000 and US$250,000, respectively.
Another desirable location is Boquete surrounded by Panama's mountain highlands. The town has fast growing expat communities. Property prices are steadily rising in the area. Boquete is still mostly rural and there is plenty of land to build on. The popular option here is to buy land and build a home, but there are also many homes on offer. Average prices for Boquete are as follows:
2-bedroom condos – less than US$130,000
Hillside town homes – around US$150,000
Fast growing, diversified economy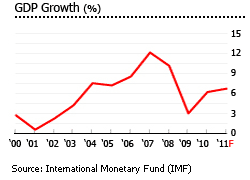 Panama has one of the fastest growing economies in Latin America, with a GDP growth rate of 6.2% in 2010, according to IMF. The country's economy is services-based, and the services sector accounts for three-fourths of GDP.  But the economy is highly diversified, which helped Panama during the economic downturn.
Growth has been spurred by revitalized tourism, increased flights and port activities, and strong commerce in the Colón Free Zone, Panama's large trade area, and a major commercial distribution centre for the Latin America and Caribbean region.
The surge of economic activity in Panama is influenced by the recovery of the global economy, according to the Ministry of Economy and Finance. The financial, business, and real estate sectors continue to expand. GDP is expected to grow by 6.7% in 2011, one of the fastest rates in the region.
The ongoing US$5.25 billion expansion of the Panama Canal, which began in 2007 and is expected to be completed in 2014, accounts for about 25% of GDP.  The project will allow the canal to accommodate larger ships, creating 7,000 direct jobs and 35,000 indirect jobs in the complementary services sector and canal transit activities. The canal expansion will also increase Panama's revenue from shipping tolls and export quantities. Annual trade growth is expected at 11.6%.
The United States and China are the principal users of the Panama Canal. In 2007 Panama and the United States signed a Trade Promotion Agreement, or a free trade agreement. Panama approved the TPA the same year, but the US has yet to approve it. US approval will further promote economic growth.
The government also plans to invest billions in infrastructure to help boost growth.   According to the IMF all this work could lead to an overheating of the economy if rushed. IMF chief Dominique Strauss-Kahn has warned the Panamanian authorities to keep an eye on inflation, given that Panama is a  food- and oil-importing country.
Due to the boom in 2008, Panama's economy expanded 10.1%, and inflation rose by 8.7%, according to IMF figures.
Tourism strengthens, construction returns to pre-crisis glory
In 2007 Panama's construction industry experienced a boom, which was then slowed by the global economic recession. But with large tourism and transport-related projects and demand for housing increasing, the sector is booming again and this will continue in the next three to four years. Industry experts estimate 12% growth for the sector in 2011.
Panama hosts a large number of business conventions and trade expos, with such events becoming bigger and better each year.  The tourism industry generates high revenues from these conventions, particularly from the annual trade show Expocomer.
The hotel industry is moving fast to meet this demand. Investments worth US$700 million were planned by large hotel chains in 2010, and around 5,000 new hotel rooms are already being built.
Major hotel constructions include:
The US$120 million RIU Panama Plaza by the Spanish hotel chain RIU, opened in September 2010
Hyatt Place Panama City, the first Hyatt hotel in Latin America  - construction starts in 2011
The Panamera Waldorf Astoria Hotel by Hilton, to open in second half of 2011
Nikki Beach condo hotel by RG hotels, opened on March 2011
The US$400 million Trump Ocean Club Hotel & Casino, to open in July 2011 – prices at the club range from US$400,000 to US$1 million.
Other new grand hotels are the Sheraton Panama Hotel and Convention Center, Marriot Courtyard, Wyndham Veneto, Le Meridien, and Radisson.
Other investment attractions:
The Panatropolis - a 344 hectare site adjacent to the Tocumen International Airport. Residences will start at US$150,000. The Tocumen Airport's expansion is ongoing and costs US$68.6 million.
The US$73 million, 10-hectare artificial island by Royal Boskalis Westminster – a residential development off the coast of Panama City, to be completed in mid-2012 
The government's Strategic Plan 2010-2014 is not only focused on Panama City, but also on  investments in Isla Colón, Boquete, the south coasts of Farallon and Perlas Archipelago, Pedasí, and Santa Catalina.
As more foreign companies come in, there is increased demand for housing for workers. The demand however is for low-income housing, according to the Panamanian Chamber of Construction (CAPAC).
Martinelli's aggressive moves
The government of President Ricardo Martinelli, elected in May 2009, stresses good governance in a free market context as key to improving the living conditions of Panama's population.  Martinelli replaces a notoriously corrupt administration. But Panama has long been dogged by a reputation for corruption. These things are not swiftly mended, given also that the legislature is also highly corrupt. Sure enough, despite the positive initial noises, the old worries have swiftly resurfaced, alongside potentially alarming moves to change the constitution, a swiftly worsening human rights and native rights situation, and worrying new curbs on press freedom.
Panama is an upper-middle income nation, based on its GDP per capita.  More than US$13 billion worth of infrastructure projects is planned, including the US$1.2 billion metro system scheduled to open in 2014.  But poverty and social inequality remains a problem, with over one third of the population in poverty. The expansion of the Panama Canal has yet to generate any visible improvement in this regard.
Panama - More data and information