House price growth surges as a new president is elected in Mexico
Maria de Guzman | November 16, 2018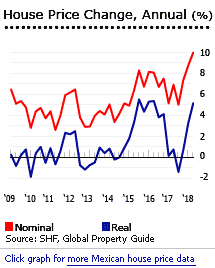 Mexico´s housing market has shown robust growth for the first two quarters of 2018, as economic conditions in the country improve.
Mexico´s house prices rose by 9.92% during the year to Q2 2018. When adjusted for inflation, house prices were up by 5.12%, according to the SociedadHipotecaria Federal (SHF). This followed the 8.73% y-o-y growth in Q1 2018 (3.25% inflation-adjusted).
Mexico´s housing market has enjoyed nominal growth for a decade, but the real (inflation-adjusted) numbers are prosaic:
Nominal and Inflation-adjusted House Price Change in Mexico

Nominal
Inflation-adjusted
2009
4.75%
0.75%
2010
3.70%
-0.53%
2011
5.90%
2.32%
2012
2.90%
-1.17%
2013
4.07%
0.40%
2014
5.12%
0.90%
2015
6.71%
4.34%
2016
7.48%
4.10%
2017
7.35%
0.71%
Source: SociedadHipotecaria Federal (SHF)
Despite the uncertainty regarding real estate development in the areas affected by the massive earthquake of September 2017, Mexico´s residential market remained strong after the quake.  While some affected areas in Mexico City suffered house price declines, housing demand shifted to other neighbourhoods, boosting house prices there.
In one of Mexico City´s oldest neighbourhoods, Coyoacán, there was a 49% rise in house prices during 2017, according to the real estate portal Propiedades.com. Other strong rises were seen in Alamos (34.47%), Escandon (26.14%), and San Angel (23.86%). In contrast, the neighbourhoods with massive price drops include Anahuac (-30.45%), Pedregal (-26.63%), Claveria (-20.37%), and Doctores (-14.16%).
"As a result of the earthquake the property geography has changed, and although areas like Nuevo Polanco continue to develop, they no longer do it  as spectacularly as before the earthquake and demand in other areas begins to increase, far from the affected areas," according to Federico Sobrino of the Institute of Property Management and Infonavit.
Mexico has an enormously strong domestic market.  Most Mexicans who move generally prefer to buy rather than to rent. Around 82% of Mexicans want to buy a property, as opposed to 18% that prefer to rent, according to Lamudi´s recent Real Estate Market Report. 
The Mexican market is not driven by speculators. There are many developers, it is highly competitive. Much new housing is built, which keeps prices down. Interest rates are (relatively) low in the social sectors, due to subsidies. This was affirmed by Citibanamex´s Executive Director of Mortgage and Automotive Credit Ricardo García Conde, stating that housing demand in Mexico is "real", meaning that the house price movements in Mexico are mostly due to the market´s supply and demand with a minimum percentage of speculative purchase.
While the general outlook for Mexico´s housing market is good, Lamudi pointed out that there are three factors that brought uncertainty to the market: the elections, NAFTA, and the global economy.
Constitutional ban on foreign land ownership remains
Under the current system of fideicomiso, foreigners can only own real estate indirectly, by setting up bank trusts. While the trustee is the legal owner of the real estate, the beneficiary retains all ownership rights and responsibilities and may sell, lease, mortgage, and pass the property on to heirs. The fideicomiso is authorized by the Mexican Government under the Ministry of Foreign Affairs.
Although this system is relatively safe, it rests on the credibility of Mexico´s banking system and property registry administration, which unfortunately discourages many foreigners.
There were hopes that the restrictions might be loosened up. Congress actually voted in favour of a proposal to allow foreigners to directly purchase beach residences. However, this proposed legislation was rejected, due to the amendment procedure not being finished within the time frame required by Article 89 number 2, Section III of the Rules of the Chamber of Deputies. So fideicomiso is still the system foreigners must use.
Small mortgage market; high interest rates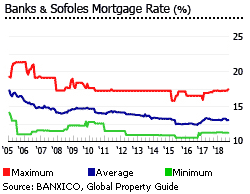 The non-subsidized private mortgage market in Mexico is small, at around 10.3% of GDP in 2017, just a bit higher from 9% of GDP in 2007. Mortgage interest rates remain high. The average interest rate offered by banks and Sofoles was 13.12% in August 2018, almost unchanged from 13.16% in the previous year.
In June 2018, mortgage lending rose by 8.3% to MXN 2.36 trillion (US$ 121.66 billion) from the same period last year, according to the central bank.
The central bank Banco de Mexico (Banxico) decided to keep its key rate unchanged at 7.75% during its recent meeting in October 2018, after hiking rates twice this year.  In June the key rate was raised to 7.75% ―its highest rate in more than nine years.
In September 2018, annual inflation stood at 5.02%, an increase from 4.9% in the previous month, but still below than the 6.35% inflation rate in September 2017.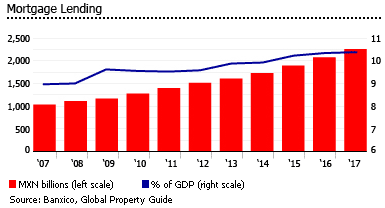 Since 2000, banks have made significant changes that have led to better access to loans, and more favourable lending conditions.
Mortgage processing fees have been reduced to an average of 3%, from 6%.
Loan to value ratios have been raised to 80% - 90% from 65% or lower.
Loan terms have been lengthened from 10 - 15 years in 2000, to the current level of up to 30 years.
Local house price variations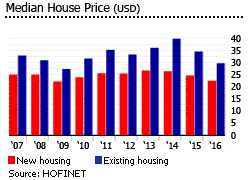 Home prices in Mexico have risen by 6% annually between 2005 and 2016, according to SHF´s home price index. The last big housing crisis occurred after the Tequila crisis of 1994, when a currency devaluation followed by interest rates spiking caused 40% of all bank loans to default. Since then, there has been continuous growth.
Mexico´s most expensive houses are in Mexico City, State of Mexico, Nuevo León, Jalisco and Querétaro, according to Lamudi.
In Polanco and Lomas, Mexico City´s most exclusive neighbourhoods, prices of luxury residential properties can range from US$ 6,000 to US$ 10,000 per square metre (sq. m.) in 2018, according to according to Carmella Peters Romero of Peters & Romero Bienes Raices.
In Santa Fe, one of Mexico City´s modern districts, properties can be bought at an average price of US$ 3,500 per sq. m., according to Mexico Sotheby's International Realty agent Laura de la Torre de Skipsey.
In Cuernavaca, capital of the state of Morelos, an hour and a half drive from Benito Juarez International Airport in Mexico City, luxury homes are available at prices above US$ 1.5 million. Low end three-bedroom homes can be bought starting from US$ 200,000, while mid-range houses with three to four bedrooms are priced at US$ 500,000, according to Andrea Dolch Espinosa de los Monteros of Mexico Luxury Estates.
In Playa del Carmen, a coastal resort town along the Yucatán Peninsula´s Riviera Maya, a three-bedroom apartment is priced at US$ 460,000. In Playacar, a gated community of resort developments in Playa del Carmen, a four-bedroom luxury home lists for US$ 1,500,000.
In Tulum, another resort town located in Mexico´s Caribbean coast, a two-bedroom townhouse in the exclusive gated community of AldeaZamá, can be bought for below USD 500,000.
In Cancún, a city in southeastern Mexico known for its beaches, mega-resorts, and frenetic nightlife, the average price of houses was at around MXN 4.7 million (US$ 241,647) in Q2 2018, according to Lamudi. Apartments in the area had an average price of MXN 4.6 million (US$ 235,789) during the same period.
Rental yields are moderately good
Gross rental yields in Mexico City - the return earned on the purchase price of a rental property, before taxation, vacancy costs, and other costs - are moderate. In previous years, Global Property Guide found that rental yields in Mexico City were between 4.9% and 5.4%.
Strong demand from foreign buyers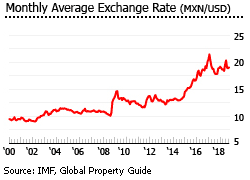 Mexico´s real estate market has been buoyed by strong demand in resort communities, according to the International Consortium of Real Estate Associations (ICREA). Over the recent years, American and Canadian buyers have been returning to Mexico, after a several-year slump, thanks to low oil prices and the strong US dollar, pushing home values up.
Mexico ranks first among 30 favourite US and Canadian destinations for second home searches, according to Point2 Homes. Some of the most sought after Mexican destinations on Google from January 2017 to January 2018 include Cancun, Playa del Carmen, Cabo San Lucas, Puerto Vallarta, and San Miguel de Allende.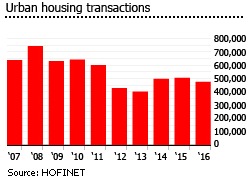 American buyers are very important as owners of beachfront properties, which were badly affected by the slump of 2009-10 in areas like Baja California Sur, Nayarit, Baja California, Guerrero and Sinaloa. Tourist-friendly areas along the country´s Pacific Coast and in Cancun are popular among foreign home buyers, according to Ana Laura Monsivais of Home del Valle. Foreign buyers are also eyeing properties in Cuernavaca´s prime neighborhoods, such as Sumiya, Palmira, and Tabachines, according to Guadalajara Sotheby's International Realty´s agent Laura de la Torre de Skipsey. 
In Mexico City, most foreign buyers (mostly from Brazil, Spain, and US) tend to invest in new construction or commercial properties, and are in the city for work.
The rising middle class
Between 2000 and 2010 Mexico´s middle-class grew from 37 million to 44 million (INEGI, 2013). In 2015, the country´s middle class was estimated to account for almost half of the total households, at 14.6 million.
The middle class is expected to continue growing, with about 3.8 million more households projected to move into the middle class by 2030, for several key reasons:
First, inflation has halved: it was close to 10% in 2000, but between 2015 and 2016 the rate has hovered around 2.8%. The autonomy of the Bank of Mexico has played a key role. However, the massive gas price hikes drove Mexico´s inflation rate to a 16-year high at 6% in 2017. This pressured the central bank to bring inflation back to its +/-3% target.
Second, there is now trade openness. As a percentage of the economy, foreign trade (exports plus imports) account for nearly 60% of GDP, making Mexico one of the most open economies in the world. By way of comparison, the figure is 27% in Brazil, 48% in China and 30% in the United States. This is fosters competition and puts an upper limit on the price of goods in the local market.
Third, there is the prudent management of public finances. There is no significant pressure on the fiscal balance or public debt. Between 2000 and 2012, the fiscal deficit was below 1% of GDP. The headline fiscal deficit is expected to remain low this year at around 2%, from 1.1% of GDP in 2017. Total public debt, domestic and foreign, remains below 50% of GDP in 2017.
The last component is financial inclusion. The population using banking services rose from 33 million in 2006 to 51 million in 2012, marking an annual average growth rate of 7.5%. In 2015, about 44% of adults in Mexico own a bank account, according to the Encuesta National de Inclusion Financiera.
The government also launched the National Financial Inclusion Strategy (NFIS) in 2016, which aims to accelerate access to financial services for the more than half of the population currently left out of the formal and regulated financial system.
Effect of violence on the housing market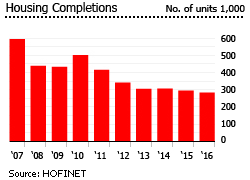 Although drug-related violence has been present in Mexico for the past three decades, the government passively ignored the problem from the 1980s to early 2000s. This norm was broken when President Felipe Calderon took office in 2006 and implemented a militarized approach to dealing with the drug cartels.
Calderon may have been partially successful, but around 60,000 people were killed during his campaign against drug cartels. News about drug-related violence turned off potential American baby-boomer home-buyers.
A BBVA study has suggested that violence has only a limited effect on domestic housing sales, because the violence is very regionally concentrated. Almost half of the homicide cases every year occur in Baja California, Durango, Sinaloa, Chihuahua and Guerrero, according to the SSP (Secretaría de SeguridadPublica or Public Security Ministry).
However, violence has climbed to new highs recently. President Enrique Peña Nieto´s (2012+) rhetoric has focused on lowering murder rates, kidnappings, and extortions, as opposed to arresting or killing the country´s drug lords. He announced the creation of a large national centralized police force, but then retreated from that announcement.
During the first half of 2018, the number of homicides in Mexico reached a historic high of 15,973 killings, an increase of 16% from 13,751 during the same period last year, according to the interior department.
Baja California is the second most violent state in Mexico, with a homicide rate of 71 murders per 100,000 inhabitants for the first six months of 2018, just behind Colima with a rate of around 80 murders per 100,000.
The PRI then and now
Enrique Peña Nieto of the Institutional Revolutionary Party (PRI) won the 2012 presidential election. The PRI ruled for Mexico for an extraordinary 71 years until 2000, ceding for a 12-year period to the free-market/Christian Democratic National Action Party (PAN).
In its heyday, the PRI controlled the Presidency, the Senate, the House of Representatives, the Supreme Court, almost all governorships and mayoralties throughout the country. It controlled all labour unions, all peasant organizations, all student organizations. Employer organizations were affiliated to the Mexican state.
Opposition was met by a combination of incorporation, and death squads. There was much electoral fraud.
Mexico had an economic miracle from 1940 to 1970 based on import-substitution, when GDP increased sixfold, while the population only doubled. GDP growth rates were over 5% or 6% per annum. But in later years Mexico did not grow fast enough to keep up with countries like Brazil and Indonesia, while oil revenues allowed the state to spend heavily on social programs and industrialization, in an atmosphere of increasing corruption and inefficiency.
Many Mexicans became disaffected during the 1970s and 80s. President Ernesto Zedillo´s (1994-2000) devaluation of the peso in 1994 (the "Tequila crisis") turned the following years into a severe crisis, further undermining support for the ruling party.
The Mexican peso crashed. The downturn precipitated an enormous banking and property crisis.
Yet the Mexican economy improved after the crisis, with average growth of 5.1% from 1996 to 2000.
The good years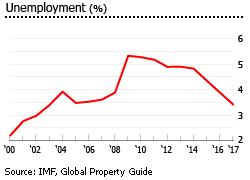 Economic expansion continued under the free-market/Christian Democratic National Action Party (PAN) after 2000. By 2002 Mexico´s banks had been recapitalized. The housing market had solider financial foundations. Interest rates began to fall, and lending for housing recommenced.
Mexico experienced extraordinary growth of its housing market during the following years (2002-2007). Inflation was now relatively low, and construction began to recover. More people began to borrow to buy houses, largely due to a big increase in government low-cost housing schemes. The ratio of self-built houses fell from 70% in 2000, to 30% of new houses in 2006. Construction became one of the economy´s most dynamic sectors, boosted by lower interest rates. Bank loans rose.
Reforms helped: better mortgage laws, social security reform with a defined contribution system fostering long-term savings, the creation of a long-term yield for government securities.
House price rises remained restrained all through this period, because the housing construction sector had become much more competitive, and many more developers were building housing. The wider economy also grew, and exports were very strong.
Landslide victory for López Obrador; PRI´s huge loss
However by 2012 Mexico was a deeply stressed country. A major reason was undoubtedly that in 2006, Calderón had chosen to make the battle against organized crime the centerpiece of his presidency.
By 2012 many Mexican citizens were tired of the fight they had first supported, with over 60,000 dead.
In late 2012 the PRI´s Nieto (called by many "the new face of the old guard") became president. He promised big changes, and was initially feted by investors.
More than four years after taking office, Nieto is now struggling to keep his political head above water amidst the fallout from ongoing corruption scandals, escalating violence, and a series of political missteps. In fact, many suspect Nieto of intending to re-establish the PRI´s old corrupt hegemony.
Nieto has been involved in two housing scandals:
The first was the revelation that first lady Angelica Rivera´s US$7 million house in Lomas de Chapultepec was registered under the name of a construction company property that received contracts in the state of Mexico when Nieto was governor.
The second came after in November 2014 a high-speed train contract was awarded to a Chinese-led consortium. The contract was later scrapped when it was revealed that the president´s White House family mansion had been paid for by a contractor who was a member of the train consortium.
The PRI won 203 out of 500 seats in the Chamber of Deputies in the June 2015 elections - remaining the dominant party.  It has two allied parties - the Ecologist Green Party of Mexico (PVEM) and New Alliance Party (PANAL). The three ruling parties hold 260 out of 500 seats.
However the ruling party suffered a huge defeat in the July 2018 general elections. Left-wing candidate Andrés Manuel López Obrador of the National Regeneration Movement (MORENA) won a landslide victory with 53% of the votes, defeating Ricardo Anaya of the National Action Party (PAN) (22%), José Antonio Meade of the PRI (16%),and independent candidate Jaime Rodríguez (5%). Obrador is the first president to win an outright majority since Mexico transitioned to democracy in 1988, and the first elected president not to come from either the PRI or its predecessors.
López Obrador will take office on December 1, 2018.
López Obrador´s party, MORENA, also dominated the election, taking 55 seats in the senate while its coalition partners the Workers' Party (PT) and the Social Encounter Party (PES) won 6 and 8 seats, respectively. This makes the MORENA coalition an absolute majority in the senate, controlling 69 of 128 seats. In the Chamber of Deputies, the coalition got a total of 306 seats out of 500: MORENA with 189 seats, PT with 61 seats, and PES with 56 seats.
The National Action Party (PAN) got 23 seats in the senate and 83 seats in the Chamber of Deputies, while the current ruling party PRI  got 13 seats in the senate and 45 seat in the Chamber of Deputies.
Economic outlook remains positive in 2018; USMCA reduced uncertainties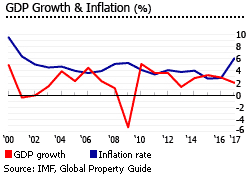 The Mexican economy expanded by 2.6% during the year to Q2 2018, up from 1.4% y-o-y growth in Q1 2018, according to the InstitutoNacional de Estadistica y Geografia (INEGI). The recent growth was fueled by improvements in household spending (up by 3% y-o-y), government spending (up by 2.9% y-o-y), and even fixed investment, which managed to rise by 3.9% y-o-y despite the uncertainties brought by the July 2018 elections.
Mexico´s economy is highly dependent on the US, and in 2012, 78% of Mexico´s exports went to the US. 2013 was a disappointing year with 1.4% GDP growth, but in 2014 there was 2.8% GDP growth. The economy expanded further to 3.3% in 2015, but slowed to 2.9% in 2016. In 2017,  the economy expanded by 2%, Mexico´s lowest growth in four years, as a result of a slight drop in the service sector and an inactive industrial sector.
Mexico´s economic outlook remains positive in 2018, although growth forecasts were recently lowered to 2% to 2.6% by the central bank, Banco de Mexico.
Banxico Governor Alejandro Diaz de Leon Diaz noted that short-term risks, including the rising global protectionism, and volatility in the international financial markets. The uncertainties related to the renegotiation of the North American Free Trade Agreement (NAFTA) and the policies of President-elect López Obrador´s future administration are also affecting investment. 
On September 30, 2018, Mexico, along with Canada and the United States, reached an agreement to replace NAFTA with a new trade deal but with few notable changes. The new deal, which was rebranded as the United States-Mexico-Canada Agreement (USMCA), is yet to the ratified by the three parliaments.
"A deal between the Canadian, Mexican and U.S. governments for a revised trilateral free trade agreement should reduce key uncertainties for U.S.-Canada and U.S.-Mexico trade that have been in place since the U.S. announced its intention to renegotiate NAFTA," according to Fitch Ratings.
Unemployment stood at 3.3% in September 2018, unchanged from September 2017. Consumer prices were up by 5.02% during the year to September 2018, down from last year´s 6.35% inflation but above the central bank´s 3% to 4% target for 2018.
Mexico - More data and information