Colombia´s property market is slowing, after many years of vigorous price rises.  Colombia´s house and apartment prices increased by 4.7% during the year to Q3 2019, according to the Banco de la Republica Colombia (Banrep) index, which covers second-hand houses and apartments. When adjusted for inflation, however, prices increased by only0.9% y-o-y.
The Banrep house price index includes nine cities (Bogotá, the capital, with a population of 7.2 million), Medellin (pop: 2.5 million), and Cali (pop: 2.4 million), plus Barranquilla, Bucaramanga, Cucuta, Manizales, Neiva and Villavicencio.
Source: Banco de la Republica Colombia
Colombia´s property market has experienced strong house price growth over the last thirteen years. From 2011 to 2018, house prices in Cali have risen by 85.35%, followed by Medellin (84.5%) and Bogota (79.68%). So it is not surprising to see a slowdown now:
Nominal and Inflation-adjusted House Price Change in Colombia

Nominal
Inflation-adjusted
2006
13.83%
9.14%
2007
16.40%
10.39%
2008
17.30%
9.73%
2009
10.56%
5.62%
2010
6.87%
4.54%
2011
8.56%
4.99%
2012
11.03%
7.48%
2013
9.97%
7.67%
2014
8.06%
5.10%
2015
8.89%
3.98%
2016
12.76%
4.77%
2017
6.94%
2.28%
2018
6.48%
2.99%
Source: Banco de la Republica Colombia (Banrep)
However prices in the three major cities have continued to enjoy strong price rises during the year to the third quarter of 2019:
In Cali, nominal new house prices surged by 8.6% during the year to Q3 2019. When adjusted for inflation, house prices were up by 4.6%.
In Medellin, new house prices were up by 8.9% (4.9% inflation-adjusted) during the year to Q3 2019.
In Bogota, new house prices rose by 8.2% y-o-y (4.2% inflation-adjusted) in Q3 2019.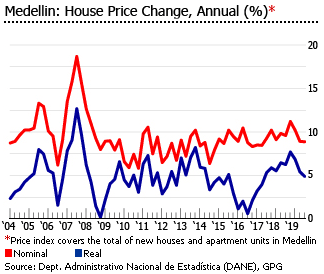 Some area that posted robust house price hikes were Armenia, with new house prices up by 6.2% (2.3% inflation-adjusted), followed by Pereira with 4.9% (1.1% inflation-adjusted), and Barranquilla with 4.3% (0.5% inflation-adjusted). In contrast, Bucaramanga´s new house prices fell by 3.7% (-7.2% inflation-adjusted), according to DANE.
Policy rate kept at 4.25%
Colombia´s central bank, Banco de la Republica Colombia (Banrep), maintained its key policy rate unchanged at 4.25% during the recent Board of Directors meeting in October 2019.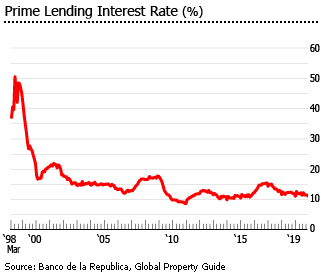 Mortgage borrowing in Colombia remains unusual. Only 3% of the adult population have mortgages, and as of June 2019,outstanding mortgages amounted to only around 6.99% of the country´s GDP, according to Bancolombia, Colombia´s largest bank.  The number of houses financed by mortgages declined by 1.2% in 2018.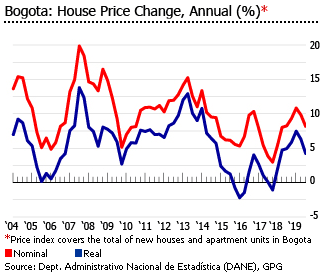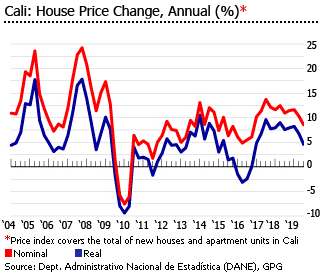 Rental yields are moderate to good
Gross rental yields in Bogota are moderate to good, according to the Global Property Guide´s research of November 2018. Apartment yields range from 5.69% for 200 sq. m. apartments to 7.08% for 75 sq. m. apartments in Chico. In Creditos, apartments have an average rental yield of around 5.82%.
The typical apartment costs in Chico, Bogota range from US$ 161,325 for 75 sq. m. apartments to US$ 470,600 for 200 sq. m. apartments.
Growing tourism
Tourism is a growing sector of Colombia's economy. Travel and tourism´s total contribution climbed from 4.5% of GDP in 1995 to 5.6% of GDP in 2018, according to the World Travel and Tourism Council (WTTC).  In 2018, tourist arrivals increased by 9.4% y-o-y to around 3.10 million visitors.
Most foreign visitors came from the United States (20.8%), Venezuela (12.8%), and Argentina (6.4%), according to the Ministry of Commerce, Industry and Tourism.  
The city of Cartagena (pop: 972,000), one of the country´s oldest colonial cities, is the city of most interest to many foreign buyers. Founded in 1533 by Spaniards, Cartagena was a trading port and a slave port where Africans were sold and shipped to other Latin American countries.
Cartagena is a large and intact colonial town of great beauty. The city has a port, fortresses, and monuments on the UNESCO World Heritage List. The revival of Cartagena´s historic centre occurred in early 2000s, when wealthy expatriate Colombians began to buy and restore run-down colonial buildings. This eventually drove prices up by as much as 300% to 600% (in some cases) from 2004 to 2009, according to Patrick Enste, general manager of the real estate company La Heroica.
Cartagena´s property market started to heat up around 20 years ago, as colonial houses and mansions were restored, or transformed into luxury hotels or boutiques, according to Paul Juan, owner of the brokerage Paul Juan Realty.
"Nowadays, there are as many foreign buyers and investors looking for already-renovated properties as for properties to renovate," said VerónicaDávila, director of Julio Corredor Christie´s International Real Estate Colombia. According to Davila, Colonial and Republican-style properties are priced between US$ 1 million to US$ 10 million.
Bocagrande is also becoming popular among investors, because of its long beaches, shopping malls, high-rise hotels, and upscale apartment complexes. In Bocagrande, one-bedroom apartments without water views but located near the beach could cost around US$ 180,000, while three- to four-bedroom bayside apartments are priced at around US$ 1 million, according to Juan.
Colombia´s capital and its largest city, Bogota, has also been attracting foreign buyers mostly from Canada, United States, Spain, and Latin American countries. "The expat community has been growing steadily in Colombia for the past few years, and a number of them choose to buy local properties, as they see this as a strong investment option," according to Santiago Rico Calderón, the managing director of the Bogotá office of Engel &Völkers.
Bogota´s housing market became more appealing to international buyers after the Colombian peso devaluated against the US dollar by around 40% since 2015, according to Rico Calderón. The city would be an even more suitable area for housing investment in the near future, as there are plans to unveil rapid transit projects in Bogota soon.
House prices in upper-middle-class neighbourhoods in Bogota range from around COP 4 million to COP 6 million (or about US$118 to $178 square foot, according to Colombian brokerage Lifeafar´s sales director Adrian Beales. Included in Bogota´s most popular neighbourhoods among foreign buyers are the economic and cultural hub Chapinero, and Santa Barbara, which is known for its casino and public par.
Colombia has huge ecotourism potential because of its unique biodiversity and variety of natural scenery such as the deserts in La Guajira, the Amazon and Andean regions, and Caribbean and Pacific coasts.
Conflict with FARC, which supposedly ended, sputters on
The last batch of FARC weapons were turned over in a UN-supervised disarmament in August 2017, a year after the Colombian government and the Revolutionary Armed Forces of Colombia (FARC) announced their agreement to a ceasefire deal. FARC later announced its transformation into a legal political party, andparticipated in the 2018 elections.
"With the laying down of arms ... the conflict is truly over and a new phase begins in the life of our nation," according to President Santos.
Not so fast!  On August 2019, a minor faction of former FARC commanders announced that they were returning to armed activity, stating that the government failed to keep its end of the agreement.
In response, President Iván Duqueauthorised an offensive military operation, killing FARC dissidents during a bombing raid in San Vicente del Caguán. 
Positive economic outlook in 2020
In 2019, Colombia´s economy accelerated to a new four-year growth high with 3.3% y-o-y growth in Q3 2019. It had expanded by 2.7% in 2018, following the country's lowest growth for eight years at 1.4% in 2017, according to the DepartamentoAdministrativo Nacional de Estadística´s (DANE).
The stronger economic growth was attributed to higher private consumption (up by 4.9% y-o-y) due to higher salaries and higher growth in consumer loans and remittances. Fixed investment saw 5.1% y-o-y growth, resulting from a tax reform in December 2018.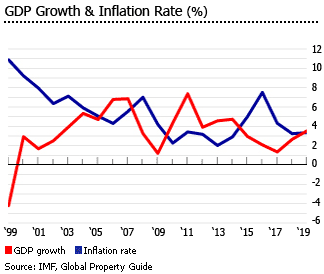 The IMF expects Colombia's economy to continue growing by end of 2019, estimating an annual GDP growth of 3.4%. In 2020, Colombia's economy is predicted to grow by 3.6%, according to the IMF.
In November 2019, annual inflation slightly fell to around 3.8% from 3.9% in October, although the price level is still within the central banks´ 2%-4% target rate.
Unemployment in Colombia was 9.8% in October 2019, up from 9.1% in October 2018.
In May 2018 presidential elections, Iván Duque, a former senator and a candidate for the Partido Centro Democrático (Democratic Center Party) was elected as Colombia's youngest president. Duque defeated Gustavo Petro of the MovimientoProgresistas (Progressive Movement) party during the second round of the elections, winning 54% of the votes against Petro's 42%. Duque assumed office on August 7, 2018.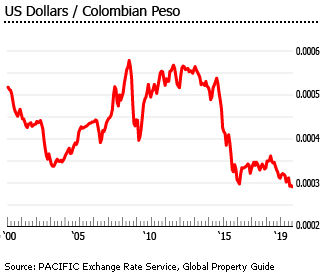 Just over a year after Duque assumed office, however, Duque had the lowest approval rating for any Colombian president since 1998 at 26%, based on the most recent Gallup Poll as of October 2019. Part of the reason was due to the government's inability to fully implement the peace agreement with the FARC. The people's dissatisfaction on the government grew further due to alleged measures intended to cut benefits for workers and retirees, which resulted in protests that started in November 2019.   
Government guarantees housing subsidies until 2025
Like many 3rd world countries Colombia measures its "housing deficit", i.e., the proportion of households either poorly housed, or not housed at all. Colombia´s housing deficit has fallen to only around 1,647,093 units in 2012, or around 27% of households, according to research by the Banco Bilbao Vizcaya Argentaria (BBVA). In 2005, the housing deficit had been 2.4 million housing units.
During Santos´ 1st term housing further initiatives were launched, aiming to build 1 million houses from 2010 to 2014. Much was achieved through subsidizing low-income families´ home purchases.
The two main programmes were:
Priority Interest Housing (Vivienda de InterésPrioritario, VIP), introduced in 2012, which provided 100,000 free homes to the poorest
Social Interest Housing (Vivienda de Interés Social, VIS), which offers subsidies to low-income families. To qualify for VIS, families´ monthly incomes must not exceed four times the minimum wage (or around US$ 1,360). Houses for the VIS programme are built by private developers.
Other government housing programmes include:
Vivienda para Ahorradores (Homes for Savers) wherein buyers get subsidies for down payments as well as interest payments (the government decides which residential developments are eligible)
National Savings Fund (Fondo Nacional del Ahorro, FNA), which provided access to loans
Stimulus Plan for Production and Employment (Plan de Impulso a la Productividad y el Empleo, PIPE), which subsidises mortgaged properties priced from COP 80 million (US$ 31,296) to COP 198 million (US$ 77,459).
In December 2014, a new programme was launched to help middle-income Colombian home buyers (with incomes between two to four times the official minimum wage) called "Mi Casa Ya" (My House Now). Around 130,000 families were expected to benefit from this program between 2015 and 2018, according to Colombia´s Ministry of Housing, City and Territory.
There are two types of subsidies that can be availed in this programme. As of 2019, the subsidies offered by the Mi Casa Yaprogramme are the following:
Mi Casa YaCuotaInicial (Mi Casa Ya Initial Fee) is aimed at families qualified for Social Interest Housing (VIS). In this subsidy type, families with a total monthly income of up to COP 1.66 million (US$ 498) may apply for a subsidy worth COP 24.84 million (US$ 7,471) for the initial payment of the property, while families with total incomes between COP 1.66 million (US$ 498) and COP 3.31 million (US$ 996) can avail a subsidy worth COP 16.56 million (US$ 4,980).
In Subsidio a la Tasa de Interes (Interest Rate Subsidy), the program will help the beneficiary in paying up to 30% of the monthly mortgage loan for the first 7 years. Homes acquired through the Priority Interest Housing (VIP), with value not exceeding COP 57.90 million (US$ 17,411), will receive a subsidy of five percentage points on the mortgage interest rate. For homes acquired through VIS worth from COP 57.97 million (US$ 17,432) to COP 111.80 million (US$ 33,618), the subsidy will be four percentage points on the interest rate. Only families with monthly incomes between COP 828,116 (US$ 249) and COP 3.31 million (US$ 996) can avail this interest rate subsidy.
Apart from Mi Casa Ya, two new programmes that provide housing subsidies were launched in 2018. The Programasemillero de propietarios (Seedbed of Owners), launched in August 2018, which supports the rental of VIP and VIS type homes and at the same time giving beneficiaries an option to purchase. Meanwhile, Casa Digna Vida Digna (Decent House Decent Life), another program launched in November 2018, aims to reduce the country's qualitative housing deficit by implementing a series of interventions needed to improve one's home or neighbourhood. 
In August 2019, President Iván Duque stated during the Camacol Congress held in Cartagena, that the housing subsidy programmes (Mi Casa Ya, Programasemillero de propietarios, and Casa Digna Vida Digna) has a fiscal guarantee until 2025.
SOURCES:
Colombia - More data and information