Dramatic surge in UK's housing market caused by stamp duty increase - but central London may be at tipping point
June 02, 2016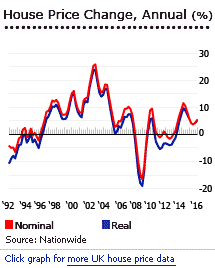 Housing market activity in the UK surged during the first quarter of 2016, partly due to upcoming Buy-to-Let stamp duty surcharges.
The average house price in the UK rose by 5.3% (5% inflation-adjusted) to £198,564 (US$ 286,806) during the year to Q1 2016, according to Nationwide. This followed y-o-y price increases of 4.26% and 3.67% in Q4 and Q3 2015, respectively. 
The highest price rises took place in the Outer Metropolitan Area around London, with house prices increasing by 11.9% y-o-y in Q1 2016, followed by London (11.2%), Outer South East (8%), South West (5.5%), and East Anglia (5.4%).
The North West barely increased at 0.2%, while both North (-1.4%) and Scotland (-0.5%) experienced annual price declines.
"There has been a pickup in housing market activity in recent months, with the number of housing transactions and mortgage approvals rising strongly," said Nationwide´s Chief Economist Robert Gardner.  "This is likely to have been driven, at least in part, by upcoming changes to stamp duty on second homes, where buyers have brought forward purchases in order to avoid the additional tax liabilities."
"The pace of house price growth may moderate again once the stamp duty changes take effect in April."
Dangers ahead for the UK property market
The 3% increase in stamp duty came into effect in April 2016.  This applies to all Buy-to-Let purchases, and is on top of already-high existing Stamp Duty rates.  It means that a landlord considering spending £1,000,000 for a normal-sized house to convert it into 5 flats now has to pay Stamp Duty of £73,750, or 7.4% of the purchase price, in addition to other transaction costs.   
A further hit to the London property market may result from anti-money laundering steps likely to be taken against foreign property owners in the wake of the Panama Papers revelations, which highlighted the role of the London property market as a destination for dirty money.  These steps are a worry for the market, as large swathes of top-end central London property are now owned by foreign investors buying through companies, many of whose owners will not be happy to be under scrutiny.
Finally a large-scale extension of the right-to-buy at highly discounted prices is planned for 1.5 million Housing Association tenants. This is likely to have a significant impact on the lower end of the housing market.
House prices are already declining in some central parts of the capital, and the trend is expected to continue over the next three months, according to the RICS´s UK Residential Market Survey report in March 2016.
Despite that, price expectations for the next twelve months remained positive in the RICS survey, and strong price growth is also predicted across all other parts of the UK in 2016.
Despite very high price to income ratios in London and cities in the South East and South West, UK house prices are boosted by four factors:
Immigration and population growth have been strong, especially in London.
Interest rates have been at record lows, with a large expansion of the money supply through "quantitative easing".
The City of London (London's financial centre) continues to boom.
Construction activity remains weak. Dwelling starts rose 3.8% y-o-y to 166,900 units in 2015. Dwelling completions increased 10.2% y-o-y to 152,440 units, according to UK's Development for Communities and Local Government.
To relieve pressure on the housing stock, earlier this year (January 2016), Prime Minister David Cameron announced the government´s intention to remove around 100 most run-down housing estates in the country and replace them with high quality homes.
The government also stated that it will commission thousands of new affordable homes in 2016. Out of the 13,000 homes included in the first wave, 40% will be ´starter´ homes, and will be located in four sites outside London. Also, a £1.2 billion (US$ 1.73 billion) starter home fund has been activated, which will be used for the preparation of brownfield sites for new homes. This aims the creation of 30,000 starter homes and around 30,000 market homes by 2020.
Housing Boom and Bust
UK property prices saw huge rises from 1996 to 2007:
Prices in London rose 289.1% (228.1% in real terms) during this period.
Prices in Northern Ireland rose by 393.2% from Q3 1996 to Q3 2007 (315.9% in real terms), the highest rise among all the UK regions
Price increases in other regions during this period ranged from 187.9% (142.8% in real terms) for Scotland, to 245.5% (191.3% real) for the Outer Metropolitan Area.
The national index rose 240.9% (187.5% in real terms) over the same period (all figures from Nationwide).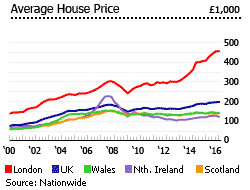 In early 2007 interest rates were raised, and lending conditions tightened.  House price falls accelerated in H2-2008, due to the global financial meltdown. The biggest drop occurred in Northern Ireland where house prices fell by 39.2% (-41.9% real). House price falls in other regions ranged from 14.1% (-17.8% real) for Scotland, to 21.7% (-25.1% real) in East Anglia. London house prices dropped by 19.8% (-23.3% in real terms).
Higher price hikes in London than in other parts of UK
In Q4 2015, the average home in London is now worth around 152% more than the average home located elsewhere in the UK, with the average difference around £275,000 (US$ 401,884), based on the figures from Nationwide.
The gap between London and the rest of UK is the widest it has ever been, both in cash and percentage terms. Although London prices have always been higher, the gap was less than 40% before 1995.
London prices increasingly diverged during the 2000s, accelerating sharply in the years after the financial and eurozone crises in 2008-2009. London prices increased 11.5% y-o-y in Q1 2016 to an average of £455,984 (US$ 666,373), twice the rate of price increases in the wider market, according to Nationwide. Outer Metropolitan London is the fastest rising area, up 12.2% y-o-y.
London´s average house price is currently almost 51% higher than at its peak in 2007, at £455,984 (US$ 666,373). Six other regions also posted higher property values than their 2007 peak prices:
Outer Metropolitan London is 33.2% up on 2007.
Outer South East is up by 18.6%.
East Anglia is up by 11.5%.
South West is higher by 8.4%.
East Midlands is higher by 3.3%.
West Midlands is up by 2.1%.
The remaining regions remain lower than their 2007 peak values. Northern Ireland had the weakest performance, with prices still almost 46% lower than at the 2007 peak.
Historic low key rate remains unchanged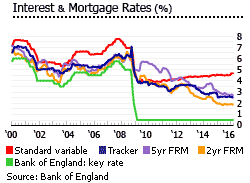 The Bank of England's (BoE) key rate has remained unchanged at 0.5% for the past seven years - the lowest rate in the BoE's history.
Mortgage interest rates have not tracked the BoE's key interest rate down fully. In March 2016, average interest rates for types of mortgages with 75% loan to value (LTV) were:
1.88% for 2-year fixed rate mortgages (FRMs)
2.13% for 3-year FRMs
2.72% for 5-year FRMs
2.52% for tracker mortgages
4.67% for Standard Variable Rate mortgages
Three potential threats to the UK´s housing market
Quite aside from the risks of Brexit, there are three significant structural challenges to futher price increases in the UK housing market.
[1] Effects of new stamp duty surcharge
Stamp Duty rates have been ramped up in the UK in recent years.  From April 2016, Stamp Duty rates on buy-to-let transactions will increase very significantly - a move that could greatly dampen activity.  Stamp Duty rates had been rising before this latest move. 
In April 2010 a new 5% Stamp Duty rate was introduced on homes over £1 million. In March 2012, 6% Stamp Duty was introduced on homes over £2 million.
In December 2014 stamp duty structure rates were raised significantly on each band, and a new system was introduced - but instead of being payable on the entire price, Stamp Duty is now calculated by cumulatively adding the rate on each bracket.  So the first £125,000 of a property purchase is completely free of tax, the bracket between £125,000 and £250,000 attracts Stamp Duty at 2%. etc. At the higher ranges the rates have been very high since that change: 10% Stamp Duty is payable on the band between £925,000 and £1,500,000, and 12% is payable above £1,500,000. 
Present stamp duty rates are:
Up to £125,000 - 0%.
Over £125,000 to £250,000 - 2%.
Over £250,000 to £925,000 - 5%.
Over £925,000 to £1,500,000 - 10%.
Over £1,500,000 - 12%
On April 1, 2016, the new stamp duty surcharge of 3% on top of the current Stamp Duty Land Tax (SDLT) became effective. The higher rates apply to purchases of additional residential properties in England, Wales, Northern Ireland, and Scotland (separately announced in the Scottish Government´s Budget). First time buyers are not affected by the higher rates, nor home owners who moving from their main residence to another. 
Table of Rates for Buy-to-let Properties
Up to £40,000 - 0%
From £40,001 to £125,000 - 3%
From £125,001 to £250,000 - 5%
From £250,001 to £925,000 - 8%
From £925,001 to £1,500,000 - 13%
Over £1,500,000 - 15%
Example Calculations
£250,000 - £8,800
£350,000 - £16,800
£450,000 - £24,800
£500,000 - £28,800
£750,000 - £48,800
£1,000,000 - £72,550
£2,000,000 - £212,550
  Source: StampDutyRates.co.uk
The general effect is to significantly increase levels of Stamp Duty payable on buy-to-lets.  On a £300,000 flat bought as a residence, the buyer will pay £5,000, but when bought as buy-to-let, as much as £14,000 is now payable (4.6%).  Big difference!  Charges mount further on large properties.  Want to spend £1,000,000 for a normal-sized house to convert it into 5 flats?  Stamp duty is £73,750, or 7.4% of the purchase price.  (See effective Stamp Duty rates at different price-bands here: www.stampdutyrates.co.uk and Buy-to-let calculator).
It seems likely that many potential landlords will balk at these high Stamp Duty rates.
This is in addition to changes made in the Summer 2015 budget where landlords only receive mortgage interest relief at the basic rate of income tax at 20%, a tax change which starts from 2017.
Another change for buy-to-let investors is that from April 2019 landlords will have to pay Capital Gains Tax (CGT) within 30 days of selling a property. Currently, any CGT due gets paid at the end of the current tax year.
These moves seem likely to have a significant impact on the willingness of potential buy-to-let landlords to invest.  In some ways this could be a good thing, as it will reduce upward pressure on the top end of the housing market. But around 65% of surveyed letting agents by the Association of Residential Letting Agents (ARLA) expect current and potential buy-to-let landlords to back out from the market after the stamp duty changes in April, according to ARLA´s managing director David Cox. 
[2] The Panama Papers and anti-money laundering moves.
The potential hit to the UK´s property market does not stop there. Following the Panama Papers leak of April 2016 which suggested that a large amount of money laundering taking place via Panama was feeding into London´s property market, in July this year prime minister Cameron announced that the UK will publish information on property owned by foreign companies and a consultation will be launched on how to improve transparency.
Said Cameron: "My message to fraudsters is: 'London is not the place to stash your dirty cash."  He announced that foreign firms that own property in the UK would have to declare their assets publicly, and would have to be on a new register if they hold UK property or want to compete for government contracts.
More than 100,000 UK property titles are registered to overseas companies, with more than 36,000 properties in the capital owned by offshore firms.  In total around 2,800 companies set up by Mossack Fonseca are connected to more than 6,000 title deeds on British property — mostly in London — worth at least £7 billion.
How would cracking down on such transactions affect London's property market?
'The crackdown on foreign ownership and property investments could possibly freeze the already slowing market,' says Stirling Ackroyd Legal CEO Emon Ahmed.  In London, the Battersea Power Station Development company held back some of it Frank Gehry and Foster + Partners designed apartments after its CEO confessed the market had become 'quite challenging'.
Peter Wetherell, chief executive of Mayfair firm Wetherell, said potential buyers who would normally make their purchases through offshore companies may now decide to rent instead.  "This latest Panama issue uncovers where wealthy people are putting or investing their money, so it going public is a massive loss of privacy for the people concerned," said Wetherell. "Some ultra- wealthy may choose to rent rather than buy and face these types of politically sensitive offshore company issues."
[3] Right-to-Buy extended
In a third potential hit to the UK property market, the UK government has announced that it plans to extend Right-to-Buy discounts to 1.3 million housing association tenants in England, funding the subsidies by the sale of high-value council housing.
In the Global Property Guide´s view, the policy could increase downward pressure at the lower end of the UK housing market, especially in depressed areas, by giving existing tenants a financial bonanza and extra mobility, by putting their low-end housing on the market. 
Help-to-Buy Scheme
On the other side of the demand/ supply scale, the government has extended government Help to Buy schemes, designed to help homebuyers acquire homes. Assistance is provided through either an equity loan or a mortgage guarantee.
Through the Help to Buy Equity Loan, the government will loan homebuyers up to 20% of the full purchase price of a new-build property, provided that borrowers contribute 5% of the property price as deposit, and secure a mortgage for the remaining 75% of a property. The homebuyer is not allowed to sub-let the property and it must also be his/her only property.
The Help to Buy Equity Loan was initially intended to run until March 31, 2016, but has been extended until 2020, according to the Financial Times.
The Help to Buy Mortgage Guarantee lets the borrower buy a newly-built home or an existing property with a deposit of 5% of the purchase price. It is open to both first-time buyers and home movers for homes with purchase price up to £600,000 (US$ 1,004,760). The homebuyer is, again, not allowed to sub-let the property and it must not be his/her second home. Help to Buy Mortgage Guarantee is due to run until December 2016.
Help to Buy has encouraged a wave of fresh entries into the property market by people who previously struggled to buy homes.
Some argue that Help-to-Buy is putting upward pressure on house prices. But Grenville Turner, chief executive of property firm Countrywide, contends "Claims that the Help to Buy scheme is causing a housing bubble are far from the truth and the facts speak for themselves.
"As a proportion of transactions both parts of Help to Buy together support only 2% of transactions in London compared with 10% in the north-west, where support is most needed. The scheme has had a positive impact on house builder confidence with many now believing that they can sell what they build, which as we know means they will build more."
The first 10 months of the Help to Buy Equity Loan scheme saw 14,823 new properties bought through the scheme, mostly first time buyers. A further 4,666 new homes have been reserved. This means that 1 in 5 (19%) of all private dwellings built in England are being sold through the scheme, according to Countrywide´s Quarterly Market Review. In some more depressed housing market areas, almost 50% was bought through the scheme. Particularly in the North East, where house prices remain well below 2007 levels, house builders have relied heavily on the Help to Buy Equity Loan scheme to sell houses.
"Up to a third of some house builders´ order books are composed of homebuyers using the Help to Buy Equity Loan scheme to buy their new home. This highlights the extent to which the scheme is supporting new house building, and the reliance of developers on it outside London and the South East to achieve sales," according to Countrywide.
Mortgage lending activity is up
In the short-term the Stamp Duty increase has dramatically increased buying activity, as buy-to-let landlords attempted to beat the deadline. Gross mortgage lending for the first quarter of 2016 was up by 39% from the previous year to around £62.1 billion (US$ 90.75 billion), based on the figures from the Council of Mortgage Lenders (CML). Residential property transaction completions were up by 77.1% in March 2016, comparing March 2016 with March 2015, according to HM Revenue and Customs. Landlord purchases accounted for 23% of houses sold in March 2016, higher than the 13% recorded last year.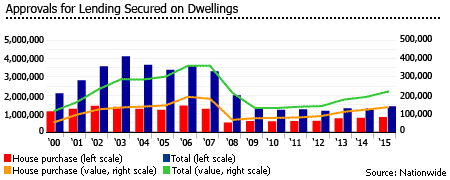 For the full year 2015, completed property transactions were at around 1,229,080, up by only 0.9% from the previous year, yet still representing the highest level since 2007.
"The distortion caused by this stamp duty change appears to be larger than any previous stamp duty change we've seen," said CML economist Mohammad Jamei. " As a result, we expect there will be about 10,000 fewer mortgage transactions each month in the second quarter of 2016 than would otherwise have been the case, offsetting the increase in activity seen in March."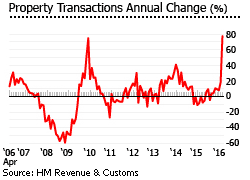 The recent growth of mortgage lending is also supported by the surge of lending to first-time buyers, remortgage customers, and movers. During the last quarter of 2015, the number of loans to home movers rose by 8.6%, while loans for first-time buyers were up by 8.2%.  The same is true for remortgages, as approvals for remortgage activity improved since the second half of 2015, from a very low base, according to CML.
"The low inflation environment, along with real wage growth, an improving labour market and competitive mortgage deals have all helped to underpin demand", said CML´s Jamei.   "Having said this, the upside potential looks limited over the near-term, as the supply of existing and new properties on the market remains weak, and affordability pressures weigh on activity. There is an added element of uncertainty as we wait to see the impact of tax changes on the buy-to-let sector."
RESIDENTIAL PROPERTY TRANSACTION COMPLETIONS (£40,000 OR ABOVE)

 
NUMBER OF  TRANSACTIONS IN MONTH
ANNUAL CHANGE (%)
 
Jan-16
Feb-16
Mar-16
Jan-16
Feb-16
Mar-16
England
72,600
81,320
141,310
8.8
18.9
80.6
Scotland
6,420
5,760
11,100
2.4
9.5
44.2
Wales
3,260
3,870
6,570
3.2
20.9
72.9
Northern Ireland
1,580
1,740
3,010
0.6
3.0
72.0
UK
83,860
92,690
161,990
7.9
18.0
77.1
Source: HM Revenue & Customs
Rental growth has slowed
Due to the increased landlord activity, around 22% more homes were brought to the rental market during the year to Q1 2016. This led to slower growth rates of rents than in the previous year, according to Countrywide.
"The increase in supply of homes to rent from landlords bringing forward purchases seems to have taken the edge off rental growth," said Countrywide´s Research Director Johnny Morris. "A similar increase in tenants looking for a home to rent though would indicate this may not persist.  The large number of sharers, and people living with parents means there is a big store of pent up demand in the rental market."
RENTS ACROSS REGIONS (All Occupied Units)

 
March 2016
February 2016
March 2016
March 2016 y-o-y (%)
Greater London
£1,207
£1,199
£1,147
5.2
Central London
£2,457
£2,448
£2,441
0.7
East of England
£872
£867
£829
5.2
South East
£999
£998
£985
1.4
South West
£740
£737
£725
2.1
Midlands
£634
£631
£622
1.9
North
£627
£624
£615
2.0
Scotland
£639
£640
£630
1.4
Wales
£653
£653
£639
2.2
Total
£862
£859
£840
2.6
Source: Countrywide
Housebuilding activity still low
The UK's per capita housebuilding rate is low by international standards, and failed to respond to booming house prices during the boom, due to building regulations and planning constraints. The situation improved during the later years of the boom, but output declined again during the recession. Ironically, this has prevented the housing market suffering a large overhang of properties, a fate shared both by Ireland and Spain.
In 2015, a total of 166,900 houses were started in UK, an increase of 3.8% from the previous year, based on figures from the Department for Communities and Local Government (DCLG).  Researchers from the Town and Country Planning Association (TCPA) have warned that at least 250,000 new homes must be built annually to match population growth, to replace the ageing housing stock and the accumulated backlog.
Homebuilding stagnated at an average of 186,000 new units annually between 1991 and 2003, and from 2004 onwards barely exceeded 200,000 annually (222,490 in 2007). The amount of available land for housebuilding, and the long processing time for development permits, both discouraged new building. In 2008, the credit crunch combined with falling house prices reduced house building, and less than 100,000 completions took place in 2009.
A reform of the planning system, relying on local initiatives, is under way to speed the system up and expand the housing supply. However, the government's budget constraints are putting all this under threat.
The government is targeting around 240,000 new dwellings annually until 2020. However, the target seems unrealistic, since output over the past 20 years has been around 150,000 dwellings annually.
RICS suggests that the long-term outlook inevitably involves severe housing shortages and increasing house prices.
Economic slowdown expected later in 2016; Uncertainty over UK´s upcoming in-out referendum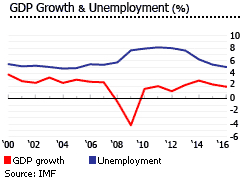 The UK is still in recovery after being affected by the global financial crisis in 2008. In 2015, the UK´s real GDP grew by 2.2%, according to the International Monetary Fund (IMF)., a slowdown from the 2.9% economic growth posted in 2014 and the slowest pace of annual growth since 2012. However the GDP growth per capita figures are less impressive.  In 2015 GDP growth per capita was 1.42%, in 2014 it was slightly higher at 2.04%, in 2013 it was 1.55%, and in 2012 it was 0.51%.
In general, the UK´s recovery since the recession has been anaemic, at best. In previous recessions, there was above average growth. For instance in 1983 GDP grew by 4.2%, and in 1994 by 3%. Despite that, the UK remains one of the developed nations´ fastest growing economies. Its growth mostly relies on the services sector, according to Office for National Statistics (ONS).
During the first quarter of 2016, GDP rose by 2.1% y-o-y, and by 0.4% from the previous quarter. The IMF expects the UK´s economy to slow to 1.9% growth during the full year 2016.
"Uncertainty over 'Brexit', weak overseas growth and financial market volatility are all creating an unsettling business environment and point to downside risks to the economy in 2016," according to data company Markit´s chief economist Chris Williamson.
"It definitely increases uncertainty," said Ricardo Reis of London School of Economics. "There are few other political events that would have such a direct and immediate effect on the economy, and especially on international capital and trade flows. I would further expect that investment of firms based in the UK with significant international relations is delayed until the outcome of the referendum is clear."
In February 2016, the UK´s overall unemployment rate was 5.1%, down from 5.6% a year earlier, according to the ONS.
The country´s annual inflation rose by 0.5% y-o-y in March 2016, up from 0.3% in February. Although still relatively low in the historical context, inflation was observed to have been gradually rising since October 2015, according to the ONS.
After the UK´s local election on May 5, 2016, London named  Sadiq Khan, an actively affiliated Muslim,  as the city´s newest mayor. Khan, a member of the Labour Party, succeeded Conservative Party Mayor Boris Johnson.
United Kingdom - More data and information