Sweden's national house price index surged 16.7% (14.4% inflation-adjusted) during 2021.  This is a sharp acceleration from y-o-y rises of 6.6% in 2020 and 2.7% in 2019, according to Statistics Sweden, as the impact of stricter mortgage requirements waned and economic activity gradually returned to pre-pandemic levels. It was the country's biggest house price growth since 1989.

"One explanation for the price increases among single-family homes is the changes in demand that occurred during the pandemic, for example the need of more living space because of increased working from home and the sharp drop in travelling abroad," said the Swedish Bankers' Association.

Another reason is low interest rates. In February 2022, the Riksbank held its policy rate unchanged at zero, following a quarter point rate hike in December 2019 that effectively ended five years of negative interest rates. It is one of the lowest benchmark interest rates in the world.

By region:

Greater Stockholm house price index rose by 18.6% y-o-y in 2021 (16.3% inflation-adjusted), a sharp improvement from the annual increases of 6.3% in 2020 and 0.5% in 2019, based on figures from the Statistics Sweden. It was the highest growth seen in the region since 2000.
Greater Göteborg house prices soared 15.7% during 2021 (13.4% inflation-adjusted), following y-o-y increases of 5.1% in 2020 and 3.1% in 2019. It was the region's best showing in 32 years.
Greater Malmo house prices surged 18.6% during 2021 (16.3% inflation-adjusted), a sharp acceleration from y-o-y rises of 8.1% in 2020 and 4.3% in 2019 and its biggest growth since 1989 when prices rose by 24.2%.

"After the outbreak of the pandemic in 2020, there was considerable uncertainty on the housing market. Following the introduction of measures by the authorities to reduce the effects of the pandemic, this uncertainty decreased and was instead replaced by significant price increases, in particular among single-family homes," the Swedish Bankers' Association noted.

"The housing and construction market was more resilient than many observers had expected, and demand for single-family homes and larger apartments increased instead during the pandemic with many people working from home," the Swedish Bankers' Association added.

Sweden's housing market is expected to remain buoyant this year. "JLL continues to observe a robust market and predicts that transaction activity will remain high in 2022, supported by good access to capital and favourable credit terms," said JLL.

Sweden's economy grew by about 4.9% during 2021, fully offsetting the 2.9% contraction in 2020, according to the Ministry of Finance, thanks to higher inventory investments, increasing exports and household consumption. The country's GDP is now at a higher level than before the Covid-19 pandemic.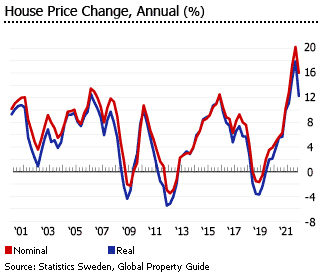 During Sweden's recent housing boom (2012-2021) house prices surged by almost 90% (70.8% inflation-adjusted). Over the past two decades house prices have risen by a whopping 260% (178% inflation-adjusted).

Yet recently the Ministry of Finance downgraded its 2022 growth forecast to 3.1%, 0.3 percentage points lower then earlier projections, due to the Ukraine crisis. The European Commission and the IMF are more optimistic, with growth forecasts for Sweden at 3.8% and 3.4%, respectively.